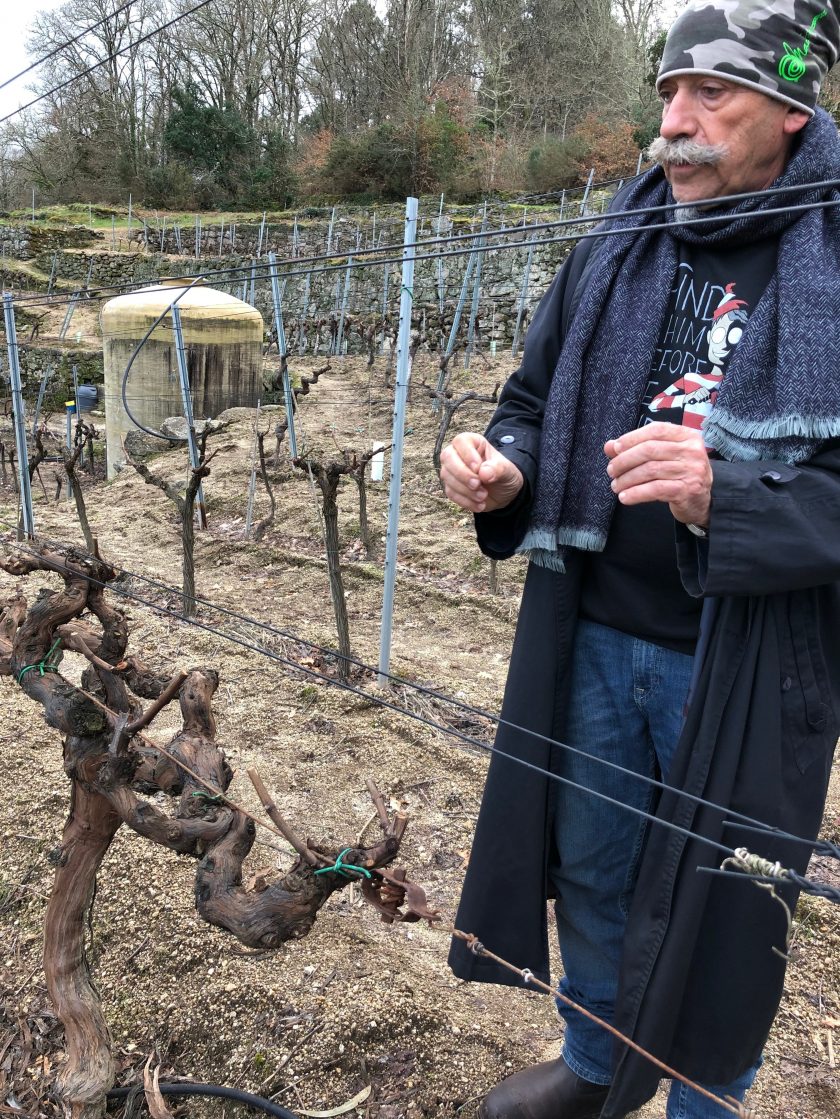 Emilio Rojo
| | |
| --- | --- |
| Vigneron | Emilio Rojo |
| Location | Leiro (Ourense) |
| Size of Domaine | 1.2 ha |
| Terroir | Atlantic climate with Mediterranean influence. Shallow granitic sand over granite bedrock. Steep terraced vineyard. 275m altitude. |
| Viticulture | Practising organic |
| | View Emilio Rojo wines ↓ |
In 1987 Emilio Rojo exchanged a successful life as telecoms engineer in Madrid for a life back in Ribeiro tending a small plot of family vines in the Arnoia valley, giving continuity to a family tradition that dates back to 1720 and makes him happy.
He has just 1.2ha of organically farmed vines from which he produces 5,000 bottles of one of the most sought-after white wines in Spain (think Richard Leroy!).

Now in his mid-sixties Emilio is an unconventional character sporting a large moustache and a bandida, and when we visited him last February with José Luis from Quinta da Muradella, he regaled us with many amazing stories including when he lived in London with a Spanish artist for two years in the early eighties…
At the beginning he used grapes from the Arnoia valley, but he has gradually focused his efforts in just one plot located in the historical Avia valley. During our visit we walked half an hour up the hill from Barzamedelle to this vineyard at Ibedo, an ancient rural settlement, following a narrow path surrounded by lush vegetation and abandoned houses.

Rojo is especially proud of his steep east facing vineyard, which means extra freshness and a slower ripening cycle in contrast with most vines found on the opposite bank of river Avia. Vines are grown in terraces built with thick stone walls, and soils are a shallow granite, locally known as sábrego, with a sandy texture.
"In winter I'm dead" says Emilio, drawing a parallel with his dormant vines. But his schedule during the growing season is far busier: "I get up at 4:30am in summer and work in the vineyard from 5 until 11. I return home for lunch, take a nap and again back to work from 6pm until the sun sets".
His wine is made mostly from Treixadura, an indigenous white grape which accounts for 70% of the blend, with the rest small amounts of loureiro, albariño, lado, and godello. Treixadura provides structure, with loureiro and lado adding acidity.
Back in the Arnoia valley in an electric blue painted cave he crafts and ages his wine with extreme care and love before hand-bottling.
Emilio Rojo Wines
Emilio Rojo
RIBEIRO 2016
70% Treixadura, 10% Loureiro, 10% Albariño, 5% Godello, 5% Lado
(13% alc.)
Emilio planted his 1.2ha of 30yo vines on a steep, east facing terraced hillside (supported by walls) at 300m altitude, in an isolated spot surrounded by oak and chestnut trees above an ancient rural settlement abandoned 40 years ago. Here the soil is a sandy, decomposed granite called sábrego from which Emilio fashions just 5,000bts of one wine (at 30hh), which has become one of Spain's most soughtafter whites. Aged in cuve on the fine lees for 18 months before bottling by hand with no filtration, this is a profound wine, tightly wound with an electric freshness, that is much more about a mineral character than fruit, with a hint of herb and balsamic note, and marked salinity. It ideally needs a few years in bottle or opening well in advance and given plenty of air, and even then, constantly changes and amazes in the glass. VLQ. For drinking now to 2026.