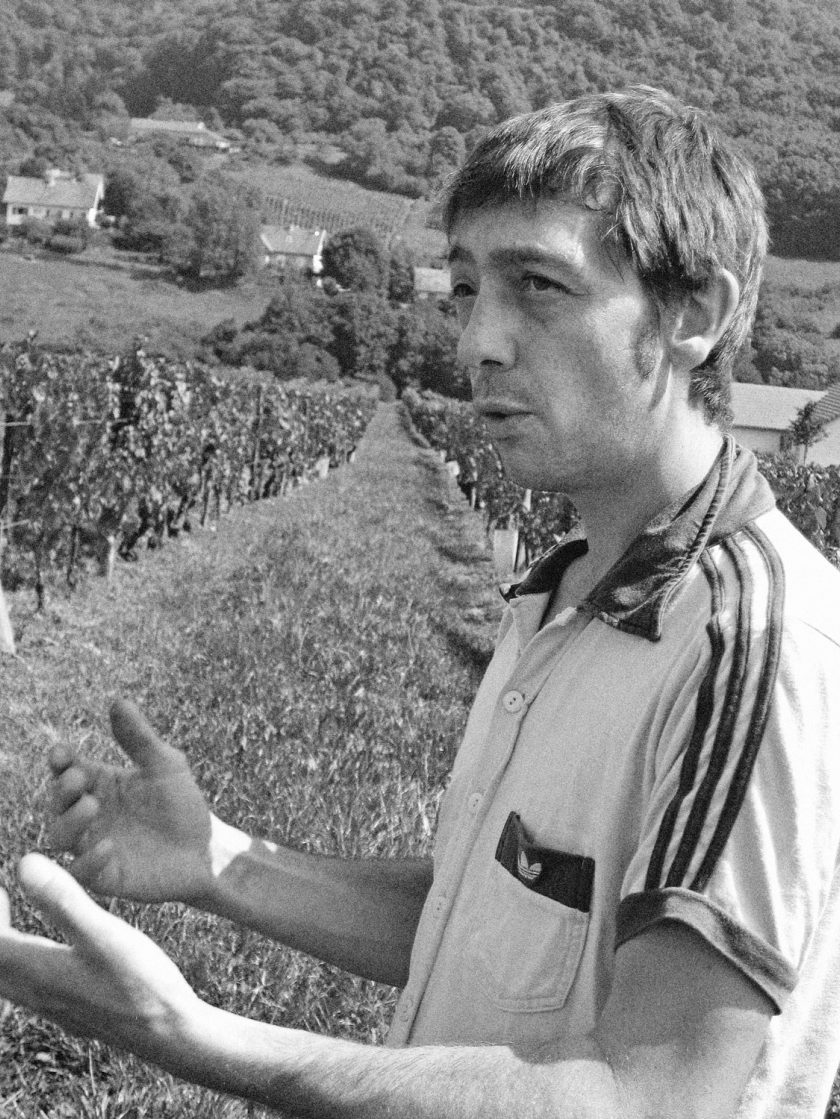 Domaine Labet
| | |
| --- | --- |
| Vigneron | Charline, Julien and Romain Labet |
| Location | Rotalier (Jura) |
| Size of Domaine | 13 ha |
| Terroir | Continental climate. Lias and Triassic marl on Bajocian limestone subsoil. Mostly south and west facing. 250-320m altitude. |
| Viticulture | Certified organic (Ecocert), practising biodynamic. |
| | View Domaine Labet wines ↓ |
Located in Rotalier in the Sud-Revermont, in the late 1970s Alain Labet was probably the first vigneron in the Jura to make and bottle wines from individual terroirs separately. And in the 1990s when he started making topped-up whites, there were only one or two winemakers making wines this way elsewhere in the Jura (Pierre Overnoy in Arbois being foremost).

The tradition in Rotalier and the rest of the Sud-Revermont was to age wine under flor, but Alain found that oxidative ageing of chardonnay masked the subtle terroir nuances present after fermentation and decided to top-up his barrels regularly, thus preventing the formation of 'voile' (layer of yeast forming on the surface of a wine when left in contact with oxygen) which tends to dominate the aromatic profile. His wines became much more precise as a result and showed an ability to express the subtlest variations in exposition and soil composition, revealing in the process one of France's finest terroirs.
Located close to the limestone cliff that forms the eastern edge of the region, the soil in the Sud-Revermont is quite different from the north around Arbois, as it's rich in Bajocian limestone eroded from the cliff, imparting the wines with a mineral bite and acidic backbone that sets them apart.
"This family forces me to mix metaphors and pile on accolades. If one can say that salt was once the Jura's white gold, these wonderful people and their wines are the salt of the earth in the Jura and pure gold too." Wink Lorch
Although hard to sell at first, especially locally, these 'vins ouillés' (topped up wines) quickly gained international recognition and inspired a host of young vignerons (such as Marnes Blanches, Les Dolomies, Allante & Boulanger, Loreline Laborde) to start working in the area, slowly turning it into one of the most dynamic parts of the Jura and a hotbed for new talents.
Julien, the eldest of Alain's three children, came back to the family domaine in 1997 with the idea of instilling even more precision and terroir definition into their wines. Inspired by his time working at prestigious domaines – Ramonet in Burgundy and Hamilton Russell in South Africa – he introduced the use of second-hand Burgundy barrels rather than foudres, progressively lowered sulphites levels while also pushing for a move towards organic viticulture.
Julien's vision was at times too radical for his father, so Alain decided to hand down a few hectares over which Julien had full control and from which he made his famous 'Parcelles Rares' (now all produced under the family label), while still working full-time at the estate, and it was then, in 2000, that the first savagnin 'ouillé' was produced at the domaine.
After qualifying as an oenologist and working in Chile, Charline joined the team a few years later, helping out in the vineyard and sharing winemaking duties with Julien (she's taken over making their wines under flor, check out the incredible Cuvée du Hasard), with their brother Romain in his element when working out in the vines. The three siblings took over the reins when Alain 'retired' in 2012 – he still loves to help out in the vines and the making of macvins remains under his expert supervision – working hand in hand and making every important decision as a team.

They have also attracted some of the brightest talents in the world to help them with their incredibly detailed and fastidious work in the vineyards and back in the cave. Locally, they employed Christian Boulanger for over 15 years with other 'émigrés' from Canada, Denmark etc sure to make their mark in the world of wine in the future.

While viticulture has always been very respectful in the family – Alain never used fertilisers or insecticides and would only resort to fungicides in the wettest years – the Labets are now fully certified organic and also use biodynamic preparations.
The whites are vinified and aged in old Burgundy barrels, demi-muids and foudres for 18 months or longer if needs be – for example in a concentrated dense vintage like 2015 it went up to 36 months for some cuvées – the reds are either fully or partially destemmed and aged for a shorter time – in barrels for pinot and trousseau and in foudres for ploussard. SO2 is never used except on rare occasions in which case only the tiniest of doses are added, as documented in precise detail on the informative back labels. Total transparency has always been at the heart of all the family's work.
It's a joy to work with Romain, Charline and Julien, there's a restless energy about them, a desire to progress and a passion for life which is contagious. Tasting the whole range of wines with the family and their team is a highlight for us every year. If you want to learn about the nuances of terroir and their impact on wines, this is the place to be – it's common practice to taste 25-30 wines over two or more vintages and discuss the nuances of 18ish different terroirs!
Domaine Labet Wines
Domaine Labet
CÔTES-DU-JURA 2018
La Bardette
100% Chardonnay
(13.5% alc.)
Before you hit limestone, where you find lots of fossils and seashells, there's only 40 to 60cm of clay here. This together with old vines planted in 1947 gives a chiselled, beautifully balanced wine despite the notable power of 2018. Long ageing on fine lees helped taming the beast. It has many of the qualities you would expect in a top Puligny, deep layered texture with menthol hints that make you salivate. This is one of the Labet family's finest terroirs.
Domaine Labet
CÔTES-DU-JURA 2016
Champs Rouges
100% Chardonnay
(13% alc.)
This is one of the family's larger parcels of 1.2 ha of 45yo vines, planted in a red clay soil overlying a layer of Bajocian limestone on a west-facing hillside. It was aged 70% in old fûts and 30% in demi-muids with a pinch of SO2 added at bottling. The old vines convey real energy to this wine, there are a good drive and tension on the palate, and the finish is sustained and mineral.
Domaine Labet
CÔTES-DU-JURA 2018
En Chalasse
100% Chardonnay
(14.5% alc.)
This wine comes from three tiny parcels in marl with a Lias blue clay base, on a south-facing slope. The most recent plantation was in 2006, together with 0.18 ha planted in 1985 and 0.05 ha in 1950. This is quintessential Jura chardonnay, given 20 months of élevage in fûts with 7mg/l of total sulphur. It is quite structured in this vintage and will age well, with an intensity to the fruit that gives energy on the attack, good depth of citrus fruits on the mid-palate and both lift and length on the finish.
Domaine Labet
CÔTES-DU-JURA 2019
Les Varrons
100% Chardonnay
(13.3% alc.)
The Labet's Varrons is made from an ancient massal selection (including some melon à queue rouge) planted in 1932 and 1940 in decalcified, ochre-coloured clay over Bajocien limestone on a mid-slope facing east. The wine was given an extended élevage in old demi-muids. It has a very fine reduction on the nose, a mineral vibration on the attack, pithy, pingy citrus fruits on the palate, and the finish is sustained and intensifies.
Domaine Labet
CÔTES-DU-JURA 2016
La Reine
100% Chardonnay
(13% alc.)
La Reine is a tiny parcel of 0.16 ha of massal selected vines planted in 1947 in a red clay soil overlying Bajocien limestone on a gentle, north-facing slope. It's often one of the leading wines made by the domaine, and in 2016 it is stunning, with a lot of class, thanks partly to very low yields of just 20hh. It has a hint of reduction on the nose that soon wafts off, very composed succulent fruit with a fantastic, almost electric play on the palate, and is markedly saline on the finish.
Domaine Labet
CÔTES-DU-JURA 2018
En Chalasse
75% Savagnin Jaune, 25% Savagnin Vert
(14.4% alc.)
1.11ha planted in 1990 and 2003 on Lias blue marl, the wine was aged 22 months in a mix of demi-muid, fût and concrete egg. Very intense nose of hazelnut and warm stone with a hint of lemon. The mouth is lively, with very good acidity, hint of saffron and a little creaminess on the palate which brings even more volume to the wine. The finish is very long, dry with a salty and stewed lemon character. SO2 total 20mg/l, addition at bottling only.
Domaine Labet
VIN DE FRANCE 2020
Métis
45% Pinot Noir, 23% Gamay, 16% Enfariné, 16% Vieux cépages
(13% alc.)
Métis, meaning mixed race, is a cuvée that has hit new levels of quality over the last couple of years. It's always a wine whose components will vary from year to year and includes a handful of forgotten old Jura varieties such as enfariné and petit béclan. Aged in 228ltr barrels for nine months and bottled off in July with less than 20mg/l total sulphur, extraction as with all the Labet reds is incredibly delicate. The fruit feels very detailed and precise, with a sappy 'acidulé' quality, and the mix of grapes brings complexity, leaving a gorgeous impression of fresh fruit on the finish.
Domaine Labet
CÔTES-DU-JURA 2018
Les Varrons
100% Pinot Noir
(12% alc.)
Made from a Bajocian limestone base and low yields from a tiny parcel massal selected and planted in 1983. It was aged in old barrels for seven months and bottled off with less than 7mg/l of total sulphur. The fruit has a sculpted quality, it's floral with zesty cherries and salinity with incredible finesse.
Domaine Labet
CÔTES-DU-JURA 2018
En Billat
100% Poulsard
(12.5% alc.)
Labet's rarest and most haunting expression of poulsard, this comes from a 0.31 ha parcel called Le Pré du Bief planted in 1988 that has an eastern exposure and Lias clay and schist soils. Destemmed but not crushed, the grapes are vinified very gently, with very little pigeage, to respect poulsard's delicate structure. Ageing takes place in old foudres and no sulphur was added at any stage. The nose is bright and expressive, showing none of reductive notes that plague so many poulsards, it's finely nuanced on the palate, showing a beautiful interplay between fruit, spice and savoury notes. Simply one of the finest examples in the region.
Domaine Labet
PAILLE PERDUE 2011
One third each Chardonnay, Savagnin and Poulsard
(10% alc, 215g/l of rs)
The Labet family make this unique cuvée from a selection of old vines, leaving the bunches of grapes on a straw bed in wooden boxes to shrivel up to a raisin-like intensity. Pressed in late February it was then aged in old barrels for six years (three more than the legal minimum for vin de paille). Julien pointed out that due to using natural yeasts that only gave 10% natural alcohol and a much greater concentration of sugars than the norm, this wine did not fulfil the AOC criteria for a vin de paille (eg minimum 14% alc). The colour is reminiscent of toffee, it has sumptuous fruit – hints of passion fruit, walnuts, straw with a very long finish sustained by a precious and well-integrated VA.