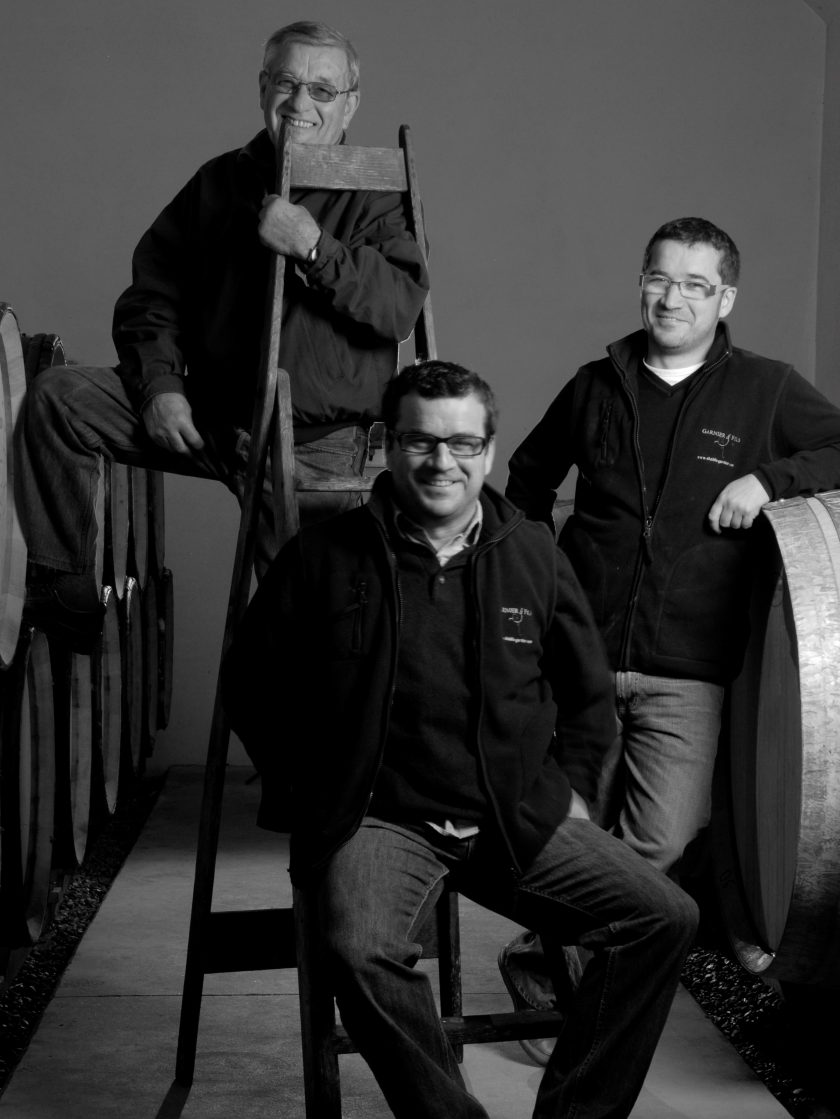 Domaine Garnier
| | |
| --- | --- |
| Vigneron | Xavier and Jérôme Garnier |
| Location | Ligny-le-Chatel (Yonne) |
| Size of Domaine | 23 ha |
| Terroir | Continental climate. Clay-limestone on Kimmeridgian limestone bedrock, sandy clay. Mostly south-east to south-west facing slopes, 10-20° gradient. 240m altitude. |
| Viticulture | Practising organic |
| | View Domaine Garnier wines ↓ |
Domaine Garnier is a 23ha estate based in Ligny-le-Châtel, the most northerly commune for producing Chablis. The domaine was founded in 1985 by now retired father Joseph who farmed cereals in the Chablis appellation, and by the time of his final bottling in 1992 had 4.2ha of vines. Eldest son Xavier then took over the reins and was joined in 2000 by younger brother Jérôme.
The domaine has gradually expanded to reach its current size, with Xavier in charge of the vines, Jérôme in the cave and eight full-time employees. Sticking as closely as possible to organic precepts, the domaine concentrates on Petit Chablis and Chablis but also offer leading Premier and Grand Cru wines, as they buy micro quantities of grapes from friends which they pick and vinify themselves. Half of their Chablis holdings are on the left bank and half on the right, from the villages of Maligny, Ligny and Villy.
Yields are 10% lower than used by most growers in the appellation, only indigenous yeasts are used for the fermentation, a patient approach is adopted during the élevage and no wines are rushed into bottle (most wines are bottled after a year, and all the Premier Crus are aged for up to 18 months), the élevage is individual and perfectly suits the structure of each wine (recent 500ltr and 600ltr Stockinger barrels are used for the Premier and Grand Crus), and sulphur levels protect each wine but are at significantly lower levels than the norm (averaging a total of 40-50mg/l). From Petit Chablis, Chablis, all the Premier Crus up to the Grand Cru Vaudésir this is a very impressive range of wines.
Domaine Garnier Wines
Domaine Garnier
PETIT CHABLIS 2020
100% Chardonnay
(13% alc.)
The Garnier brothers have planted 4ha of young vines in Lignorelles on a south-facing slope renowned as the finest hillside in the Petit Chablis AC, in a sandy soil overlying Portlandian limestone. Vinified in stainless steel and bottled after a year, it has minerality and more depth of fruit than you'd expect from this appellation.
Domaine Garnier
CHABLIS 1ER CRU 2019
Côte de Jouan
100% Chardonnay
(13.5% alc.)
This is a brilliant wine from 45-55yo vines planted towards the bottom of a southeast facing hillside. The Garnier brothers bought the whole 1ha parcel from a friend who works his vineyard organically. Aged in a 2yo foudre and 3-5yo demimuids, this has good, racy, peppy fruit and there is a real dynamism to the wine which finishes with a characteristic saline lick. It's at the same quality level as the Côte de Jouan that we have tasted from Pattes-Loup.
Domaine Garnier
CHABLIS 1ER CRU 2016
Fourchaume
100% Chardonnay
(12.5% alc.)
The Garnier brothers bought the grapes for this wine from two parcels in the sectors of Côte de Fontenay and Vaulorent, where the vines are 45yo and 20yo respectively. Aged in one 2yo foudre, it has a chiselled, lemon flecked fruit, with saline edge from limestone stamping the finish.
Domaine Garnier
CHABLIS 2020
100% Chardonnay
(13% alc.)
The brothers planted their vines in 1985 on excellent quality rootstock (3309, strictly no high yielding SO4 which is the most widely planted in Chablis) in Kimmeridgian limestone. The wine has been 100% cuve aged before bottling after one year with high-quality corks and around 50mg/l of total sulphur. There is a character very reminiscent of the sea about this wine, like a delicious oyster, with iodine and saline notes, and good viticulture and lower yields help to give the wine great texture and balance.
Domaine Garnier
CHABLIS 1ER CRU 2017
Mont de Milieu
100% Chardonnay
(13% alc.)
This is a wine of real class, immediately announced by both the colour and the nose and it was the 1er cru we enjoyed most of the Garnier 2017 offerings. Made from 35yo vines on a south-facing hillside, with a red clay topsoil dotted with many oyster shells, the yield here was a low 40hh and it was aged for 18 months in 70% 600 litre barrels and 30% in stainless steel. The balance is impeccable, there is a real dynamism to the wine, with ripe grapefruit to the fore, and that quintessential Chablis mineral essence driving the finish.
Domaine Garnier
CHABLIS GRAND CRU 2019
Vaudésir
100% Chardonnay
(13% alc.)
Vaudésir is renowned as one of Chablis finest Grands Crus and there is very little soil above the limestone. This is made from just 0.30ha of 20yo vines and was aged in 3-6yo barrels. There is an oyster essence on the nose, it is very saline with iodine notes, vibrant and persistent pithy fruit, stylish and complex with a long finish. For drinking now to 2029.