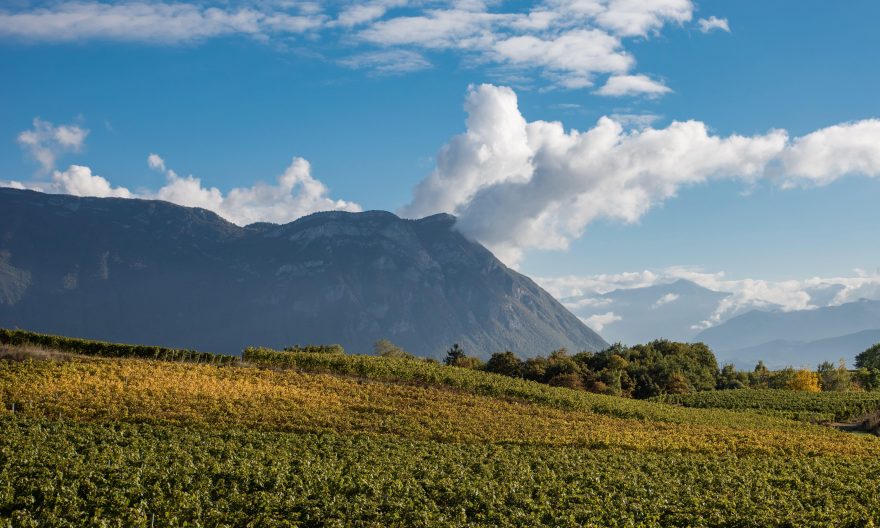 Domaine des 13 Lunes
| | |
| --- | --- |
| Vigneron | Sylvain Liotard |
| Location | Chapareillan (Isère) |
| Size of Domaine | 5.5 ha |
| Terroir | Alpine climate. Mostly limestone scree, clay limestone in some parts. Elevated plateau at the foot of the Mont Granier (1,993m), eastern exposure mainly. 450-550m altitude. |
| Viticulture | Certified biodynamic (Demeter) |
| | View Domaine des 13 Lunes wines ↓ |
"Yes go and see him. It's a newish domaine with an interesting approach," were the words of Wink Lorch – author of 'Wines of the French Alps' – when we quizzed her about Les 13 Lunes in preparation for our 2019 trip to Savoie. Unfortunately we were unable to meet Sylvain Liotard, so we arranged to collect some samples of his 2018s which we tasted back in Bristol a few weeks later. We were all very impressed, especially considering this was only Sylvain's second vintage.

Originally from Grenoble, Sylvain was a carpenter for 17 years before he changed path and trained to become a vigneron in 2014. During the course he noticed it was common to end up with a basic low paid job when joining a domaine, so instead he created a cooperage business specialising in the restoration of old barrels. This granted him access to the vignerons in a much more informal setting and allowed him to gain valuable experience and knowledge from all his clients.
Domaine des 13 Lunes was created in January 2017 when Sylvain and his partner Anne Cadic took over the existing estate. Four months and three terrible bouts of spring frost later, they were looking at potential crop loss of 75%. Rescue came in the form of a 10,000 euros grant by the organic certifying body Alpes Contrôles, which was just enough to tide them over until the next harvest.

Anne and Sylvain's vineyards are split between Abymes and Apremont, two Crus whose reputations have suffered following decades of poor winemaking. It's not uncommon for local growers to rush the wines onto the market in time for the ski season – just three months after harvest! Needless to say these commercial wines have little to offer, but in the right hands Apremont and Abymes can both produce captivating, thirst quenching wines with a strong mineral stamp.
Located at the northern end of the Chartreuse pre-alpine range – where the delicious liqueur by the same name is produced – Apremont and Abymes sit immediately below the majestic Mont Granier (1,993m), whose collapse in the 13th century had a profound effect on the terroir of the area. In 1248, a mass of limestone resting on marl slid into the valley and caused a massive landslide, burying five villages – and their inhabitants – across an area of 25km2. Unsurprisingly Apremont translates as 'bitter mountain'. The limestone deposited that night now forms the most prevalent soil type in both appellations. The two ACs boast cooler growing conditions than the south-west facing Chignin on the opposite side of the valley, thanks to higher altitude (450-550m), eastern exposition and proximity to the Mont Granier.
Sylvain was inspired by the biodynamic growers he met during his training and decided to follow in their footsteps when he took over the domaine. As well as finding both the vignerons and their wines more engaging, he was attracted by Rudolph Steiner's philosophy for its pragmatic as opposed to dogmatic approach. It is possible to achieve good yields without compromising on quality which is especially true with jacquère. A crucial element since Sylvain wants to produce country wines that are terroir-driven yet affordable.

In the cellar he keeps things simple, harvest is done by hand and grapes are gently fed into the press using a conveyor belt. Following débourbage (settling) the juice is transferred into stainless steel tanks for wild yeast fermentation and ageing on fine lees. A pinch of sulphur is added both at pressing and bottling, bringing total sulphur below 30mg/l.
It is impressive to see how far Sylvain and Anne have come in such a short period of time and we're thrilled to start working with them. Their wines accurately express their terroir and show a level of class and finesse that is rare to find at this sort of price point. They join the ranks of producers such as Gilles Berlioz, Brice Omont (Domaine des Ardoisières), and Nicolas Ferrand (Domaine des Côtes Rousses), who are working very hard to reveal Savoie's true potential.
Domaine des 13 Lunes Wines
Domaine des 13 Lunes
APREMONT 2021
Vin de Savoie
This is a blend of multiple parcels in Apremont averaging 50yo, all of which are on the limestone scree soils that resulted from the Mont Granier's landslide (see profile). Fermentation and élevage on fine lees take place in ovoid fibreglass vessels. The latest vintages were warm lending jacquère more weight and ripeness than usual – this wine offers silky, peachy fruit on the palate. Sylvain managed to extract lovely bitters resulting in a refreshing and saline finish.
Domaine des 13 Lunes
AMI-AMIS 2018
Vin de Savoie
34% Veltliner, 33% Altesse, 33% Jacquère
(12% alc.)
Sylvain has just 0.15ha of 30yo veltliner, a low acidity pink-skinned variety. He likes to blend it with equal parts of altesse and jacquère. These two varieties are assembled as early as possible, often immediately after fermentation, and then aged in stainless steel. The veltliner is vinified and aged in oak barrels since Sylvain likes its oxidative quality. There's a fine play between 'gras' and tension here, with fresh lemons, apples, moreish white fruits and a taut finish.