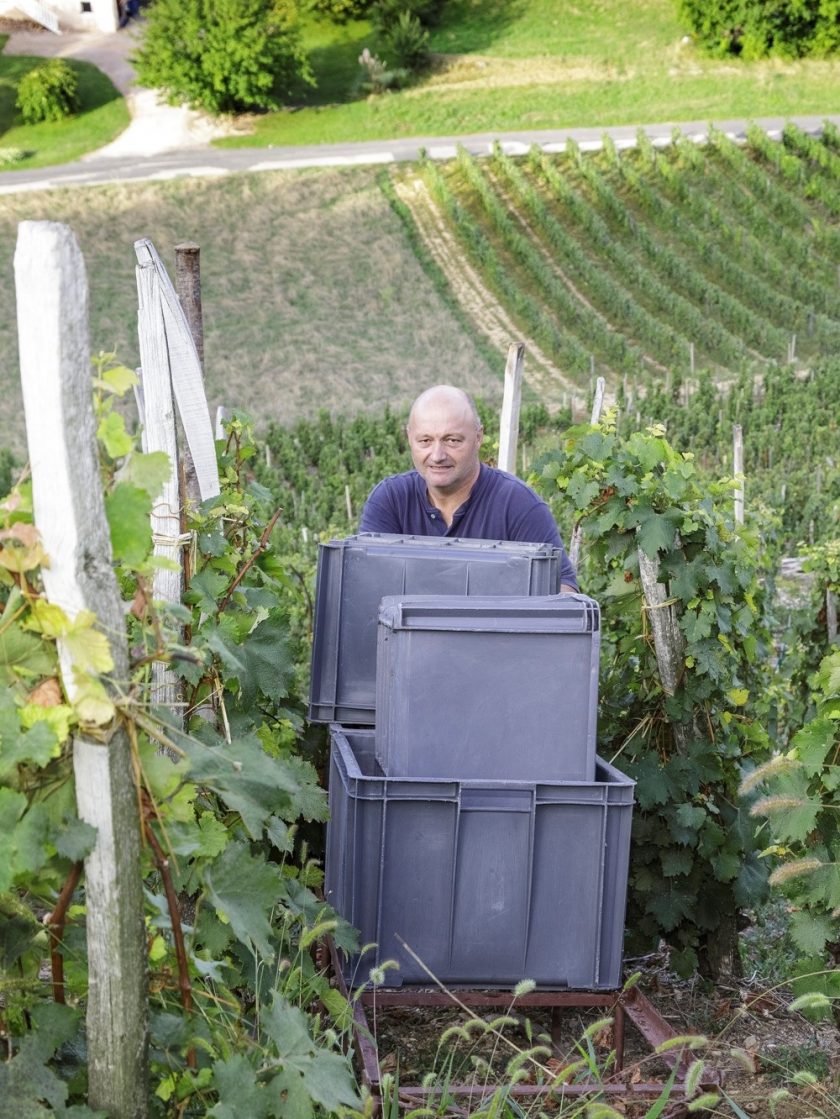 Franck Peillot
| | |
| --- | --- |
| Vigneron | Franck Peillot |
| Location | Montagnieu (Isère) |
| Size of Domaine | 6.5 ha |
| Terroir | Alpine climate. Jurassic white marls. Steep slopes. 300-400m altitude |
| Viticulture | Sustainable - fungicide might be used against oidium and mildew in difficult vintages |
| | View Franck Peillot wines ↓ |
The dramatic clump of rock that is Montagnieu (one of the three crus of Bugey), where Franck Peillot's vines are planted, is one of the area's finest terroirs. Montagnieu is situated at the southern end of the Jura mountain chain but is nearer to Savoie than Jura.
Franck took over from his father, who like most in this hard-scrabble rural region had a polyculture operation, and grew it to a still-tiny 6.5ha focused on viticulture.
His scattered and various parcels in the mountainous foothills are so steep in some spots that they can only be tended with a winch and a plough, and many of the vines are trained two meters high for maximum sun exposure in this cool climate. His farming is as sustainable as possible under these challenging circumstances with parcels largely isolated, surrounded by woods and fields.
Franck Peillot Wines
Franck Peillot
BUGEY MÉTHODE TRADITIONNELLE
Montagnieu
60% Mondeuse Noire, 30% Altesse, 10% Chardonnay
(12% alc.)
This wine has real vinosity and much more quality and character than most other sparkling wines. It is made 100% from 2018, vinified in cuve, aged for 12 months 'sur lattes', disgorged in 12/20 with a 4g/l dosage. Very fine mousse, saline and long on the finish, the ripe red fruits from mondeuse noire give the wine a delicious lift.
Franck Peillot
ROUSSETTE DU BUGEY 2018
Montagnieu
The vines here average 50yo, planted on the steep hillside of Montagnieu in soils of marl and limestone rubble, overlying a limestone base. Vinified in cuve and bottled last July, it is now beginning to open out. You'll find quince, honey, acacia blossom, a touch of liquorice, peach and exotic fruits. It has an excellent structure, quite tense, with very precise detailed fruit and a lovely streak of acidity.