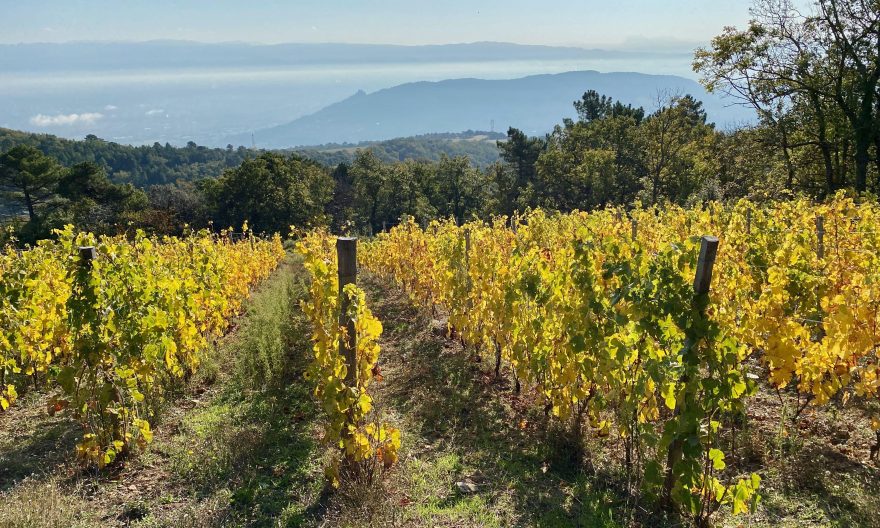 Domaine de Lorient
| | |
| --- | --- |
| Vigneron | Laure Colombo & Dimitri Roulleau-Gallais |
| Location | Saint-Péray (Ardèche) |
| Size of Domaine | 7 ha |
| Terroir | Continental climate, Mistral (northern wind) influence. 'Gore' (shallow decomposed granite) over granite bedrock, on steep slopes. 550m altitude. |
| Viticulture | Certified organic (Ecocert), practising biodynamic and permaculture. |
| | View Domaine de Lorient wines ↓ |
Domaine de Lorient is an exciting project created in 2014 by Laure Colombo and partner Dimitri Roulleau-Gallais. Laure is the daughter of Jean-Luc and Anne Colombo who figure amongst the Rhône's most influential winemakers – but right from the start, when she rejoined the family domaine in 2011, a fierce independence and ecological mindset guided her path and, encouraged by her family, she and Dimitri soon struck out on their own.
They restored a 20ha abandoned farm high above Saint-Péray at 550 metres in a lieu-dit called Lorient – this is the northern and granitic part of the St-Péray appellation (neighbouring Cornas) as opposed to the southern part characterised by its rocky limestone soil and the emblematic Château de Crussol.

The couple now live in the old, converted farmhouse and, farmers at heart, they work and live off produce grown on their land: fruit trees, vegetable beds, wild herbs and fruits, chickens, bees, sheep, pigs, cows, horses, olives and grapes all are part of their daily lives. Dimitri is at the fore on that front while the naturally talented Laure runs the show when it comes to winemaking.
The old farmhouse at Lorient, its pastures and long history of polyculture were among the reasons that drew Laure and Dimitri to this isolated spot – high up in the hills on the plateau above St-Péray, it takes at least 20mins driving up the tortuous roads from the village. The other draw was Lorient's incredible terroir with its stunning coteau at 550m altitude made of 'gore' – shallow decomposed granite over bedrock. The potential for making one of the Rhône's finest whites was immediately evident!


The couple firmly believes that flora and fauna are an important element of terroir, so they work from seven micro parcels 'en coteau' scattered around the property and surrounded by forest and prairies. In addition, they planted over 500 trees (local species) – agroforestry has long been a passion of mother Anne Colombo, who as the winemaker at Colombo and President of the Cornas AC has been a major influence on Laure.
All the work on the domaine is done by hand, working as closely as possible and in step with nature; the tops of vines are not trimmed, instead they just arrange and weave the shoots during summer; cover crops are planted to create a mulch to protect the soils humus from the warming climate; the ground around the vines is lightly hand-hoed and any fertiliser applied is homemade, emanating from their own cows and horses.
From 2014 to 2018 they set out to plant all the vines themselves by massal – including some tip-top bergeron (roussanne) cuttings from Louis Magnin in Savoie – 4ha of the 20ha estate are now planted for the making of St-Péray wines. Another 1.5ha 'hors appellation' has been planted on the plateau above the farm with syrah, mondeuse noire, mondeuse blanche and dureza (the last two are syrah's ancestors, possibly parents cf. Wine Grapes). Domaine de Lorient also has holdings in St-Joseph (0.5ha) and Cornas (1ha).


From the get go, no efforts have been spared to make Domaine de Lorient one of the finest domaine in the Rhône: a unique terroir and haven for biodiversity at an altitude that allows to retain freshness and acidity despite global warming. Laure and Dimitri's passion, attention to detail and love for their land is impressive as well as contagious – there's a special vibration up there at Lorient, and it's beautifully translated into their wines.
Domaine de Lorient Wines
Domaine de Lorient
ST-PÉRAY 2021
66% Roussanne, 34% Marsanne
(13.5% alc.)
This comes from Lorient's terroir of 'gore' (see profile) at 550m altitude – which makes it a strong contender for the highest altitude French wine in our list. With 4ha planted it's by far the domaine's most important wine at this stage. As the vines are young (planted from 2014 to 2018), they have reined back on the yields which have averaged around 20hh, and their choice of 2/3 roussanne versus 1/3 marsanne helps to provide more character. Fermentation and ageing occur in barrels – the oak regime is subtle, with 5% new to 15yo 400ltr and 228ltr fûts. The pH here is an incredibly low 3.2 which brings even more cut and energy to the wine, it also allows working with low sulphur levels, around 30mg/l total added post malolactic. The wine is bottled unfined and unfiltered. There's a really attractive nose to this wine, a touch of reduction initially with apricot, hazelnuts and anis gradually unfurling. It's very pure, tense and elegant on the palate, with typical granitic verticality and salinity on the finish. Impressive for such young vines, the future is bright.
Domaine de Lorient
CORNAS 2021
La Cabane des Chasseurs
The 'hunter's hut' cuvée comes from a tiny 0.3ha parcel of terraced hillside vines that Laure and Dimitri planted in 2014 (from massal selection) in the east-facing, prime terroir of Eygas – at the northern end of the village, 300m altitude, just above the prestigious Chaillots (where much of the Colombo family holdings are), it's an isolated vineyard surrounded by oaks, chestnut trees and forest. Here there is no topsoil, the vines are planted directly into the granite bedrock. The grapes ripen a week later than at the southern end of the appellation, and this together with the relative acidity of the soil, organic viticulture and a light hand in the cave ensure freshness and dynamism. 2/3 destalked, cuve-aged (stainless steel), bottled in June unfined and unfiltered, a tiny 10mg/l of sulphur was added at bottling only. Blackberry fruited, the wine is naturally concentrated but sapid with violets, spice, black pepper and menthol hints, the palate is expressive and immediate, with a lick of salinity on the finish.