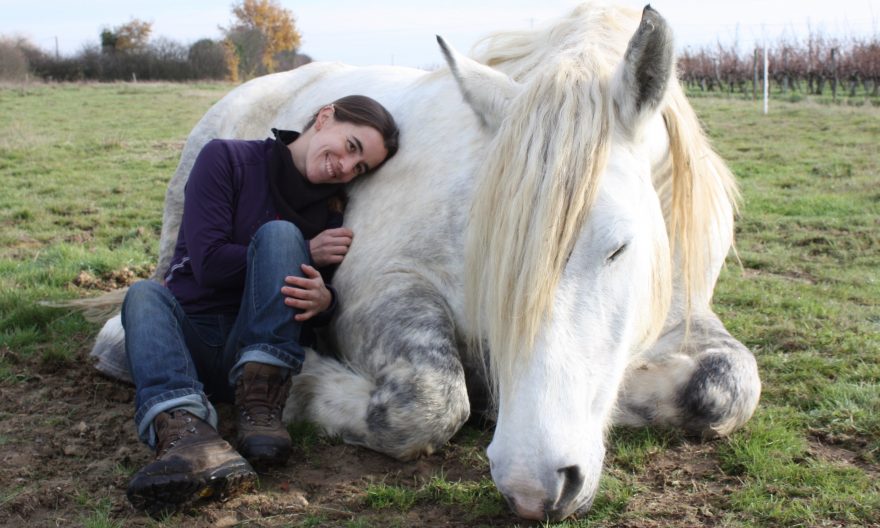 Deboutbertin
| | |
| --- | --- |
| Vigneron | Stéphanie Debout et Vincent Bertin |
| Location | Faye d'Anjou ((Maine-et-Loire) |
| Size of Domaine | 4 ha |
| Terroir | Continental climate with Atlantic influence. Sandy decomposed schist topsoil on schist bedrock, gravel and clay in some parcels. Gentle slopes, 50 - 100m altitude. |
| Viticulture | Certified organic (Certipaq) practising biodynamic |
| | View Deboutbertin wines ↓ |
Stéphanie Debout and Vincent Bertin fell in love with the Anjou biking through the region and drinking wine at Angers' best bistrots. Not satisfied by their Parisian lives, despite their thriving careers as engineers, they felt the urge for a 'retour à la terre'.

Attracted by the free spirit of the Anjou Noir they first harvested at Cyril Le Moing, before doing stages at Les Roches Sèches (Julien Delrieu), Olivier Cousin (where Vincent was introduced to working with horses), Jean-Francois Chené (La Coulée d'Ambrosia), and with the ubiquitous Mark Angéli. It was Mark who helped the couple setting up in 2012, into a barn adjacent to the Ferme du Mont Benault.

They immediately ploughed their soils with the help of their beloved horse Anatole, a strong and gentle Percheron, who loves working the seven parcels (3.5ha) around Faye d'Anjou and Beaulieu-Sur-Layon. Stéphanie and Vincent favour old bush vines, 45yo and more, yielding intense and complex juice at a low 20hh. These ancient massal selections are also significantly more resistant to diseases (e.g. Esca).

The couple likes to separate workload and decision-making, individually taking full responsibility for particular plots through the year. "It is much more pleasurable and allows us to meticulously observe, connect and fully understand our vines", they explain.

In 2019 they completed the build of their new cellar, a functional and energy-efficient space, conveniently close to their vineyards and with enough pasture for Anatole to graze happily. They also recently acquired a small parcelle of fallow land with meadow and hedgerow, on a steep slope of rocky schist in the heart of the coteau de Faye d'Anjou, a stunning terroir that will soon be planted along with orchard trees to increase biodiversity.

In the cellar grapes are processed whole (full stem) for both colours, whites are slowly pressed using a basket press, reds are foot trodden and daily punched down for 8 to 15 days, fermentations occur in barriques (minimum 3yo) and the wines age for a year on lees with regular ouillage, bottling is made without fining, filtration and there is no sulphur added at any stage.
Stéphanie and Vincent's wines are vibrant as well as characterful, there is a clear margin of progression for this young domaine, and we are convinced their enthusiasm and sheer passion will take them far.
Deboutbertin Wines
Deboutbertin
ACHILLÉE 2019
Vin de France
100% Chenin Blanc
(13.5% alc, 6g/l of rs)
Stéphanie and Vincent produce this wine from 0.77 ha of 30yo vines located in Faye d'Anjou, grown on a north tilting plateau with 30cm topsoil where rhyolites (a heavy primary rock comprising iron, magnesium, feldspar and quartz) are dominant. Yield is a low 25hh, grapes are very slowly pressed, the juice is transferred into old barrels for a slow-paced fermentation and 18 months élevage, the finished wine is bottled without fining, filtration or sulphur. Slightly reduced when young, it offers dense confit citrus fruits and pear on the palate with a hint of spice, great balance with a mineral vibration.
Deboutbertin
PACOTILLE 2019
Vin de France
100% Chenin Blanc
(14% alc.)
Pacotille is made from 0.4 ha of 50yo vines located in Beaulieu-Sur-Layon, a stunning south-facing coteau overlooking the Layon with vines growing right onto the bedrock of dark schist, prime terroir in the Anjou Noir. Yields are less than 20hh of dense but extremely sapid juice, the finished wine has lengthy and complex aromas, beautifully combining fleshy fruit, electric acidity and salivating bitters, the typical and addictive stamp of chenin on schist. Bottled off under cap to allow residual sugar to ferment, carafeing or big glasses recommended.
Deboutbertin
BALIVERNE 2018
Vin de France
This comes from 0.75 ha of 60yo vines planted on a plateau with schist and quartz as a base. Selected from a series of tries, whole bunches were gravity-fed into cuve for gentle crushing by foot, a 15 days cuvaison ensued before 12 months ageing in old barrels. Bottled without fining, filtration or sulphur, this is a brambly, cherry fruited natural wine, super digeste but with depth and good terroir print on the finish. This bottling and label are a tribute to Anatole, a Percheron horse and cherished member of the family. VLQ.
Deboutbertin
LA NOUE BLANCHARD 2017
Vin de France
100% Cabernet Franc
(12.5% alc.)
Named after the lieu-dit where the vineyard is located, La Noue Blanchard comes from 50 to 70yo vines on deep silty and gravelly soil over schist. This type of soil particularly suits cabernet franc as well as apple and apricot trees co-planted by Stéphanie and Vincent for biodiversity. Pruned quite short and with yields never above 20hh, they harvest small perfectly ripe grapes which are foot trodden on arrival and vinified with stems. Daily manual pigeage follows during a three weeks maceration, and ageing takes place in 10yo barrels for a year with no racking. It is a serious style of cab franc, dense, complex with very fine-grained tannins.
Deboutbertin
L'AUNIS ÉTOILÉ 2020
Vin de France
100% Pineau d'Aunis
(12.5% alc.)
Pineau d'aunis (aka chenin noir) is one of the unsung heroes of the region, an underrated grape greatly appreciated by Stéphanie and Vincent. Whole bunches are crushed by foot in an open vat and macerate 8 to 15 days, the juice is slowly and gently extracted using a manual basket press and the wine ages for a shade longer than a year on its lees. The wine offers a floral and fresh nose, a round mouthfeel with ripe strawberries and pink peppercorn flavours, and is a characterful pineau d'aunis with depth and grip.
Deboutbertin
LE PANTOUFLARD 2013
Vin de France
100% Chenin Blanc
(14.5% alc.)
2013 was an extremely difficult vintage with a cool and stormy season, grapes struggled to reach maturity, therefore Stéphanie and Vincent decided to harvest late and include bunches affected by noble rot. Following a four years oxidative ageing (no top-up) in one old barrique, this sweet wine was bottled (once completely stable) without fining, filtration or sulphur. Perfectly balanced thanks to a very well-integrated volatile acidity, this is a stunningly complex and unique wine with lengthy aromas reminiscent of malmsey Madeira and Palo Cortado, the perfect match for anything chocolate or the finest cigar. VVLQ. For drinking now to 2030.