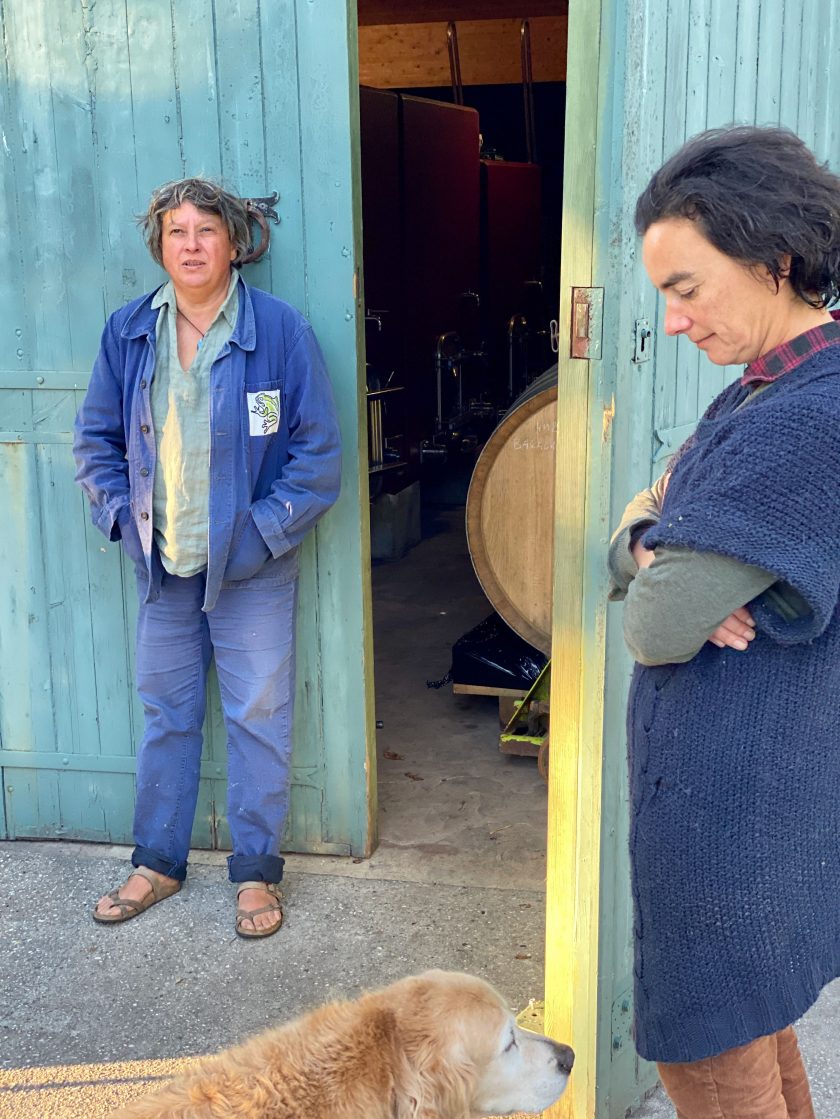 Closeries des Moussis
| | |
| --- | --- |
| Vigneron | Laurence Alias and Pascale Choime |
| Location | Arsac (Gironde) |
| Size of Domaine | 4.5 ha |
| Terroir | Atlantic climate. Sedimentary graves of sand, gravels, and clay. Some parcels are surrounded by Landes forest. Gentle undulations around 20m altitude. |
| Viticulture | Certified biodynamic (Demeter) |
| | View Closeries des Moussis wines ↓ |
This micro property in the Médoc is run by Pascale Choime and Laurence Alias, who respectively handle winemaking and farming. Pascale trained as an oenologist and, until recently, kept a day job as maître de chai for the local 'lycée agro-viticole'. Laurence studied agricultural engineering specialising in biodiversity. Both outsiders to the region, the two women are proud of their "origines paysannes". They built Closeries des Moussis from scratch, investing their own money, and making a point of being financially independent.

In 2009, the couple set up the winery in a classical 'maison médocaine', naming the domaine after a local plum tree, the moussis, that grows wild among century-old oak trees.
The adventure started when Michel and Stéphanie Théron (Clos du Jaugueyron) offered the lease of 0.4ha pre-phylloxeric vines in Cantenac – a historical plot which includes ancient strains and lost varieties. Laurence and Pascale make an exceptional wine called Baragane from this vineyard (see wines below). They have saved some of these rarities from extinction propagating them through massal selection ­­– with a particular focus on the Cabernet Goudable which they find "trés gouteux" with its small berries, thick skin, and spicy flavours. It is interesting to note that star 'pépiniériste' Lilian Bérillon also took some cuttings for a local 1st growth…
In 2011 Laurence and Pascale added a further hectare on deep sandy gravels in Sénéjac and then succeeded in securing a parcel of Margaux, from which they produced their first wine in 2017. They've recently added holdings in Margaux, Moulis-en-Médoc, and they acquired an interesting parcel of 55yo vines right next to Château Margaux. In the space of twelve years Pascale and Laurence have gradually grown their vineyard area from a minuscule 0.4ha to 4.5ha – still pretty tiny in comparison with direct neighbours Palmer, Giscours, and Cantenac Brown.

Farming organically from the start they are part of a group of Margaux-based domaines who regularly share their experiences on biodynamic farming and pull together to make their preparations. Everything is done by hand in the vineyard, and they are helped by Jumpa, Fée, and Églantine, three Trait-Breton horses.
Laurence and Pascale like to experiment and do not follow any method or recipe. They work by intuition vinifying and ageing their wines in all kinds of vessels – cement, stainless steel, barrels of all sizes and age, eggs, amphoras etc. They also understand that Bordeaux can produce wines with great finesse and purity of fruit at perfectly adequate, low levels of sulphur (30mg/l total or below).
The result is fresh, nuanced and terroir-driven wines. Wines that are are free and direct, sometimes atypical in a region where standardisation is still the norm. They did ponder on dropping the Margaux AC for VDF after their wines got criticised and sometimes declassified but, strong-headed, they eventually decided to fight from within, attending most of the AC meetings and challenging the status quo. "We're now confident enough to challenge the 'old boys', we actually enjoy it, and anyway they'd be way too comfortable in between themselves!"
Closeries des Moussis Wines
Closeries des Moussis
HAUT-MÉDOC 2019
70% Cabernet Sauvignon, 20% Merlot, 10% Cabernet Franc
(12.5% alc.)
High density, biodynamically tended vines worked by their own horses, situated on the sandy, gravelly plateau of Sénéjac near Le Pian-Médoc. Average yield of 35hh for 45yo vines. The extraction is very delicate by occasional pigeage, and the wine is aged for 18 months in sandstone amphoras as well as new (10%) to 7yo 300 and 500ltr barrels (rather than the traditional 225ltr). It would be difficult to find a purer fruited wine (using older/bigger barrels and low sulphur really help) which mingle black and red fruits, with a dynamism, freshness and very digestible quality, and fine tannins on the finish. And we don't usually mention labels, but the design is lovely too, and is just another sign of the care and love behind this wine. 25mg/l SO2 total. For drinking now to 2029.
Closeries des Moussis
HAUT-MÉDOC 2016
Baragane
70% Cabernet Sauvignon, 20% Merlot Noir, 10% Cabernet Franc/Goudable/Malbec/Petit Verdot/Carménère/Vieux Cépages
(13.5% alc.)
This particular bottling comes from pre-phylloxera vines located in Cantenac (Margaux) on silty-clay soils, a 0.4ha field blend with forgotten and unknown varieties. Expert pépiniériste Lilian Bérillon took some cuttings to study and propagate them. Wild leeks locally called 'baragane' regularly grow among the vines. Yields rarely go above 10hh, the grapes are carefully destemmed to keep the berries intact, and transferred to a 10yo 600ltr barrel for fermentation. After three weeks of maceration the wine goes into 5yo 225ltr oak barrels for élevage during 18 months. 700 bottles were made following a light filtration and less than 20mg/l of sulphur added. The century-old vines and gentle winemaking techniques confered texture, structure and depth to this incredible wine. Complex, lifted and high-tone this is Médoc in its most beautifully classic and restrained style; a unique glimpse in Bordeaux's past (and future?). A few years of cellaring will reward the lucky few. Best carafed in advance. Drink now to 2030.
Closeries des Moussis
MARGAUX 2017
40% Merlot, 30% Cabernet Sauvignon, 30% Cabernet Franc
(12.5% alc.)
One parcel in Margaux on the typical terroir of graves, the vines average 25yo and yield around 40hh. Fermentation in cement vats, delicate extraction by occasional pigeage, and ageing in old 225, 300, 400, 600ltr barrels. 1 g/hl SO2 only added after malolactic and bottling in May 2019. Rustic and wild in its youth it requires some air to relax and display complex floral notes on the nose. Grippy texture, salivating tannins, gamey flavours with spices and acidulated griotte cherries on a lengthy finish. For drinking now to 2025.