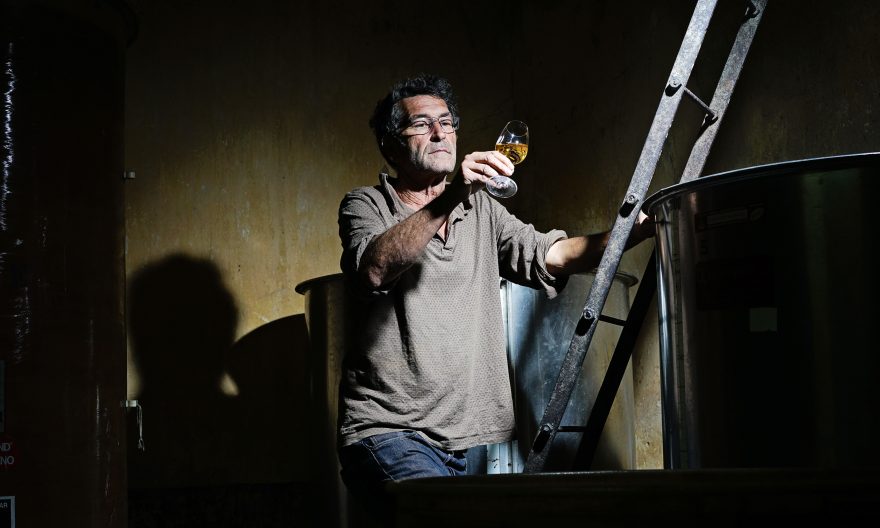 Clos 19 Bis
| | |
| --- | --- |
| Vigneron | Vincent Quirac |
| Location | Pujols-sur- Ciron (Gironde) |
| Size of Domaine | 2 ha |
| Terroir | Atlantic climate. Clay-limestone, sandy gravel, limestone bedrock. Gentle slope around 30m altitude. |
| Viticulture | Practising organic |
| | View Clos 19 Bis wines ↓ |
Vincent Quirac hung up his boots as an adventure tour guide (taking groups to Yemen, the Sahara, Ouzbekistan, etc) following 9/11 and returned home to take care of his family and become a farmer. After a couple of dispiriting stages with conventional Bordeaux growers, he trained and was encouraged by his childhood friend Patrice Lescarret of Domaine Causses Marines in Gaillac.
In 2007 and after a lot of searching around Vincent finally bought three low-yielding parcels located in the Graves and Sauternais regions. He works his 2ha of vines on his own, by hand and with utmost respect for his land. Based at the address 19 Bis on the only road of the hamlet of Pujols-sur-Ciron, he vinifies out of a rudimentary cave in an old space that previously served as a dance hall. "This is where the 90yo owner of the building met her husband. I like that kind of story, this is a happy place!" Vincent comments. Here he makes three to four thousand bottles a year when nature allows.
Vincent doesn't want to expand, looking for a happy and balanced life, enjoying his work with sufficient time to go mountain climbing and sailing. From his 2ha Vincent makes one or two reds depending on the vintage, and a lithe, surprisingly digeste Sauternes. The reds are made using carbonic maceration for a good share of the merlots, ageing takes place in fibreglass tanks and he uses very low levels of sulphur at bottling.
The resulting wines are full of joy, delicately framed with vibrant, expressive fruit. Even though not quite a vin de soif, Clos 19 Bis is the proof that Bordeaux can also be fun.
Clos 19 Bis Wines
Clos 19 Bis
VIN DE FRANCE 2017
70% Cabernet Sauvignon, 20% Merlot, 10% Cabernet Franc
(12.5% alc.)
Usually Vincent Quirac produces one red and a Sauternes from his immaculately tended 2 ha of vines. Back in 2015 (and again in 2018) he also produced a second young vine red, but the quantities were too low in 2017, after the crop was ravaged by a late frost. His sole red in 2017 comes from vines averaging more than 50yo in a limestone-clay soil in Ilats in the Graves appellation and is certified organic by Ecocert. Cuve aged, this wine feels very close to the grapes, with fresh fruit and a hint of liquorice and bay leaf on the nose, a brilliant play of fruit on the palate and notable salinity on the finish. Very low total sulphur level of 25mg/l. Best carafed.
Clos 19 Bis
SAUTERNES 2016
90% Sémillon, 5% Muscadelle, 5% Sauvignon
(12% alc, 133g/l of rs)
Vincent came across a tiny 0.30ha of ancient vines in Sauternes when the owner, an older lady, approached him. She asked if he'd look after her vines, the condition was that he let her have two bottles of the finished wine, he gave her 24! The botrytised must is vinified and aged in 1-2yo barrels, the nose is expressive while the palate is textural, and the finish is long with spices and poached pears aromas.