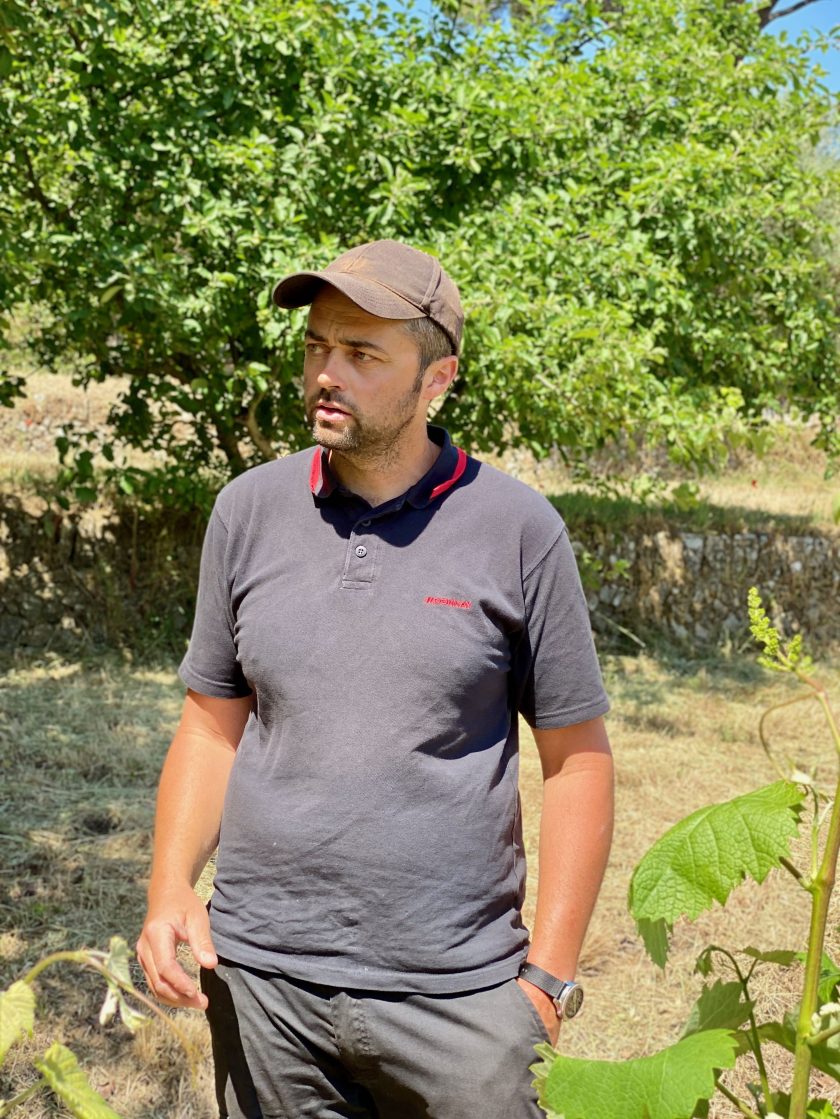 Château Sainte Anne
| | |
| --- | --- |
| Vigneron | Jean-Baptiste Dutheil de La Rochère |
| Location | Sainte Anne d'Evenos (Provence) (Var) |
| Size of Domaine | 15 ha |
| Terroir | Mediterranean climate with maritime influence. Silica-rich sandy marl and calcareous sandstone over limestone bedrock. Gentle to steep slopes, terraces (restanques). N/NE exposure, 120-200m altitude. |
| Viticulture | Certified organic (Ecocert) |
| | View Château Sainte Anne wines ↓ |
Château Ste Anne is a historical domaine in many ways: in addition to pioneering the creation of the Bandol AC, the five succeeding generations of Dutheil de La Rochère resisted the siren call of post-war chemically dependent agriculture, and proudly promoted organic farming from the 1970s.
Ste Anne reached cult status after François and Françoise Dutheil worked closely with like-minded vignerons – Marcel Lapierre, Pierre Overnoy, Thierry Puzelat etc – and Parisian restauranteurs – Café de la Nouvelle Mairie, Le Baratin – to establish l'Association des Vins Naturels A.V.N. in the early 1980s, paving the way for the now worldwide natural wine movement.

Only a few kilometres away from the Mediterranean sea, the domaine is located in Ste Anne d'Evenos, a unique terroir in the eastern part of the Bandol AC. The village is caught in between three 'massifs montagneux' (including the Gros Cerveau to the south), where sea breeze and morning cold air accumulate – the 15ha of vines enjoy a cool micro-climate slowing down maturity – mourvèdre here is usually picked mid-October – and keeping alcohol levels down to 12.5-13.5%. Many Bandols in the rest of the AC weigh in at 14.5% or more.
The terraced hillsides (locally known as 'restanques') are made of calcareous sandstone, with clay and thin inter-beds of white, silica-rich sand. The limestone bedrock is found at a depth varying from two to four meters, with underground sources running through it, and rainwater percolating down from the Gros Cerveau mountain – the vines thrive despite the dry conditions allowing the grapes to ripen slowly and evenly.

Jean-Baptiste Dutheil is now at the helm of Château Ste-Anne carrying on the family's savoir-faire, and taking great care of the domaine's venerable bush vines. Work of the soil is minimal with two 'griffages' during the season (May and July), and a light plough after harvest to decompact the ground. The vines 'en gobelet' are neither trimmed or trellised – they average 50yo through the domaine with some mourvèdres reaching 80yo+.

White grapes are processed whole while the reds are destemmed, white wine and 'rosé de saignée' (bleeding) are vinified and aged in 'cuve inox', the reds are aged in old wooden casks (traditionally used in Bandol) for a minimum of 20 months before bottling. Sulphur is only added after racking reaching a total of 35mg/l for all colours. The Dutheils do not hesitate to extend the élevage in foudres and in bottle, as well as skipping some vintage releases, when deemed necessary.
The wines are always sappy and elegant, with a spicy edge, they are characterised by intense fresh fruit, very fine tannic texture and subtle harmony – a stamp from Ste Anne d'Evenos' singular terroir. Château Ste Anne has remained uncompromisingly old-fashioned, ignoring hype and trends, to produce some of the greatest southern French wines – when considering all appellations from Provence to Roussillon.
Château Sainte Anne Wines
Château Sainte Anne
BANDOL 2019
50% Clairette Verte, 50% Ugni Blanc
(13% alc.)
This scarce cuvée (only 5% of Châreau Ste Anne's total production) is made from 50yo vines planted on north-facing silica-rich 'restanques' (see profile) – yields are around 25 to 30hh. The grapes are directly pressed for three hours, the wine ferments and ages in enamelled steel vats. Bottling occurs in June the following year. Total SO2 35mg/l. Mid-gold in colour, this is richly textured with notable balance and purity, the aromatics are complex hinting at melon, straw, fennel, anise, and citrus. On the finish, there is a little sea salt and an attractive bitterness. For drinking now to 2029.
Château Sainte Anne
BANDOL 2020
70% Mourvèdre, 20% Cinsault, 10% Grenache
(13% alc.)
Average 50yo vines that give a yield of just 25hh with 20% of the mourvèdre share coming from young 10yo vines. Alone among the top Bandol producers, Ste Anne continues to make its rosé the old-fashioned way with the 'saignée' method (bleeding as opposed to a direct press), using ambient yeast, allowing alcoholic and malolactic fermentations to work at their own pace without SO2 till racking. Similar ageing and bottling than the white cuvée – total SO2 35mg/l. Château Ste Anne simply produces the most complex and age-worthy rosé of the AC – this wine has a very attractive onion skin colour, multi-layered texture with red fruits, fennel, garrigue herbs and a hint of sweet spices. For drinking now to 2030. It is also interesting to note that Jean-Baptiste continues to only make 20% of rosé despite the local high demand – these days rosé represents 75% of the Bandol AC's production.
Château Sainte Anne
BANDOL 2017
60% Mourvèdre, 20% Grenache, 20% Cinsault
(13% alc.)
50yo+ bush vines, 80% of the grapes are destemmed with the whole bunches going at the bottom of the cuve. The open vats are punched down only once per day, by hand with a simple wooden tool, and they're cooled down with a sprinkler hose when necessary – rudimentary but efficient technology! Élevage in traditional wooden foudres for 20 months. Ste Anne's red has exceptional colour, a clear raspberry extending right to the edge. On the nose and palate, you find spiced black fruits, liquorice, a hint of game, leather and a lightly saline note. The palate is supple and mid-weight, it's a very elegant and nuanced wine (a rare quality for many mourvèdres) drinking beautifully now although a long future is assured (2035+).
Château Sainte Anne
BANDOL 2016
Cuvée Collection
95% Mourvèdre, 5% Grenache
(13.5% alc.)
This comes from a 'sélection parcellaire' – a particular north-facing 'restanque' where mourvèdre thrive and grow old, 80yo+ in this case. Vinification and 20 months ageing as per the classic red. This is extremely deep and concentrated as you would expect from such old vines, still retaining Ste Anne mineral stamp, freshness and nuanced texture. "Un grand vin Provençal", that will age beautifully over decades.