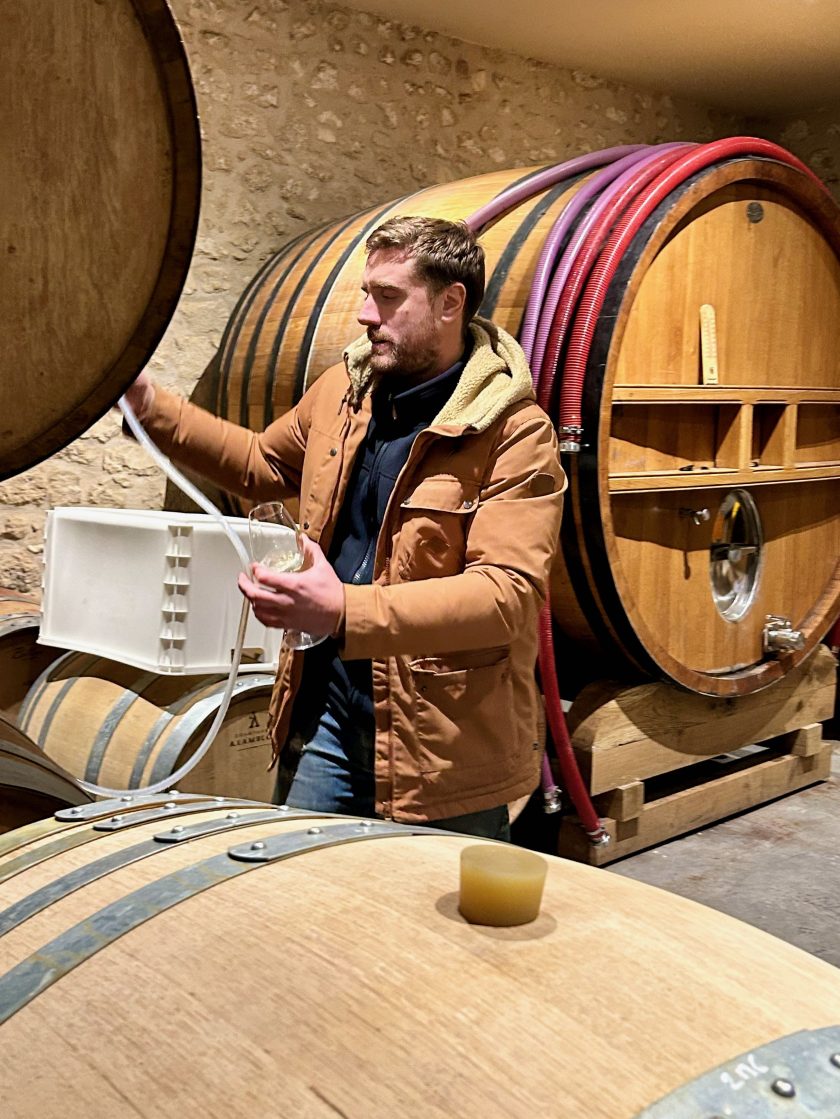 Alexandre Lamblot
| | |
| --- | --- |
| Vigneron | Alexandre Lamblot |
| Location | Janvry (Marne) |
| Size of Domaine | 3.5 ha |
| Terroir | Continental climate with Oceanic influence. Light sandy soil (Thanetian sand) mixed with silts and clays, over chalk bedrock. 80-120m altitude. |
| Viticulture | Certified organic (Ecocert), practising biodynamics and agroforestry. |
| | View Alexandre Lamblot wines ↓ |
It was thanks to a tip from Jérome Prévôst (La Closerie) that we connected with Alexandre Lamblot – a young winemaker in Janvry (north-west of Reims) who is part of a new generation of natural-leaning vignerons in the dynamic Petite Montagne de Reims area. Alexandre's family has been growing grapes and making wine since the 1600s. Starting in the mid-2010s, he launched a small ambitious project of his own, releasing his first wines in 2019 – although he still sells a little fruit, including some pinot meunier that goes into La Closerie's & cuvée.

Alexandre farms 3.5ha for his own project with vines scattered across Vrigny, Chenay, Janvry and Gueux. Pinot meunier is the main grape planted but he has small holdings of all seven permitted varieties including arbane, pinot gris & blanc, and petit meslier. While he is officially certified organic, Alexandre's work in the vineyards goes well beyond, both thorough and sensitive, driven by his desire to respect the soil with the least amount of impact on the environment.
He uses small caterpillar tractors in his vineyards to avoid compacting the soil and, to increase biodiversity, he allows grass, natural plants and fruits to grow between the vines – the balance of the cover crop is controlled either by rolling it (using a rollofaca) or by bringing in a mobile chicken coop where the flock feed on the plants and fertilise the soil. Alexandre also practises agroforestry where trees and shrubs are interplanted with the vines – around 100 different species per hectare. In addition, the different biodynamic preparations are sprayed while lunar cycles are followed in all aspects of work.

Spring means a good amount of debudding to control yields and ultimately build intensity and texture to his wines. He braids the vines in order to increase energy exchange, always taking care never to trim the apex, allowing the vines to complete their vegetative cycle more quickly and without stress.

In the cellar, Alexandre uses a traditional wooden press to process the grapes slowly and gently. He vinifies by separate terroir, cépage as well as parcel, and all his champagnes are single vintage (discreetly marked on the detailed back label). SO2 is only added at the press and totals around 20mg/l at bottling. The wines ferment and age in a mix of new to 15yo 228 to 600ltr barrels as well as bigger foudres, he's also been experimenting with clay amphoras and glass demi-johns.

For the second fermentation, he bottles the still wines at around 11 months without fining or filtration. Additionally, Alexandre opts for a 'liqueur de tirage' at a low 22g/l of sugar resulting in a soft, fine mousse, and most of his champagnes are aged under cork rather than capsule. For the 'remuage', the wines are hand-riddled on traditional wooden 'pupitres', and Alexandre practises 'poignettage' where the bottles are shaken by hand ('poignet' translates as wrist) to remix the lees at different stages of the ageing 'sur lattes' – this nourishes the wine and builds in texture and depth. Disgorgements are always without dosage, and Alexandre mentions on the back labels that each cuvée needs a minimum of nine months bottle ageing post disgorgement.

Stylistically, the Lamblot champagnes are of thrillingly high quality, clear fruited and complex with great depth – they already bear comparison to the finest grower champagnes (his progress in less than a decade is quite out of the ordinary). There's an insatiable worldwide demand for these sought-after bottles, and strict allocations are sadly the order of the day!
Alexandre Lamblot Wines
Alexandre Lamblot
MOUVANCE (2017)
55% Pinot Noir, 25% Pinot Meunier, 20% Chardonnay
(12% alc.)
The 25-50yo pinot noir dominant vines here are planted in both Chenay and Vrigny in very sandy soils, that convey a lot of character, structure and finesse to a champagne that is especially suited to long ageing (Alexandre judges that it can be drunk until 2028). There is both a complexity and purity on the nose that are a signature of Lamblot champagnes, depth, lift and energy on the palate with minerals and enticing bitters keeping you riveted to the end. Disg. 12/21 - Non dosé.
Alexandre Lamblot
INTUITION (2018)
60% Meunier, 25% Pinot Noir, 15% Chardonnay
(12% alc.)
This pinot meunier dominant blend comes from a selection of parcels on sandy and silty soils located in Gueux, Vrigny and Chenay, where the vines range from 30 to 60yo. The selection and blend change every year – this is an 'exercice de style' where Alexandre works 'by intuition' aiming at elegance and nuances. This cuvée is marked by the pristine character of its lifted and floral fruit, with harmony and energy at the fore. Disg. 04/21 - Non dosé.
Alexandre Lamblot
FRÉNÉSIE (2018)
Vrigny 1er Cru
100% Pinot Meunier
(12% alc.)
Frénésie is a 100% pinot meunier champagne from old vines (40-60yo) across four terroirs in the sandy soils of Vrigny (1er Cru). It's a selection of the best four barrels of the domaine and it was given 31 months ageing 'sur lattes'. This is a champagne that will keep longer than others, Alexandre reckons that it has at least eight years to give post disgorgement – its fruit is tightly wound, it's dense and vinous, but never too heavy, with distinct herbal notes, even a touch of chamomile on the palate. Its sapidity is marked with attractive bitters and salinity on a very long finish. Disg. 12/21 - Non dosé.
Alexandre Lamblot
AMPLITUDE (2017)
100% Chardonnay
(12% alc.)
Alexandre's confidential cuvée Amplitude (that isn't made every year) comes from two tiny parcels of old vines – Les Fourgons in Vrigny (1969), and Grand Chemin in Janvry (1982). Just two barrels were produced in 2017 and what a wine! It has weight, depth and richness on the palate that reminded us of a Selosse champagne, but it also combines tension with crunchy acids and minerals. Given a longer period 'sur lattes' of 42 months during which three 'poignettages' (see profile) were carried out. It's already outstanding and will age gracefully. Disg. 02/22 - Non dosé.
Alexandre Lamblot
LA VIGNE À VOVONNE (2018)
Vrigny 1er Cru
100% Pinot Noir
(12% alc.)
This box set of two bottles – one red Côteaux Champenois and one Champagne made from the same plot – is named in honour of Alexandre's inspiring grandmother Yvonne, superbly depicted on the label. This is a fascinating study of terroir, parcel and cépage – from 1984 pinot noir vines planted in the vineyard of Les Clos in Vrigny (1er Cru), the soil has a deep 1.5m top layer of Thanetian sand over clay and limestone. The still red Côteaux Champenois has an attractive reduction on the nose that soon wafts away, it has earthy notes with good dynamism and tension, typical of an excellent pinot noir, the tannins are ripe and fine grained. The champagne from the same vines is another stunning wine, tightly wound, dense and dynamic, floral and mineral, very long and lip-smackingly saline on the finish. Only 240 bottles were produced. Disg. 02/22 - Non dosé.