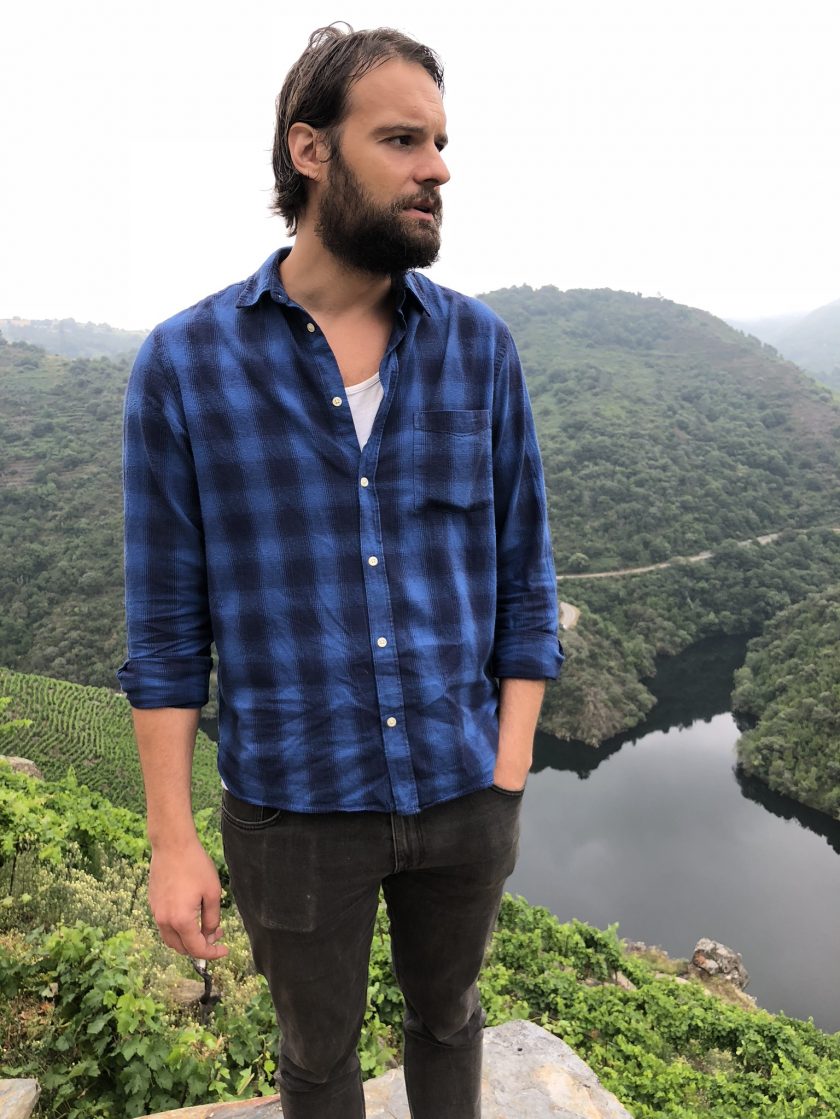 Adega Algueira
| | |
| --- | --- |
| Vigneron | Fernando González Riveiro, David Pascual |
| Location | Doade (Lugo) |
| Size of Domaine | 23 ha |
| Terroir | Continental climate with strong oceanic influences, highest temperature reached in the prestigious Amandi sub-region. Schist, granite, slate and gneiss. Mainly southern exposed, extremely steep terraced slopes overlooking the Sil river. 350 to 550m altitude. |
| Viticulture | Sustainable – practising organic, fungicide might be used in really challenging vintages |
| | View Adega Algueira wines ↓ |
The Romans first carved the Ribeira Sacra terraces (solcacos), over 2,000 years ago, into canyons and gorges so dizzyingly steep that it makes the hillsides of Côte-Rôtie look like nursery slopes. Over the centuries, monks and their many monasteries (hence the name Ribeira Sacra) expanded and maintained the gigantic network of solcacos and vines along the rivers Sil, Miño and Bibei. At the end of the 19th century phylloxera followed by economic depression, civil war and dictatorship ruined Galicia. The younger generations fled the country and what took centuries of pain and suffering to build was abandoned in decades.
Fortunately, local heroes such as Adega Algueira's Fernando González Riveiro are restoring some of these historical vineyards and painstakingly reclaiming their heritage. Fernando is an exceptional vine grower and was the first to believe in the true native grape varieties from the area: merenzao (aka trousseau), brancellao, sousón, caiño etc.
Since 1980 he has done what no one else has; searching, selecting, re-planting and trialling these grapes in different soils and expositions, vinifying them separately to understand which terroirs they're best suited to, resulting in long-lived wines with an incredible mineral resonance. A true legacy.
Adega Algueira Wines
Adega Algueira
RIBEIRA SACRA 2016
Cortezada
40% Godello, 40% Albariño, 20% Treixadura
(13% alc.)
The impressive Cortezada vineyard was carved into an amazingly steep amphitheatre around 1900. Fernando and his team have rebuilt it to its original shape over 17 years, as it was abandoned and covered by the forest. Located in the Riberas do Sil sub-region, the vineyards walled terraces are two to three meters high and 200m long on gneiss, quartz and slate! Fermented with indigenous yeasts and aged in stainless steel to help preserve fruit and minerality, the wine combines power and elegance with ripe yellow peach and apricot aromas.
Adega Algueira
RIBEIRA SACRA 2015
Pizarra
Originally from Castilla y Léon (think Bierzo) the now ubiquitous mencía has adapted extremely well to Ribeira Sacra, especially on the hot southern exposed slopes of the prestigious Amandi cru. Named after the slate (pizarra) soils of the Carballocovo vineyard, the grapes were (like most of their reds) foot trodden with full clusters in wooden open vats, fermented with natural yeasts and aged for just over a year in oak barrels of different sizes and ages. This wine has depth and an almost chewy texture with complex flavours of cured meat, black cherries and Mediterranean herbs. For drinking now to 2025+.
Adega Algueira
RIBEIRA SACRA 2016
Risco
Also called maria ordoña in Galicia, bastardo in Portugal and trousseau in Jura, the merenzao grape was a regular on the Camino de Santiago tagging along the monks. Foot-trodden with full clusters in open wooden vats, fermented with natural yeasts and aged for just over a year in oak barrels of different sizes and ages. Pale in colour and translucent despite a warm vintage, balsamic and earthy on the nose, round texture with ripe red berries and morello cherries, smoke and dried roses. Oak tannins are still present but will rapidly integrate. A regular star on the Algueira portfolio. For drinking now to 2030.
Adega Algueira
RIBEIRA SACRA 2015
Serradelo
100% Brancellao
(12.5% alc.)
A true native Galician variety, the brancellao grape has been nicknamed 'the pinot noir of Galicia' by the new wave of local winemakers (e.g. Envínate). Foot-trodden with full clusters in an open wooden vat, fermented with natural yeasts and aged in old oak only (5yo minimum) to preserve the grape's subtleties and vivacity. Also pale in colour, this is a lifted and leaner style of Ribeira Sacra with a vertical acidity and minerality given from the slate and schist soils. The bouquet has clarity with refreshing aromas of cranberry leaf, blood orange and black pepper, with cherries and tar on the palate. Brancellao is naturally back in favour and has a lot to say. For drinking now to 2025.