Augalevada
| | |
| --- | --- |
| Vigneron | Iago Garrido |
| Location | San Clodio (Ourense) |
| Size of Domaine | 4 ha |
| Terroir | Atlantic climate with continental influences. Granite and jable (granitic sand). Stony terraces on 100m height difference. SE exposition. 300m altitude. |
| Viticulture | Certified biodynamic (Demeter) |
| | View Augalevada wines ↓ |
We were introduced to Iago Garrido by Laura Lorenzo (Daterra Viticultores) during the Vitis Vinifera wine fair and Cuvée 3000 anniversary (a big fiesta!) in Barcelona back in 2017. His wine's energy and digestibility struck us, a welcome 'pick me up' towards the end of a hectic day of tasting, drinking and eating. When meeting Iago one can easily draw a parallel between his sensitivity, humility, kindness and the astonishing purity of his wines.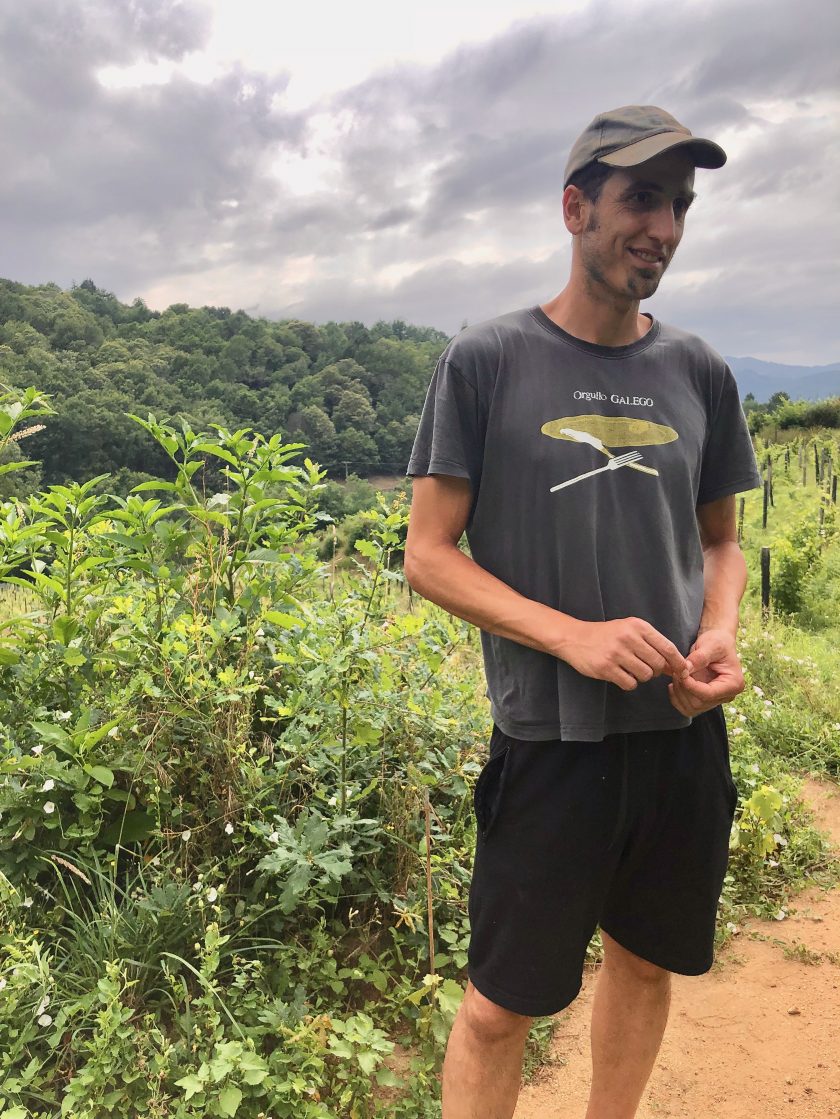 Augalevada was created in 2009 and takes its name from a stream passing right through the middle of the farm. Iago fell in love with an abandoned slope, tucked in a valley, behind the ancient Monasterio de San Clodio. He purchased just over 4ha, built a winery on-site and planted 2.5ha of vines, spread over the granitic terraces, struggling against an invading forest.
Having studied agricultural engineering, Iago became fascinated with permaculture at a young age and Augalevada is the first biodynamic certified (Demeter) winery in the history of Ribeiro; Galician cows chew on the lush grass, chickens roam through the vines while diverse orchard trees and a vegetable patch feed the Garrido family.
Disappointed by the monolithic expression of the godello and treixadura he first planted, Iago decided to start over again. He re-grafted using agudelo, a variety the elders long thought to be a strain of chenin, something that was recently confirmed by DNA analysis (cf. Wine Grapes, 2012). He also added more reds to the field blend with sousón and caiño de la tierra (different from the caiño longo and redondo varieties).

The Augalevada farm is in the north of the Ribeiro DO, not far from the Avia river, in the Rioboó zone once famous for its reds. The stream (levada) is an undeniable advantage in this warm area creating a cool airflow during the hot summers.
Iago built his cellar digging into the granitic hill over three floors allowing for gravity during winemaking. He ages his wines in 500ltr and 600ltr barrels as well as tinajas made by the master Juan Padilla (Villarrobledo), buried underground in the cellar basement, each amphora and barrique develop its flor and brings out different traits to the wines. SO2 is only added at bottling reaching a low 20-25mg/l total.
Augalevada is one of the most progressive wineries in the whole of Spain working on the restitution of a historical and incredible terroir. We are convinced that Iago's sensitivity towards nature and attention to detail will take him far.
Augalevada Wines
Augalevada
MERCENARIO BLANCO 2019
50% Treixadura, 25% Albariño, 25% Palomino, Caíño Branco, Torrontés, Lado
(12% alc.)
The wines labelled Mercenario are made from grapes bought from like-minded growers practising sustainable farming. Different vineyards through the Ribeiro DO on the banks of the Miño, Avia and Arnoia rivers. The different varieties are directly pressed, native yeasts trigger fermentation in stainless steel before transfer in 400ltr tinajas as well as 600ltr barrels. Texture and sapidity characterise this Mercenario, its well-integrated VA and savouriness make a convincing case for umami in wine.
Augalevada
MERCENARIO PARCELA EIRAVEDRA 2019
One of Iago's Mercenario wines, Parcela Eiravedra is a single vineyard in Rías Baixas (Val do Salnés) and Iago managed to get hold of the grapes thanks to his extremely well-connected friend Xurxo Alba (Albamar). 10 months ageing in both tinajas under flor and old barriques. This wine is built around acidity and shows great vitality with lingering citrus flavours and incisive minerality.
Augalevada
OLLOS DE ROQUE 2018
75% Treixadura, 20% Lado, 5% Agudelo
(12% alc.)
Ollos de Roque translates as Roque's eyes in Gallego – Roque being Iago's son. This is the jewel in the crown made from Augalevada's own grapes as opposed to the Mercenario wines. Iago planted the vines in 2009 and decided to re-graft some of them (see profile) with lado as well as the promising agudelo – a chenin cultivar brought by the monks via the Camino de Santiago centuries ago. The wines were aged in a mix of stainless steel, 600ltr barriques and buried tinajas (one of them right in the middle of the vineyard) under a thin layer of flor. Blended in June and bottled in August the following year, the finished wine was then bottle-aged for another year before release. SO2 was only added at bottling to reach a low 25mg/l total. Crystalline and lifted, with flavours of pink grapefruit, tarragon and roses, this is lush and round while packed with salivating razor-like acids. Saltiness and fine bitters extend a lengthy and energetic finish. A stunning wine that showcases all of Iago's talent! For drinking now to 2025.
Augalevada
MERCENARIO TINTO 2019
Caiño Longo, Caiño da Terra, Brancellao, Espadeiro, Sousón
(12% alc.)
From different vineyards through the Ribeiro DO on the banks of the Miño, Avia and Arnoia rivers – field-blends with many native grape varieties. Fermentation was carried out in open vats where whole grapes were foot trodden and then 'massaged' by hand for light extraction. Fermentation and 10 months ageing in old demi-muids (2/3) and tinajas. This nuanced red wine is pure joy, combining aromas of watermelon, menthol, spices and cured meat. Its lifted flavours and high drinkability will please many Jura lovers!
Augalevada
CRIANZA BIOLÓXICA 2019
50% Treixadura, 50% Albariño
(12% alc.)
As per Mercenario Blanco, the grapes come from the Ribeiro DO. Fermentation in stainless steel, and then transfer in buried 400ltr tinajas in which Iago adds wine from 'la madre' – a filled-up tinaja with a thick layer of flor started off in 2011. A 10 months ageing under flor follows. An amazing wine worth serving blind among Jura wines 'elevés sous voile' and other vin jaunes...