Vine Trail visit at Daniel Le Conte des Floris on May 18th 2011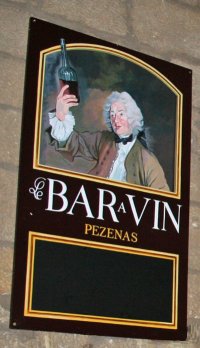 We visited Daniel Le Conte des Floris on May 18th in Pézenas, in the heart of the Coteaux du Languedoc appellation. After a first career as a professor of computational science, then a spell at the National Film Center (CNC) and four years at the French magazine "La Revue du Vin de France" (RVF) where he worked as assistant chief editor, this wine aficionado dreamed of becoming a wine grower. He realised his dream in 2000 by settling down in Pézenas after a training period in Beaune. By leaving Paris and journalism, he wished to dive body and soul into the vineyard. After three years spent acquiring really good parcels of old vines, he is now in charge of a 7 hectare domaine which is in the course of organic conversion. Complex soils (volcanic basalts, Villefranchien gravels, schists from the Carboniferous period) planted with syrah, grenache, carignan, cinsault, mourvèdre, marsanne, roussanne, white carignan and terret bourret.
The way Daniel selected these plots of land is quite original: in his role as assistant chief editor at the RVF, he had access to samples of all the wines from Languedoc. When he found that was a good representative of the grape / soil, he noted the location of the vineyard on a map. By doing so, he began to realise the quality of the soil around Caux, where the carignan, grenache and syrah grapes in particular, gave singular, typical and potentially very good wines, according to the type of soils on which they were planted. It is thus quite naturally that he came to settle in this region when he decided to become a winemaker.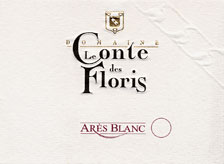 From the beginning, these small plots of land seduced him. For each soil, the vine that suited best. Such was at once Daniel's vision. By visiting his various parcels of vines, we noted that every soil had benefited from thorough work in the vineyard, clean and natural (ploughed), without weed-killers, pesticides or artificial fertilizers. Also, every wine has to have its own identity and reflect at best the soil from which it comes from to offer some minerality, depth, power and elegance. Daniel likes to see his wines as a photograph of the soil which they are coming from. He wants especially that his wines tempt you to drink some more!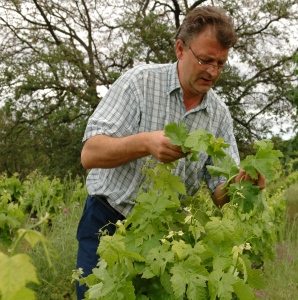 With Daniel, the retranscription of his soils through the wine can be made only in a natural way. After several years of hard work, without any intervention in the vineyard as in the cellar, organic certification Ecocert is going to be official from the next vintage (2011). During a recent interview on this subject, Catherine - Daniel's ex-wife but still associated on the domain - explained: "The organic viticulture requires a lot of elbow grease. And of time as well. A few metres away from my plot of land, there is another vineyard, not organic this one, in no way. It is tidied up well, very clean and bare, rather like an Ibis hotel room. Ours rather looks like a bed and breakfast in London occupied by students of Jussieu (a French university in Paris) who came to see a concert of Pink Floyd. A big mess. Bumps everywhere, wild grasses, thistles which scratch calfs, and right in the middle of it our young roussanne vines try to survive." But she finishes full of energy: "Organic practice works as the grapes taste so much better!"
The domaine is producing 3 red wines. Each soil is associated with a dominant grape: grenache for the gravels of the "Villefranchien" period, syrah for the schists of the "Carboniferous period" and carignan for the "volcanic basalt ".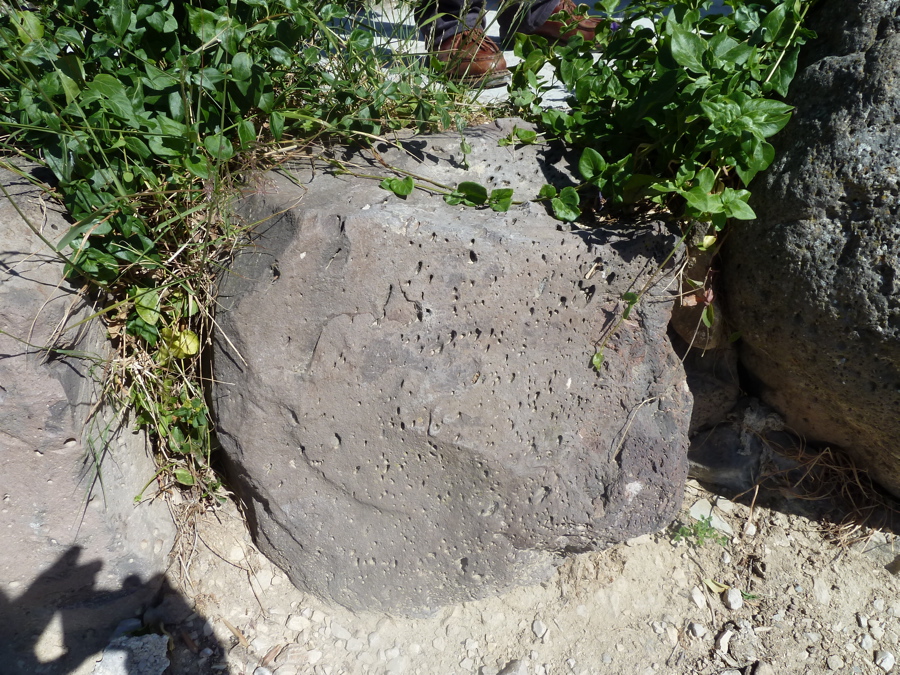 In Languedoc, we find very few white wines. Only 12 % of the production is in white. There is 10 % of rosé and 78 % of red. We often hear that it is too hot there to produce good whites. Nevertheless, when we visit the area, we want to drink white wines! The food lends itself well and the climate also, but there are too few really good examples.
Daniel appreciates enormously the white carignan, an underestimated grape although splendidly adapted to the climate. Its natural acidity allows the winemaker to push its maturity without ending up with a heavy wine. When the carignan blanc is dominant it gives the cuvée "Lune Blanche". In the most beautiful vintages, carignan blanc is blended with roussanne for the cuvée "Lune Rousse". To complete the range of whites, it is blended with marsanne and a little terret bourret to give the cuvée "Arès blanc ".
Having visited the vineyard with Daniel, we went to his cellar to taste the 2010 vintage still in barrels. The cellar, where the vinification and élevage are carried out, is near the "circulade" which encloses the historic part of the village of Caux, in an old cellar dating back to the beginning of the 20th century. During the tasting, we have been impressed by the clarity, freshness and tension of the white wines which, once again, are not easy to produce in this region. All the red wines are characterised by a fantastic aromatic concentration. Regarding the carignan noir, thyme, blackcurrant and smoky aromas express themselves already completely, for a wine which will unquestionably be extremely pleasant.
We then returned to Pézenas to taste his bottled wines in the wine bar that he opened recently with a sommelier friend. We tasted the two wines that we started to import in UK this year ( "Basaltique" and "Arès blanc") and we then tried bottles and vintages which Daniel wished to make us discover.
Coteaux du Languedoc Arès blanc 2008
(60% marsanne, 25% carignan blanc, 15% terret bourret) Terroir : basalts, schists and sandstone. Yields limited to 25 hl / ha. Vinification : cold settling of the juice, alcoholic and malolactic fermentation in barrels. Ageing : for one year in 2 to 5 year old barrels then for six months in tank. This wine enchanted us with its minerality and its nose of apricot, honey, peach, vanilla and gingerbread. It shows a nice weight and roundness in the mouth, with a beautiful, very dense texture. Its aromas of ripe fruits complete the picture to make a wine of a great richness. It is very structured with a beautiful bitterness on the finish. We fell under the spell of this great wine which has a remarkable potential.
Coteaux du Languedoc Basaltique 2007
(80% carignan, 10% syrah, 10% cinsault and grenache): Terroir : basalts (lava flow). Yields limited to 35hl/ha. Vinification: light extraction with just a few cap punching and pumping over, rather long cuvaison ( 4 weeks). Ageing : in barrels from 2 to 4 wines for half, and in tank for the other half, for one year then assembled and given 6 months in tank before bottling. The nose strikes by its expression of restrained richness, its aromas of blackcurrant syrup, strawberry juice, olive, dried herbs and elderflower. In the mouth, the structure is harmonious and delicate with minerality, fruit and totally integrated ripe tannins. The finish goes on and on, without heaviness or heat. An authentic wine of terroir for amateurs and a beautiful expression of this volcanic soil which associates delicacy and sun, pleasant fruits and digestibility. It is a very beautiful wine that can be enjoyed now with a lot of pleasure.
The following sentence summarises Daniel's approach: "Through the expression of our very diversified soils, we look for the delicacy and the freshness in our wines more than the concentration and the power. The wine is made to be drunk, we shall never say it enough... "
Very beautiful wines indeed: surprising and mesmerizing white wines with their deep mineral dimension, always zippy and complex; generous and fruity red wines, typical of the identity of their soil by their minerality and of their climate by their weight tinged with freshness.
A domaine to be discovered if you haven't done so already, with unanimously good notes from the press.