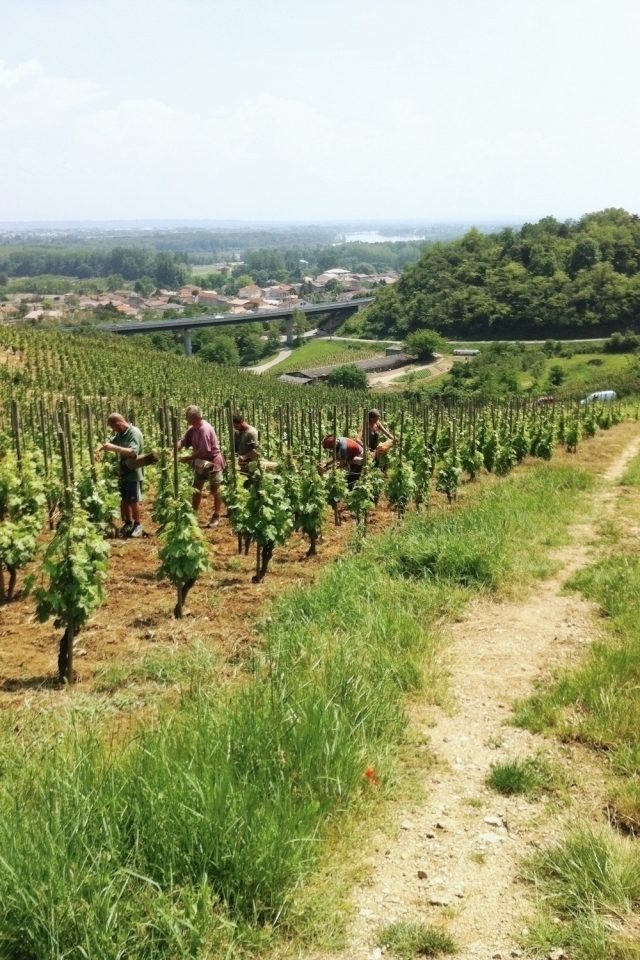 My work in the vineyards of Saint-Joseph
| | |
| --- | --- |
| Author | Cath Brookes |
| Published | 6 June, 2012 |
I have just returned from working for a week on the steep hillside vines in Gonon's vineyard in the Northern Rhône with a friend of mine, Fiona. Jean gave us a lesson in tying the vines on the Sunday. The vines are tied 3 times during their growth, and this was the first tying. The trick was to carefully pull all the branches of the vine towards the stake with one hand, and with the other, to wind 2 joncs (Madagascan reeds which had been soaked overnight in water) round all the branches and tie them to the stake without squashing any leaves (so that they didn't attract mildew and were free to absorb spraying).
On the Monday morning we rose at 5.30 for a 6.30 start – any workers who hadn't arrived at Jean's house by then would get left behind. We would then pile into 3 or 4 vehicles, one of them carrying the bails of joncs, various pieces of sack or cloth to wrap the joncs, and a belt to tie round your waist for carrying, which got tightened as the joncs were used. The first day it was pouring with rain so hard that Jean decided to call off the work – the branches were so heavy with rain that they would have snapped when tied. In the afternoon, it was still raining but Jean didn't insist on everyone turning up as he felt they might not have carried on! We had 7 workers in the afternoon (20 people are needed to cover 1 hectare).
The next day (10 workers) it was still pouring with rain and by lunchtime (6.30-12.00 with no break) we were so wet that we had to peel off every layer of clothing and change. After lunch it was still raining but we returned to the Les Oliviers site to tie the roussanne vines with a full team, and then on to the oldest vineyard (55 years old). The first flowers were just appearing but Jean was concerned that they would need sun soon. The Gonons are organic vignerons, and plough between the rows with a sturdy horse from the Jura (Corntois breed) called Samson. However it was too wet to plough while we were there. The Les Oliviers soil was much softer but very muddy. The vineyard adjacent to this site was noticeably stonier and 3 ft lower because of the erosion due to the chemicals used—there were no weeds to hold the soil so it was washed downhill in the rain. The Madagascan joncs are a reed similar to pampas grass which cost €4,000 p.a. (380 bales or approx 12p per vine) and have to be kept in water overnight so that they are flexible for tying.

Wednesday was our first full day of work – it had stopped raining but was cloudy. Fiona had borrowed some wellingtons because her trainers weren't waterproof and our jackets were still damp so we had to borrow some waterproofs. We were working in Jean's father's vineyard which German prisoners of war had planted. It was cloudy and difficult to tie vines because it was so windy. The "experts " were given a different task of cutting off the young shoots leaving the bud for next year's growth. When the weather improved, Jean's brother Pierre and 2 of the other workers were spraying the vines which is done every 2 weeks during the season, using a mixture of copper, sulphur, willow tree and, at this time of year, nettles (the potency of the sting is good to ward off disease and insects). We had a tour of the cave after work – 2 cuves of the marsanne and roussane which are mixed from the start had been picked 2 weeks apart. We also tried some VDP Chasselais which came from Raymond Trollat's land which the Gonons rent and 2 cuves of red syrah—Jean de Muzols and a younger vineyard—the combined cuve giving a perfect balance.
On Thursday there was no rain, but it was cloudy and windy and we were on the steepest land which meant you had to straddle your feet on either side of the vine and standing uphill all day brought on a bad case of cramp and Fiona turned her ankle on the slopes. But the sun came out in the afternoon.

On Friday it was at last sunny! We finished tying Les Oliviers – the white vines are easiest to tie as they are not so straggly and have less leaves. Jean called Fiona and I to stop work as he had something else for us to do—visiting Raymond Trollat and his wife who Jean rents the Chasselas from. Madame was very concerned about the state of our hands and my silver rings which had turned black and insisted we went to wash them, but I tried to explain that even scrubbing was not enough, and Raymond said there was little point when we had to go back to work! The workers were eating apple pasties when we returned—a Friday treat! After lunch we finished the St Jean de Muzols site surrounded by poppies and then we went for an aperitif back at Jean's house which was an opportunity to practise our French though we then realised that most of the other workers could actually speak a little English too!

The weekend was a good chance to relax before returning to the UK and were spoilt with a tour of Valhrona chocolate shop in Tournon, the wonderful Tournon market and aperitifs by the river. Fiona and I walked up the hill above Mauves—we could see Jean working in the garden and we sat on a bench surveying the terroir with the Vercolts mountains on the horizon...