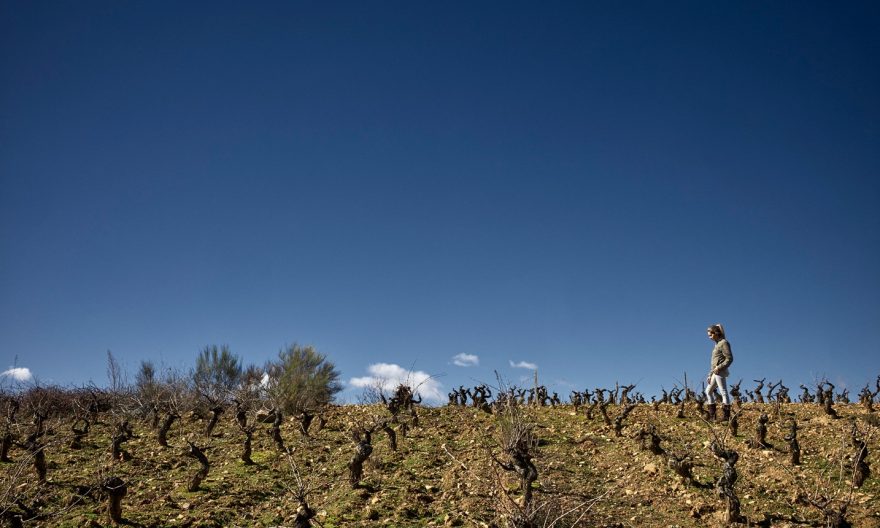 Veronica Ortega
| | |
| --- | --- |
| Vigneron | Veronica Ortega |
| Location | Valtuille de Abajo (León) |
| Size of Domaine | 5.7 ha |
| Terroir | Continental climate with Atlantic and Mountainous influence. Slate, clay-limestone, granitic sand. Gentle to steep slopes. 600m altitude. |
| Viticulture | Practising organic |
| | View Veronica Ortega wines ↓ |
Veronica Ortega was brought up in Cadiz with five elder brothers and a famous bullfighting father, but catching the wine bug in the 2000s she moved away to Priorat where she worked with Alvaro Palacios and Daphné Glorian (Clos Erasmus), then Burn Cottage in Central Otago NZ, Niepoort in the Douro, Comte Armand and then a season at DRC in Burgundy, followed finally by a spell with Domaine Combier in Crozes. Upon her return to Spain, she worked with Raúl Perez in Bierzo from whose cellar she experimented before setting out definitively with her project in 2012.
She loves the region of Bierzo, for its history, the authenticity of its wines, its strong Atlantic influence, and a variety in mencía that is very sensitive to its soil types and altitude. It reminds her a lot of the syrah she worked with in the northern Rhône for its wild nature and savoury character, and comments that in blind tastings the two grapes are often confused.

Veronica has gradually pieced together her holdings of 5.7ha of old vines through leasing and buying, though she has struggled to buy plots, noting that "locals are tied to their land, and prefer to own it while doing nothing with it, rather than selling!" The help and network of her friend Ricardo Palacios (Descendientes J. Palacios) proved instrumental in securing top terroirs. In addition, she buys grapes from growers working well in the vines, although she and her team choose the picking date and carry out the harvest. She follows organic practices in her own vineyards and is in the process of converting to biodynamics.

Her range has grown from only one red – ROC – in the first year, to five reds and two whites. Her first ever made white bottling, the electric godello Cal (that came to fame partly because the vines are planted in limestone, a very rare soil in Bierzo) was discontinued following the 2020 vintage – Raúl Perez took over the lease of that particular plot rather unexpectedly.
The Valtuille de Abajo reds are the mainstay and the reason Veronica settled in Bierzo – Ricardo Palacios tipped her off about the El Couso and La Rata vineyards being for sale and it was from there that she produced her first wine called ROC. This comes from a plateau and upper slopes planted with vines over 80yo, mostly mencía but, as with all old vineyards, with a myriad of small quantities of other varieties. The soils are very stony with a sandy, iron-rich clay base in which the mencía thrives – the lower part of the slopes see less sand and deeper clay soils that tend to give more concentrated wines.
Most of her reds are from vineyards in Valtuille, but there are two – Cobrana and Kinki – that come from a different part of Bierzo, close to the DO limits northeast of Ponferrada (not far from Bembibre). The vines are at some 750m in altitude on blue slate and red clay soils. The wines have a very aromatic profile, as the field blends are made of a significant proportion of white grapes (25-30%, a local tradition in this part of Bierzo), making them lighter in colour somewhere in between a full-bodied rosé and a light red.
2017 was a year of terrible frost that decimated many vineyards, and Valtuille, being on the valley floor, suffered a lot. So, Veronica had to go out searching for new sources for grapes, especially for the entry-level wine Quite. She found an incredible 40% slope planted with 100yo vines in a slate soil in the village of Villabuena. The grapes and finished wines from there were so good that she secured the vineyard for future vintages, and since 2018 it is the sole source of Versión Original.
Most of her wines are partly aged in amphora (the balance sees 228ltr oak barrels), because Veronica likes the purity and the texture of the fruit it conveys. She works with whole bunches for her single-vineyard wines although Quite is destalked, and she keeps sulphur levels as low as possible – total of 25 to 40mg/l through the range depending on the wine's stability – but she rightly points out that mencía gives wines with a naturally high ph of around 3.60 which "obliges the use of some sulphur". All of Veronica's wines have the most exceptional texture, balance and grain of tannins – she has a clear talent when it comes to extraction and ageing.
Veronica Ortega Wines
Veronica Ortega
BIERZO 2020
Cal
100% Godello
(12.5% alc.)
Cal comes from 50yo vines giving tiny grapes planted in limestone (a very rare soil in Bierzo where slate and clay are more usual) above an old quarry near the town of San Juan de la Mata. Macerated on the skins overnight, it is aged for 14 months – 50% in 800ltr amphoras and 50% in 228ltr and 600ltr barrels. Due to the type of soil the pH of the wine is extremely low (between 2.7 and 3.1) and the acidity is so high that it naturally does not go through malolactic (sometimes partially as per 2020). It makes for an intensely mineral wine, with a zesty fruit, giving notes of green tea, almonds and chamomile. A fresh vertical mouthfeel and marked salinity enhances its electric energy. Sadly this bottling was discontinued following the 2020 vintage – Raúl Perez took over the lease of that particular plot rather unexpectedly.
Veronica Ortega
BIERZO 2021
La Llorona
100% Godello
(12.5% alc.)
2019 was the first vintage of La Llorona. 35yo vines on sandy clay soil located in the town of Pieros at 500m altitude. The grapes were destemmed and macerated overnight, spontaneous fermentation and ageing for 15 months in 600, 500 and 225ltr as well as stainless steel (15% of the final blend). Total SO2 30mg/l. The sandy soil and cool temperatures at high altitude bring a crystalline quality to the wine. It's vibrant with subtle notes of chamomile, fennel and citrus. This bottling is a tribute to the amazing Mexican singer Chavela Vargas and her interpretation of the legend La Llorona.
Veronica Ortega
BIERZO 2020
Quite
Veronica is based in Valtuille de Abajo, and this wine comes from various parcels of organically tended vines around the village. Averaging 80yo the vines are planted in the typical sandy, iron-rich clay soils yielding around 25hh. Given a 15-day cuvaison and aged for seven to nine months, half in 800ltr amphoras and half in 2-3yo barrels, total SO2 40mg/l. This wine has an excellent texture, most attractive mulberry and brambly fruit and floral hints with some liquorice and herbal notes – so delicious and easy to drink. Veronica's father was a bullfighter and 'dar un quite' is originally a bullfighting term, now commonly used and meaning 'to offer a helping hand'.
Veronica Ortega
BIERZO 2019
ROC
90% Mencía, 10% Palomino, Doña Blanca
(13.5% alc.)
Veronica's finest and longest-lived wine is named with the initials of her oldest brother who sadly passed away. It comes from two small parcels (La Rata and El Couso) averaging 100yo and planted in the sandy red clay of Valtuille de Abajo. Here the sands give more aromatic finesse and precision to the fruit, complementing the muscular texture and structure conferred by the clay. Made from 100% whole bunches and gently extracted over 20 days, it was aged in 2-3yo barrels for 14 months. There's a darker fruited character to this wine (compared to the other bottlings) with brambly fruit and violets on the nose as well as hints of liquorice and incense, all of which you'll taste on the palate with an herbal note too. Full-bodied it is still a subtle, deep, complex wine with fine tannic structure and very good balance that's built to last. 40mg/l total SO2. For drinking now to 2029.
Veronica Ortega
BIERZO 2020
Cobrana
75% Mencía, 25% Doña Blanca, Palomino, Godello, etc
(13% alc.)
This is made from a small parcel of 90-100yo bush vines in the village of Cobrana (district Villa de Congosto) – one of the highest altitude, coolest vineyards of the Bierzo Alto (750m), in the north-east of the DO. The soils are a decomposing slate with red clay. Here it was traditional to co-plant different grape varieties, red and white. Made from 100% whole bunches, the different varieties co-fermented in open tronconic wooden vats with minimal extraction (as per the local tradition), and the wine aged in a mix of amphoras and older barrels for 13 months. This has a delicate colour, a very floral nose with dried rose notes, attractive ripe strawberry and raspberry fruit on the palate, with balsamic and menthol in the background, and a fine grained tannin nicely integrated. Total SO2 27mg/l. Best served around 14 to 16C.
Veronica Ortega
BIERZO 2021
Kinki
60% Mencía, 10% Alicante Bouschet, 30% Palomino, Godello
(12.5% alc.)
The grapes for Kinki also come from the village of Cobrana, one of the last area to ripen in the Bierzo DO (10-15 days after vineyards on the valley floor). Veronica selected younger vines with higher yields, compared to the Cobrana bottling, and the alicante bouschet is harvested early to preserve acidity – vinification as per Cobrana with an even lighter extraction and shorter élevage of nine months. Veronica makes a point to create a light-bodied red wine full of crunchy fruit – respecting local winemaking tradition (see Cobrana) while crafting a fun and smashable wine. The aromatics are packed with red currants, sour raspberry as well as balsamic and black pepper notes reminiscent of a top Loire Valley pineau d'aunis!