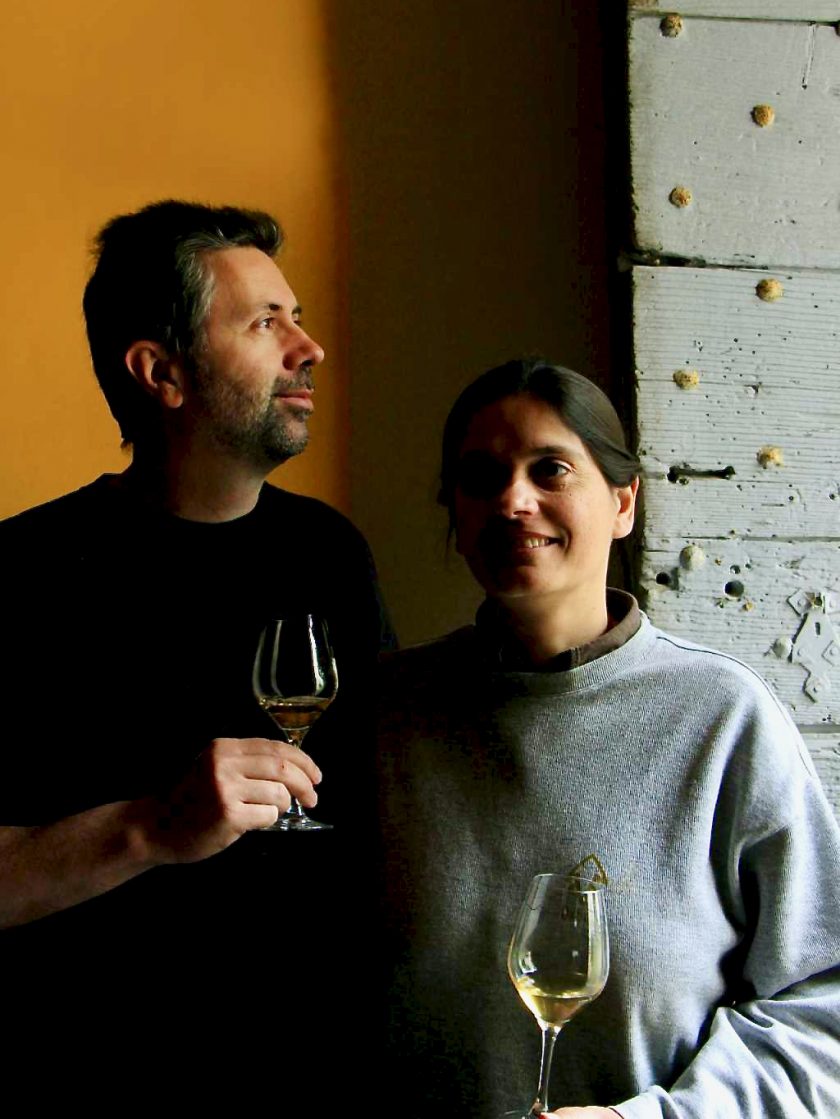 Ugo,

Domaine Guirardel
| | |
| --- | --- |
| Vigneron | Françoise Casaubieilh and Pierre Coulomb |
| Location | Monein (Pyrénées-Atlantiques) |
| Size of Domaine | 5 ha |
| Terroir | Atlantic climate with mountain influences, foehn winds from the Pyrenées. Siliceous clay, limestone, sedimentary soils with puddingstone. Steep slopes and terraced vineyards with southern exposure. 185-225m altitude. |
| Viticulture | Certified organic (Qualisud), practising permaculture, biodynamic |
| | View Ugo, Domaine Guirardel wines ↓ |
Domaine Guirardel was our last visit at the end of a long, rainy and chilly week in the South-West during winter 2019. We arrived at dusk, knackered, and after a few hours in the cellar with Pierre we left in awe, re-energised, surprised and thrilled – it takes a special terroir and extremely talented people to create such wines. We could not get our heads around everything we saw, tasted and heard, a couple of hours were definitely not enough, so we came back, early spring, to understand.

"I love that particular taste. I was obsessed by the idea of vinifying these grapes bone-dry and without any additives whatsoever."
Domaine Guirardel came to life in the 16th century (during the reign of Jurançon lover King Henri IV) and stayed in Françoise Casaubieilh's family for 15 generations. Françoise and her husband Pierre Coulomb took over, while in their late 30s, after a career as highly-skilled IT engineers. They met each other while they were both part of the E.U. team designing microprocessors to compete with the American Intel Pentium – a point of note to understand what comes below. Growing tired of corporate greed and in search of human values, they embarked on a new adventure. After a stint with regional hero Robert Plageoles they began at the domaine in summer 2007.
The estate comprises 5ha of vines 'd'un seul tenant' (contiguous), with a majority of petit manseng (4ha) completed with gros manseng. In part terraced, the vineyards are perched on steep slopes (25%) overlooking a small valley and surrounded by wild forest. The domaine is isolated, therefore not suffering any 'pollution' from neighbours' vineyards, and has its own microclimate. It is crossed by a vein of poudingues (from 7 to 10m deep) – these rounded and compacted stones were brought by glaciers and rivers, they are charged with minerals adding intensity and salinity to the grapes and finished wines.

Helped by Jean Casaubieilh (Françoise's father) at first, the couple quickly traced their own path adopting organic practises from 2011, and changing 'la taille' to Guyot-Poussard – a V-shaped pruning which allows a better flow of sap and prevents the esca disease. Constantly experimenting and in search of natural balance in their vines, they now spray essential oils (e.g. calendula for healing), do not work the soil or mow the grass. There is no debudding or trimming to preserve the vital shoot apex (tip) and the stems are braided (weaving) whenever necessary. In line with their engineering background they created their own software for efficient and minimal sulphur/copper treatments – it calculates the exact dosage as a function of weather forecast, hygrometry, light, tractor speed and sprayer pressure!

It was in the cellar that the couple's intellectual skills and empirical research over the years got us to scratch our heads a few times. The petit manseng (progeny of Jura's savagnin as well as parent of gros manseng) is one of the most amazing grapes when late harvested and 'passerillé' by the foehn winds. Pierre explained "I love that particular taste, the complex flavours, lifted texture and food-friendly bitters. I was obsessed by the idea of vinifying these grapes bone-dry and without any additives whatsoever." While the usual comments from fellow vignerons were pretty pessimistic, "simply impossible with native yeasts!" or "even if you could, what about the potential 17% alcohol?!" Pierre remained unfazed, went to Montpellier SupAgro University to pick up the latest thesis on saccharomyces cerevisiae yeast and studied.
Basing himself on the following two principles: saccharomyces adapts to the environment changing its metabolism from respiration (sugar uptake without any alcohol production) to fermentation (sugar uptake with alcohol production), and, lack of oxygen commonly triggers the switch from one to the other; Pierre's challenge was to find a way to populate the juice with healthy hard-working yeasts and also extend the respiration phase as long as possible (to lower ABV). After years of trial and error Pierre 'Mad Professor' Coulomb, designed yet more 'DIY' software which controls an aquarium air pump (oxygen) coupled to a mixing milk tank in which a blend of must and frozen lees (from the previous harvest) is regularly stirred and cooled down, thus creating a levain (starter) loaded with 'happy' and highly performant yeasts. Added to fermenting barrels at the right time, it allows healthy SO2-free fermentations, with wines finishing bone-dry at 14.5% alc only! They ferment and age in 400ltr (mostly) and 700ltr oak and acacia barrels, dating from 1995 to 2016. The wines are blended and named based on their character and behaviour through élevage, "we do not have a recipe, each barrel has its own life and we let them be, we simply accompany them through a long ageing and adapt the vessel when necessary, be it bottle or stainless steel", Françoise and Pierre explain.

The result is like nothing we have come across before – unique wines brilliantly combining power and finesse, opulence and nuance, texture and length. It was no surprise to learn that vigneron extraordinaire Richard Leroy is a close friend, they share the same hedonistic approach to life and, interestingly, there is a similar high-level of energy in both domaines' wines. As well as being vins de méditation, Domaine Guirardel's bottlings are amazingly versatile with many types of cuisine – Pierre and Françoise are passionate cooks, the domaine's centuries-old kitchen is equipped with the latest gadgets (many professional chefs we know would be jealous!); and they are skilled at cooking local products in their wood-burning fireplace. We have fond memories of the most amazing pork coustou (ribs) matched with a stunning Sans Voile 2015.

In constant search for progress and excellence the family spared no effort, risk or cost: two full-time employees, permaculture yielding a low 15/20hh, adapted equipment, SO2-free wines, long élevage as well as years of bottle-ageing etc... Animated by a strong desire to get to the bottom of things, they happily embraced this somewhat non-sustainable business model over the years, and recently came to the realisation it was time for a new adventure. 2019 was the last vintage produced at Guirardel and they will be relocating to the Basque country, taking over a stunning ancient windmill locally known as Uhaguneko (shortened to Ugo for the new label). They will refurbish and build a self-sufficient farm where polyculture, food and cooking are centre stage. A blank sheet, so to speak, where anything is possible – Pierre is already imagining companion plantings with vines and fruit trees growing in symbiosis! A lot more will be heard about these wonderful people and it is a privilege to have access to these extraordinary wines. They are transferring their stocks of wines in bottle and barrel to the Basque country and we will be patiently waiting for more releases over the years to come.
Ugo, Domaine Guirardel Wines
UGO
SUR LE FIL 2016
Vin de France
70% Petit Manseng, 30% Gros Manseng
(14.5% alc.)
Petit and gros manseng are harvested from the end of October to early November. The resulting grapes, passerillés by the foehn winds, are vinified bone-dry thanks to Pierre's unique technique (see profile). This wine was aged in old 400ltr oak barrels for two years and bottled without any sulphur. Made from juice that usually produces 'moelleux', it has a similar complex and expressive nose of candied quince, ripe apricot and tropical fruits with cinnamon and dried vanilla pod. The powerful and multi-layered mouthfeel is perfectly balanced by salivating bitters, zesty acids and a lengthy minerality. Sur Le Fil is a sommelier's favorite thanks to its versatility with food, from spiced seafood to game birds, it is also a stunner with grilled foie gras! For drinking now to 2028.
UGO
SANS VOILE 2015
Vin de France
70% Petit Manseng, 30% Gros Manseng
(14.5% alc.)
As with Sur Le Fil, the grapes are harvested passerillées and directly pressed (over five hours) into concrete tanks, the juice is then transferred to barrels by gravity for a 'turbocharged' fermentation (see profile). The twist for this cuvée occurs during élevage. Following a year in 400ltr barrels the wine moves into an open stainless steel vat for oxidative ageing without any flor (sans voile). Françoise and Pierre regularly taste, when they find too much oxidation (usually after three to five weeks) the cuve is sealed off with a floating cap. They noticed that suddenly going towards reduction allows the wine to naturally re-adjust and find the perfect balance between fruit and (controlled) oxidation. Alive and constantly evolving in one's glass this is a mesmerizing wine, ripe fruits and sweet spices are in perfect harmony with rancio-like flavours and complex nutty aromas, a hint towards the finest palo cortados. This is a stunning effort, a wine which makes the drinker think and reflect. It also allows for countless food matchings, holding particularly well against spicy dishes. For drinking now to 2030.
DOMAINE GUIRARDEL
JURANÇON 2012
Marrote
100% Petit Manseng
(14% alc, 60g/l of rs)
Marrote is a single plot of 1.2 ha of petit manseng deeply rooted into the vein of poudingues (puddingstone) that goes through the estate. Charged with minerals this is an extremely qualitative soil/terroir carried here by an ancient glacier – rocks, pebbles and sand were rolled and compacted over huge distances. Intensity and salinity characterized the grapes harvested on 30th October at a yield of 17hh. A more classical vinification here with fermentation and ageing in 400ltr barriques for 10 months, followed by stainless steel till bottling in May 2014. The total sulphur has completely combined thanks to the many years of bottle ageing. This is a 'grand vin de terroir' which integrates salt, bitters, sugar and umami perfectly: a dynamic mouth with nuanced, complex and lifted flavours; all sustained by a combination of acidity, minerality and saltiness; moreish salivation and lengthy finish almost recreate the wine once sipped – all the fame and history of Jurançon encapsulated in a bottle! 2300 bottles produced. For drinking now to 2040.