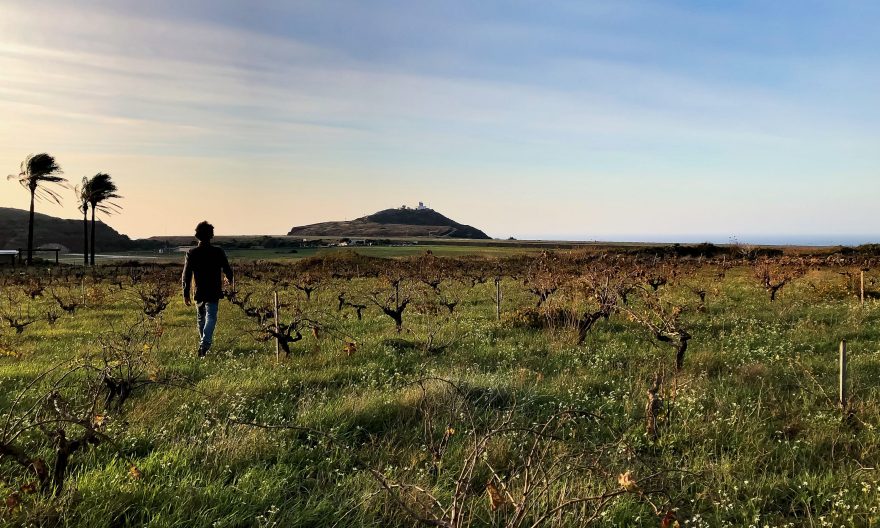 Tanca Nica
| | |
| --- | --- |
| Vigneron | Francesco Ferreri and Nicoletta Pecorelli |
| Location | Kaffefi (Pantelleria) |
| Size of Domaine | 3 ha |
| Terroir | Mediterranean climate. Volcanic sand, pumice, iron-rich clay over lava bedrock. Strong Sirocco and Maestrale winds. 50-450m altitude. |
| Viticulture | Respect of biodiversity at core, green manure and cover crop, biodynamic preparation 500. |
| | View Tanca Nica wines ↓ |
Lost between Africa and Europe, Pantelleria is (geographically speaking) more a Tunisian outpost than an offshoot of the Italian peninsula. The Mediterranean sea, torrid summers and gusts of sirocco have shaped this solitary land of lava. Poignant beauty, diverse ecosystem, complex history, culture intertwined with Arabic influence – Pantelleria is a world apart.

When Biagio Di Stefano (ex sommelier extraordinaire of Fera at Claridge's, now working with the Occhipinti crew, and our man on the ground!) tipped us off about the amazing work at Tanca Nica, we were quick off the mark. In January 2020, we arrived in Pantelleria from Palermo after a frightening landing through Sirocco winds. The day was stormy, the atmosphere electric and the island had that special vibration – we were on for a memorable tour and tasting.

Tanca Nica is run by Nicoletta Pecorelli, originally from Sardinia, and Francesco Ferreri, born and bred in Pantelleria. Francesco got the wine bug at a young age, inspired by his grandfather while making wine with him. He already knew he wanted to be a vignaiolo aged 14yo, and left Pantelleria for Conegliano (Veneto) to study at the renowned agricultural and oenological boarding school. After years of research and jobs in wineries as well as oenology labs, he got a gig at the biodynamic estate Seresin in New Zealand. And it is there, on the other side of the world, that he felt the pull of his roots – Pantelleria's magnetic force brought him back among his grandfather's vines (2016). Francesco came back on a mission: reviving the old ways, upholding traditions and savoir-faire that have been devalued and lost – 6,000ha of vines in the 1960s and about 500ha in 2010, sadly most of them are in the hands of big brands these days.
Nicoletta and Francesco currently look after 3ha divided in 10 plots over 6 contradas (there are 20+ contradas on the island). They own 1ha (Francesco's family) while the other two are rented from locals as well as foreigners – many have bought a dammuso surrounded by vines they are not able/willing to take care of. As a result, the couple are regularly offered parcels, but often refuse or sometimes swap them with others to select, work and rediscover the best terroirs. These small plots of vines are in the nooks and crannies of the island, scattered around evergreen woodlands, smoking craters, and sinuous hills.

Most of Pantelleria's vineyards are located in the W/NW part of the island, protected from the Sirocco winds (SE) by the majestuous Montagna Grande (836m). They grow on two main types of soils: 'soki soki' – a light sandy soil made of pumice (frothy lava rock) and lapilli (fragments ejected from a volcanic eruption), the name itself is an onomatopoeia from the sound of footsteps on that particular ground. And 'terra forte' – a rich clayey soil with high content of aluminium and iron. Both soils have a marked impact on the different grape varieties and, therefore, the finished wines.
The white catarratto and red pignatello need some humidity as well as lower temperatures, they are often found on north exposed slopes benefiting from the cool Maestrale wind (NW), and traditionally planted against the terrasses' walls in search of shadow. When it comes to the emblematic zibibbo (aka muscat d'alexandrie), it strives in dry and hot surroundings although it needs shelter against the relentless Sirocco and Maestrale.
The two main challenges of viticulture on Pantelleria are the winds and water scarcity – the Phoenicians understood that problematic very well when, roughly 2,500 years ago, they developed the 'vite ad alberello' also known as alberello Pantesco – the low-density bush vines are planted in the middle of a circular hollow called 'conca' which collects water in winter. Growers regularly reshape it so that the plant remains sheltered, only a few centimetres above ground level – a technique recently granted UNESCO World Heritage status.

Nicoletta and Francesco plant cover crops and keep the vineyards grassed down to protect against winds until flowering is fully achieved in May. The cover is then cut and buried into the basin-shaped conca not to compete for water and to enrich the soil with organic matter. This concavity is regularly hoed by hand to absorb night dew, other than that the soils are not worked at all (except for really wet years, a rarity these days). Biodynamic preparation 500 is sprayed (no need for 501, enough light!), and the rare attack of fungus is treated with the classical mix of sulphur and copper (only 1 treatment in 2019).
Another specificity of the alberello Pantesco is the technique called 'pizzicatura' – from bud break till completion of flowering the tall vine shoots (that could be broken by the winds) are pinched off between fingernails so that the bush vines grow hidden down the conca. Zibibbo is one of the only two Italian varieties that manages to produce second generation bunches, and brings them to complete maturity (primitivo being the other one) – an essential fact which means that yields are not affected by this unusual Spring pruning. All of this savoir-faire – handed down through centuries of generations – is hard work, it requires strength, commitment and deep passion. "Here in Pantelleria, it needs about 800hrs of work per hectare per season; the mule tracks, walls and terraces also need regular fixing, and I still have to make wine after that!", Francesco explains.

The family lives in the contrada Kaffefi (from hafaf, pumice in local dialect), a locality at 300m above sea level, neighbouring the contrada Bukkuram (think Marco De Bartoli). The name Bukkuram is Arabic and means 'a place rich in vineyards', highlighting the viticultural history this side of the island. The family house is surrounded by small and relatively narrow terraces (tanca nica in Pantesco), planted with vines (1ha), olive and fruit trees, caper bushes and vegetables. A short stroll away from this little corner of paradise – down a few terraces and over a couple of walls – Francesco vinifies outdoors, at the back of a dammuso, exposed to the elements.
Grapes are destemmed by hand (through a net), and crushed by feet. Different lengths of maceration are applied to the whites – from one night to a week – based on ripeness and aromatics of the skins. A manual basket-press slowly presses the juice out, fermentation as well as ageing (on fine lees) occur in old oak and stainless steel – the few barrels are stacked under the dome of the dammuso, while the small sealed vats are right outside under a rather rudimentary roof. The wines are bottled around April the following year, unfined and unfiltered with a pinch of SO2 if deemed necessary (totalling 15mg/l ish). Bottle ageing is done underground in perfect conditions at the family's farm.

As well as the classic line up of bottlings, including the extraordinary ancestral 'passulata' (see wines below), Francesco makes confidential amounts of four stunningly pure single-vineyards zibibbos, "because it is important to study the territory." The wines come from distinct contradas and the labels are designed based on the colour of the soils – the low abv and ethereal yellow label (1934 vines, 300m alt, NE exposed, deep soki soki), the salty umami-loaded grey label (1970 vines, 150m alt, W exposed, shallow soki soki on lava bedrock), the heady almost tannic red label (2014 vines, 50m alt, NE exposed, terra forte), and the raw and multi-layered black label (1931 vines, 300m alt, NE exposed amphitheatre, shallow terra forte on basalt bedrock).
Tanca Nica is totally unique in Pantelleria, and therefore in the whole of the wine world. Never before has a true vignaiolo embraced Pantelleria's secular traditions, to explore these great terroirs through precise and transparent winemaking. When ancestral know-how meets modern expertise, with respect for the natural environment, only tantalizing wines can be made.
Tanca Nica Wines
Tanca Nica
SOKI SOKI 2021
Terre Siciliane IGP
100% Zibibbo
(12.5% alc.)
Different plots of zibibbo bush vines (alberello Pantesco) from different contradas, with various altitudes and expositions. Grown mostly on pumice-heavy 'soki soki' soils (see profile), the parcels were vinified separately undergoing different lengths of maceration – from one night to a week – based on ripeness and aromatics of the skins. Low yields in 2021 brought concentration, intensity, and balance. Aged on fine lees in 6yo barrels and stainless steel, and bottled with the addition of 15% 'riserva perpetua' started in 2018. This is fragrant, almost medicinal, with moreish mediterranean herbs, a perfect balance of texture and tension, and a lengthy salivating finish. A stunning wine with high drinkability. Total SO2 15mg/l.
Tanca Nica
TERRA FORTE 2021
Terre Siciliane IGP
100% Zibibbo
(14.5% alc.)
The clayey and sandy 'terra forte' soil is a degradation of basalt and obsidian and does not contain any pumice (soki soki), this is a rich type of soil that confers power and structure to the zibibbo grapes. As a wine, Terra Forte is therefore the antithesis of Soki Soki – viscous, age-worthy and tannic "como un vino rosso!", this is a class act with flavours of bergamot, mandarin and peach skin bitters. The grapes come from a single vineyard in the contrada Bonsulton (neighbouring Bukkuram), the vines were planted in 1931 and grow between the outcropping bedrock with little topsoil. Winemaking involves 15 days of maceration on skins, and ageing occurs in glass demijohns as well as stainless steel vats. Only 1,000 bottles are produced each year.
Tanca Nica
KAFFEFI 2020
Terre Siciliane IGP
100% Catarratto
(11.5% alc.)
Traditionally planted against the terrasses' walls (see profile), the 40-80yo catarratto vines come from different parcels. Harvested around September 20th, the grapes go through a 24 hours press for extra structure. The wine fermented and aged in stainless steel on lees with batonnages, bottling occurred without any additives. Typically low in alcohol and pH (3.2), the catarratto variety has always been the Pantesco's favourite for everyday drinking – Francesco aims at emulating the elders' taste characterised by crunchy texture and rusticity, while carefully expressing the 'soki soki' terroir of contrada Kaffefi.
Tanca Nica
FIRRI FIRRI 2020
Terre Siciliane IGP
85% Catarratto, 10% Pignatello, 5% Inzolia
(11% alc.)
Firri Firri is a traditional hoe used in the vineyards, and also the nickname of the old vignaiolo who previously owned the land. 50yo bush vines on volcanic sand, a cool NE exposed plot at 300m altitude, the vines were harvested at the end of September, and the whole bunches were processed altogether – three days maceration, fermentation and ageing in vats. Blended with 10% of 'riserva perpetua' before bottling, 15mg/l SO2 total. The wine has an attractive poulsard-like colour, lifted aromatics of pomegranate, mandarin and liquorice, a juicy texture with refreshing tannins and a salty finish.
Tanca Nica
PASSULATA 2019
Terre Siciliane IGP
100% Zibibbo
(14% alc, 150g/l of rs)
"For me, this is the wine that truly represents Pantelleria; it's wild and unpredictable, it re-ferments several times, and tastes different in every season. Passulata is the passito before the 'passito', the old ways – the real deal." That's how Francesco introduces an ancestral style of wine that nobody makes anymore – the yields are low, the cost and risk are high, and there is no mention of the method in the oenology books, only a few old farmers can teach it. Harvest kicks off in August with a first passage through the vines; early-ripening bunches with loose and large berries are selected and laid on draining 'soki soki' soils (see profile). The grapes are flipped over every two days against humidity and rot while the heat of the ground dries them. The skills reside in knowing when to stop the drying process and combining the right amount of grapes with a fermenting pied de cuve. The must macerates on skin for a couple of months, it's then pressed in demi-johns where it will remain for a year (outdoors, exposed to the elements) before bottling without any additives. Salt, sugar, umami, bitters, VA, ethanal, volcanic mineral stamp, complex medicinal aromatics – so much for the senses – a 'vino di meditazione' that also opens many doors with food. For drinking now to 2060.
Tanca Nica
NB X TN 2021
Terre Siciliane IGP
95% Catarratto, 5% Zibibbo
(12.5% alc.)
Nino Barraco X Tanca Nica: a collaboration between close family friends and talented vignaioli with a common vision of wine. The aim was to create a wine that links the territory of Marsala on the mainland with the island of Pantelleria, "this is to pay homage to the historic pilgrimage across the Sicilian channel. Pantelleria and Marsala have always been united by a 'fil rouge' – in the past Pantesco sailing ships brought raisins and capers to the mainland and took everything we lacked in exchange", Francesco explains. This scarce bottling is based on Nino's catarratto in contrada Stagnone (in front of the island of Mozia looking towards Pantelleria), where only a few meters separate the vines from the sea. Some of Tanca Nica's passulata (made from the 1931 zibibbo plot in Bonsulton's 'terra forte') was added to the still wine for the second fermentation. The vino frizzante obtained has a pressure of about 1.5 bars – a fine 'perlage' that highlights its amazing salinity. No disgorgement, it remains on its lees to ensure a long life!
Tanca Nica
NIVURO NOSTRALE 2019
Terre Siciliane IGP
100% Pignatello
(12.5% alc.)
Nivuro Nostrale is the Pantesco name for the pignatello grape also known as perricone on the mainland. As per the catarratto, pignatello prefers shadow and humidity, and the 80-90yo vines here are mostly found growing against the terrasses' walls. Grapes are partially destemmed and macerate for 10-15 days before gentle pressing. The wine feeds a 'riserva perpetua' started in 2016 – every year 150ltr are taken from the old barrels and bottled with a pinch of SO2. Vertical, lifted and rustic the wine displays spicy and peppery aromatics, the mouthfeel is dense and umami-loaded with cured meat, capers and balsamic notes – quintessentially Pantesco!