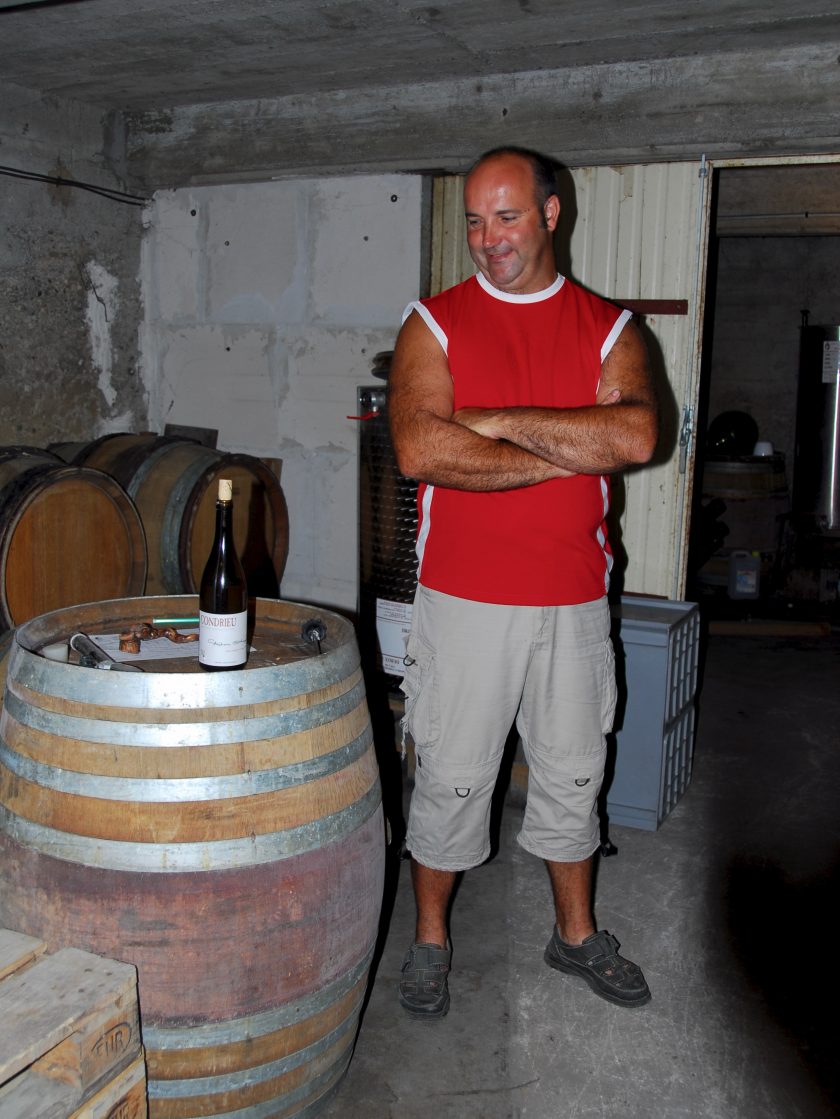 Stéphane Othéguy
| | |
| --- | --- |
| Vigneron | Stéphane Othéguy |
| Location | Les Côtes-d'Arey (Isère) |
| Size of Domaine | 1.75 ha |
| Terroir | Continental climate, Mistral (northern wind) influence. Schist and granite. Steep terraced vineyards overlooking the Rhône. 150-250m altitude. |
| Viticulture | Certified organic (Nature et Progrès) |
| | View Stéphane Othéguy wines ↓ |
Starting in 1997, Stéphane Othéguy worked the tiny holdings of Vincent Gasse in Côte-Rotie and Condrieu for seven years and helped out with vinification, so was ideally placed to take over the baton when Gasse retired in 2004. Stéphane is extremely fortunate to have vines that have blossomed for more than 30 years without recourse to the chemical arsenal that is (sadly) still the norm in this area where the vineyards are so steep and hard to work. Independent and way ahead of his time in many respects, Gasse was the first vigneron in the northern Rhône to work the precipitous slopes of the western banks and receive organic certification, quickly learning that massal selection from his own old vines of petite sérine and the use of very low sulphur produced better wines. The two worked together to plant by massal selection a single parcel in the excellent lieu-dit Rozier (Côte-Brune), and in addition Stéphane subsequently planted his small holding of St-Joseph by this method. It's worth noting that unfortunately only 10% of the vineyards planted in the northern Rhône come from petite sérine – the low yielding and ancient strain of syrah – with the balance from ubiquitous clones.

Stéphane's route into wine was varied. He used to work with children, travelling around villages with old wooden games and puppets, the animator of community events that attracted young and old. But wine nibbled away at him and he went to study in Mâcon before joining Gasse in 1997. Since 2004 he has rented Vincent's 1.50ha of vines and 0.5ha of fruit trees (from which he produces apple and pear juice), a manageable size for one person which suits Stéphane perfectly. His vineyard holdings are now split 1ha Côte-Rôtie on various lieu-dits of the prestigious Côte-Brune, 0.25ha Condrieu, 0.30ha St-Joseph (which he planted himself), and 0.20ha Vin de Pays. He makes no less than three micro-cuvées of Côte-Rôtie, of which we buy his top two, Les Massales (previously Gasse's Vieilles Vignes cuvée), an equal split of 65-75yo vines in the lieu-dits of Leyat and Bonnivière, and Rozier, a massal selection of just 0.12ha vines planted in 2002/3 from which often just one barrel is produced.
Stéphane decided to stop ploughing the vineyards, preferring to allow the grass to grow to provide competition for the vine, and prevent erosion. But also, crucially, to retain moisture as global warming has in recent years made very hot summers the norm. He cuts the grass down just once a year in July, and keeps spraying by Bordeaux mix down to an absolute minimum (typically 0-2 treatments a year). Encouraging strength and resilience in his vines, he doesn't clip either the tops or sides at all with the exception of cutting off side shoots after veraison, and works with very low yields averaging around 32hh. He likes to use a high proportion of whole bunches (80-100%), crushes by foot and practices gentle remontage during the fermentation, and carries out long, patient élevages in older barrels (22 months for the Côte-Rôtie and 24 months for the Condrieu), before bottling without fining or filtration. No sulphur is used during vinification and élevage (carried out for the last three years in the cellars of a rambling old farmhouse "en pleine campagne" near Les Côtes d'Arey, 12km from Ampuis) and just 10mg/l is added when the wines have been assembled just before bottling. Once the wines have settled down post bottling, they show a rare precision and clarity of fruit, natural wines of class and complexity.
Stéphane Othéguy Wines
Stéphane Othéguy
CONDRIEU 2017
100% Viognier
(13.5% alc.)
Stéphane's Condrieu comes from a very steep south-facing vineyard in the lieu-dit of Gonon at Malleval where the soil is granitic. Half aged in cuve and half in older barrels and never given any batonnage, it went through a long, two years élevage with malos completed, before bottling in September 2019. It is very well-balanced and at ease in its youth with just 10mg/l of sulphur added – in stark contrast to many examples of Condrieu which weigh in with 80 mg/l. On the nose you notice zesty pear skin and stone fruits, the palate is supple with an elegant gras, and there's a teasing, alluring quality on the finish which builds and builds with the granitic terroir playing its hand.
Stéphane Othéguy
SAINT JOSEPH 2018
Le Temps des Cerises
100% Petite Sérine
(13.5% alc)
This wine is made from vines that Stéphane planted by sélection massale in the lieu-dit of Veussette in the village of Chavanay. Stéphane has a 0.30ha holding with a south-east aspect on a steep, granitic slope with very little topsoil. Made from 70% whole bunches and crushed by foot, it was macerated for 23 days, before a 16 month élevage. It offers intense black cherry fruit with a mineral score and super fine tannins, ideal for drinking in its youth on the fruit.
Stéphane Othéguy
CÔTE-RÔTIE 2018
Rozier
100% Petite Sérine
(14% alc.)
Located just to the north of Ampuis on the Côte-Brune where schist is the dominant soil, Rozier is a superb vineyard with a steep, south-eastern slope. Stéphane and his old boss Vincent Gasse planted just 0.12ha of vines by massale selection in 2002/3. Production is minuscule, usually one to three barrels. Destalked 20%, the wine has a beautiful deep raspberry colour that extends right out to the edge. One sniff and you're hooked by the hauntingly beautiful aromatics. On the palate the fruit is clear, harmonious and complex, with a core of blueberry and black cherry fruit, notes of liquorice with a thread of iron running through, and a schist imprint on the finish. For drinking now to 2025.
Stéphane Othéguy
CÔTE-RÔTIE 2017
Les Massales
100% Petite Sérine
(13.5% alc.)
Les Massales comes from 0.50ha of vines split equally between the Côte-Brune schist terroirs of Leyat and Bonnivière, where the vines are 65/75yo. Per Stéphane, "Bonnivière gives freshness and length from deeper soils on the plateau, whereas Leyat produces mature, rich wine from its steep, south facing slope". Destalked 20%, with a beautiful, clear-cut colour that runs right to the edge (as with Rozier), there is an initial reserve on the nose, with dense back fruit emerging. On the palate it is impeccably balanced and there is a sumptuous stamp of cassis fruit, with a stylish, ready flow, a hint of graphite and fine grained tannins on the finish. For drinking now to 2028.