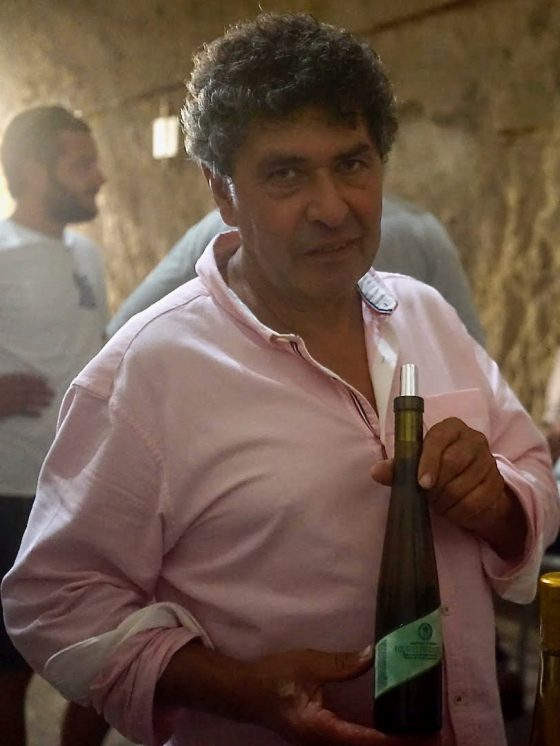 Rousset-Peyraguey
| | |
| --- | --- |
| Vigneron | Alain Déjean |
| Location | Preignac (Gironde) |
| Size of Domaine | 10.3 ha |
| Terroir | Atlantic climate, morning fogs due to the confluence of the Garonne and Ciron rivers inducing botrytis. Sandy silty topsoil on a bedrock of blue clay with limestone (Sauternes), clay-loam and sand (Barsac). 50m altitude. |
| Viticulture | Certified biodynamic (Demeter) |
| | View Rousset-Peyraguey wines ↓ |
When his mother first asked Alain Déjean to come back to the domaine and lend a hand, he wasn't quite ready. He had spent the past 20 years on the board of French supermarket chain Leclerc. Experienced and highly qualified, Alain was good at his job, the pay was attractive and allowed him to enjoy life – becoming a farmer was not part of the plan. But, as his parents approached retirement and he got older, he increasingly felt the pull of his roots and finally decided on a complete change of lifestyle.
Alain took over the reins in 1995 becoming the 7th generation to work the vines at the domaine, and very quickly developed an obsession with the notion of terroir. He spent nights devouring books about biodynamics and astrology looking to understand not only the esoteric theory but also, thanks to a more cartesian approach, the practicality of the various techniques and preparations. Almost thirty years of practice and an all-or-nothing type of commitment have made him a fountain of knowledge on Humboldt and Goethe, Rudolf Steiner, ancient Greek science, cosmology of the four elements, etc – he's become a master of biodynamic farming and it doesn't take much probing for him to go lyrical on the aforementioned subjects.

The years of oxidative ageing bring volatile acidity which is most welcome - well integrated it adds lift and umami hence balance, a rare feat in this appellation and the broader world of sweet wine.
The Déjean family owns 10ha of prime terroirs, six of which are found on Sauternes's famous blue clay plateau, right in front of its most prestigious property (Château Yquem), while the rest is split between the sandy terroir of Fargues and Barsac's clay-limestone soils.
Alain is aided in all tasks by his friend and right-hand-woman Valérie Perfandie who helped out at harvest almost 20 years ago and never left. She has learnt everything she could from Alain and has become an intrinsic part of Rousset-Peyraguey.
Alain is restless in his quest to make wines that are alive and a true reflection of their terroir and, as a consequence, created Dynamis, an association of growers whose raison d'être is sharing knowledge as well as importing elemental sulphur extracted from volcanoes. Used in Roman times, natural sulphur is more digeste (e.g. no headaches) than its fossil fuels-derived equivalent. It also binds less (chemically) than industrial sulphite therefore retains a higher level of the active free form (Total SO2 = Free SO2 + Bound SO2) – dramatically reducing the amount needed to efficiently protect a given wine.
Innovation carries on into the cellar where some wines are aged for up to 15 years in old acacia (100yo) and oak barrels, during which time they are never racked, often developing a voile (flor) which nourishes and protects the wine. Others come from glass demijohns or barrels buried underground in dry lined trenches dug out of his cellar. It is sometimes hard to keep track of the different techniques and cuvées which make for extraordinary and unique wines. The years of oxidative ageing bring volatile acidity which is most welcome – well integrated it adds lift and umami hence balance, a rare feat in this appellation and the broader world of sweet wine.

Alain's rebellious nature and unconventional winemaking has brought him into conflict with the INAO who have taken him to court on more than one occasion. Despite winning all of his trials (with the help of barrister friends from his Leclerc days!), he grew tired of their regular refusals to grant him the Sauternes AC and decided to declassify his entire production to Vin de France (from 2010 vintage) – watch out for some funny lines and cheeky comments on some of the labels.
Not one to shy away from a challenge, Alain recently refused to chemically treat his vineyards against the vine disease flavescence dorée as implemented by the local authorities. This ended up in another court battle which he lost this time and, sadly, was forced to uproot a 0.3ha parcel. According to the local préfecture this plot had over 20% of vines contaminated, the threshold above which a vineyard must be uprooted by law.
This event has left Alain and Valérie bitter but might well have triggered a new case study at Rousset-Peyraguey: how to naturally treat the invading flavescence dorée?
Rousset-Peyraguey Wines
Rousset-Peyraguey
AISTHÉSIE 2010
SIGP
80% Sémillon, 15% Sauvignon, 5% Muscadelle
(12.5% alc, 220g/l of rs)
Aged for 2.5 years in a mix of 100yo acacia barrels (which help to preserve acidity) and oak, protected by natural volcanic sulphur, this wine comes from minute yields of 6hh from a parcel closest to Yquem where there is a sandy topsoil and blue clay and cobalt beneath. It has floral and spicy bread aromas and the fruit is notable for fresh quince. Unfined and unfiltered.
Rousset-Peyraguey
PUPHLUNS 2013
SIGP
90% Sémillon, 5% Sauvignon, 5% Muscadelle
(12.5% alc, 308g/l of rs)
Puphluns was an Etruscan god equivalent to Dionysus in Greek religion. This cuvée comes from old vines yielding around 4hh harvested in different 'passages' through October and November – Alain explains, "we only picked when the moon was in one of the 'air constellations' which I believe enhances acidity into the grapes and finished wine". After a year fermenting in cuve, it was aged for seven years in a mix of oak and 100yo acacia barrels. Very complex stewed citrus fruits and spices on the palate, it is rich and sumptuous and yet as ever with Rousset-P wines there is a vein of acidity that keeps everything in balance. Unfined and unfiltered.
Rousset-Peyraguey
CRÈME DE TÊTE - TEERTHYATRA 2011
SIGP
90% Sémillon, 5% Sauvignon, 5% Muscadelle
(12.5% alc, 380g/l of rs)
'Crème de Tête' wines are only made in top vintages from a selection of the best grapes affected by botrytis cinerea. In 2011 Alain identified five plots where grapes had a pronounced "goût d'oranges amères" – harvested through October, the plots were vinified altogether and aged for seven years in old oak and acacia barrels. Amber in colour, it has a sumptuously rich depth of confit orange zest and citrus fruits with hazelnuts and a little spice on the finish. Very harmonious with a superb play on the palate lifted by lingering bitters and umami. Teerthyatra means pilgrimage in Indian, this is a tribute to a country Alain loves and regularly travels to.
Rousset-Peyraguey
CRÈME DE TÊTE 2012
SIGP
90% Sémillon, 5% Sauvignon, 5% Muscadelle
(13% alc, 380g/l of rs)
The Crème de Tête 2012 was made from grapes harvested the third week of December "when the moon was in the constellation of Leo, a fire constellation that brings power and plenitude". Alain sprays some mineral (silica based) biodynamic preparations to help the shrivelled grapes holding onto the vines so late into the season – reaching extreme concentration (the unicorn Crème de Tête 2005 was harvested during the last days of December!). Aged for eight years in both oak and acacia barrels, this is fuller and richer than the 2011 and 2013, viscous on the palate and slightly hidden at opening, it develops into a stunningly complex wine balanced by layers of umami flavours.
Rousset-Peyraguey
CRÈME DE TÊTE 2013
SIGP
90% Sémillon, 5% Sauvignon, 5% Muscadelle
(13% alc, 380g/l of rs)
This 2013 was made from two separate 'tries' in October and November, both under the constellation of Leo as per all Crème de Tête wines (see 2012 vintage). Aged for eight years in the usual oak and acacia barrels, this is more lifted than the 2011 and 2012 with salivating acids, refreshing bitters and bright aromas of bergamot, Corsican mandarin and juicy tropical fruits. A more classical vintage according to Alain, "très droit et d'un équilibre magnifique!".