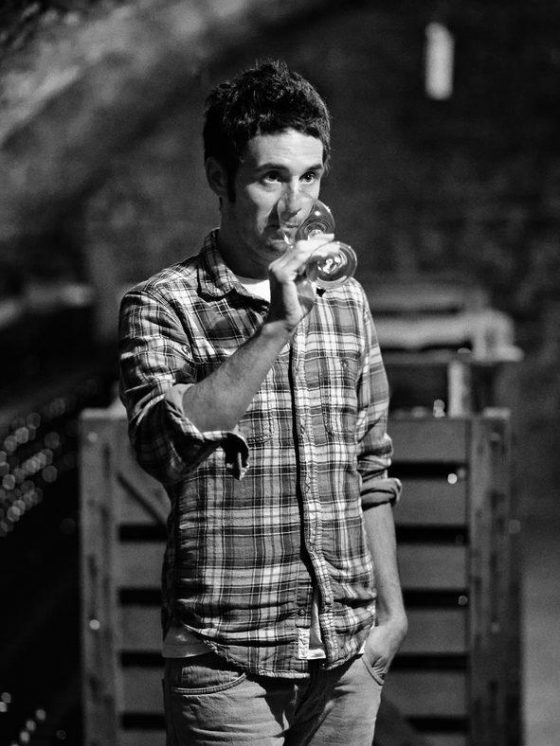 Roses de Jeanne,

Cédric Bouchard
| | |
| --- | --- |
| Vigneron | Cédric Bouchard |
| Location | Polisy (Aube) |
| Size of Domaine | 3.5 ha |
| Terroir | Continental climate. Kimmeridgian clay-limestone soil over hard limestone bedrock. Up to 20% slope. 180-250m altitude. |
| Viticulture | Practicing organic |
| | View Roses de Jeanne, Cédric Bouchard wines ↓ |
Cédric Bouchard has quickly earned a sky-high reputation and his micro-production of champagnes are some of the most sought after in all Champagne.
Born into a winemaking family, a passion for wine was awoken in him when he worked as a sommelier and caviste in Paris, and it was only after this in 2000 that he decided to come back to Celles-sur-Ource in the Côte des Bar region and start to make champagnes. His experiences in Paris, tasting wines from many other regions had a profound effect on him and right from the start he decided to work in a manner that's more Burgundian than Champenois.
Starting with just one hectare of unpromising north-facing vines (Les Ursules) handed down to him by his father, Cédric embraced a revolutionary philosophy: single vineyard, single variety (mainly pinot noir, although there is also a 100% chardonnay and 100% pinot blanc cuvée), single vintage, cuve ageing, low pressure and zero dosage champagnes – and that's the way he still works today. Cédric's approach in the vineyards seeks to maximize quality every step of the way, adopting an organic approach for viticulture and dramatically restricting yields to an average of around 25hh (the lowest in Champagne). He employs a team of 40 pickers for his tiny holdings to ensure that every grape is picked at the optimum time.
"If we can do this here, it opens up possibilities for other people, young people who can't afford vineyards in expensive appellations"
Each wine is made only from juice from the first pressing, fermented only with indigenous yeast and cuve aged in the cellar until malos are completed. Cédric looks for an incredibly low 4.25 bar of pressure for the secondary fermentation (for which he uses 17g/l) and bottle-ages for minimum time on the lees (the champagnes are already chock-a-block with flavour!) with zero dosage. He doesn't like champagnes that are too fizzy, and even though his champagnes are uniquely low pressure and have the gentlest of beads, he prefers them carafed to further take away some CO2!
The domaine continues to evolve. Cédric increased his holdings by combining his assortment of micro-sized parcels with 1.37ha of vines previously owned by his father and helped by his assistant Guillaume together with his wife Milly, now makes seven champagnes. Although his father's holdings were originally bottled under the Inflorescence label, all cuvées have been labelled as Roses de Jeanne since 2014. After suffering a stroke in the same year, he has become even more intensely focused, divesting himself of overseas distractions while limiting travel and tastings. His priorities have clarified, too.

He loves good cuisine and last year together with a couple of partners launched the excellent restaurant Le Garde Champêtre in Gyé-sur-Seine (where his passion for architecture and design also shine through). It is unquestionably the most exciting restaurant in the region, as we were able to see first-hand when Benoît Doussot (of Champagne Clandestin) took us there for lunch recently.
His champagnes offer more than sufficient satisfaction in themselves, but Cédric also increasingly sees himself as a pathfinder, showing others the way. "If we can do this here, it opens up possibilities for other people, young people who can't afford vineyards in expensive appellations," he explains. Certainly, two decades ago, few would have imagined that a tiny estate in the Côte des Bar could achieve international recognition as one of Champagne's greatest.
Roses de Jeanne, Cédric Bouchard Wines
Roses de Jeanne,

Cédric Bouchard
VAL VILAINE (2016)
100% Pinot Noir
(12.5% alc.)
A champagne with excellent weight and balance exuding delicate fragrances of flowers and beguiling red berry and plum fruits with hint of nutmeg and a mineral imprint from the calcareous-clay soil. Made from just 1.45ha of 35yo vines, and yields of just 26hh now, it comes from the 2016 vintage, was cuve aged, and disgorged without dosage in April 2018. A very low 17g/l for the secondary fermentation gives a low pressure and gentle mousse which is perfect for the weight of the champagne.
Roses de Jeanne,

Cédric Bouchard
CÔTE DE BÉCHALIN 2012
100% Pinot Noir
(12.5% alc.)
Like the Val Vilaine this wine comes from 35yo vines on south-west facing slopes with a limestone clay base on the Côte de Béchalin, a lieu-dit in Celles-sur-Ource. Disgorged with zero dosage (like all of Cédric's champagnes) after six years bottle age in April 2019. There is a great purity to the wine, it's incredibly fresh, feels very close to the grape, with lovely minty notes, beautifully textured and long with gentle bitters on the finish. Best carafed. VLQ.
Roses de Jeanne,

Cédric Bouchard
LES URSULES 2014
100% Pinot Noir
(12.5% alc.)
This was Cédric's initial and most emblematic cuvée, coming from a parcel planted next to his parents' house in limestone clay-soil, relatively flat with just a slight tilt to the north. It has always given the most feminine and harmonious champagne in the range according to Cédric. It's a champagne of pure class with an exceptional balance between the fruit and acidity giving a terrific play on the palate, and a finish that goes on and on, with subtly layered flavours. No dosage.
Roses de Jeanne,

Cédric Bouchard
LA HAUTE LEMBLÉ 2014
100% Chardonnay
(12.5% alc.)
The only chardonnay champagne made by Cédric; this comes from a minute 0.11 ha plot from five different massal selections planted in 2002 on a south-facing slope in Celles-sur-Ource. Ripe, dense and tightly wound, this feels very close to the grape, and there are notable energy and vigour. No dosage.
Roses de Jeanne,

Cédric Bouchard
LA BOLORÉE 2014
100% Pinot Blanc
(12.5% alc.)
This comes from a tiny parcel of true pinot blanc planted in 1960 on a due south-facing hillside with 50cm of sandy clay soil overlying chalk. There is a slightly herbal, green tea note on the nose, a peppery hint on the attack, and the herbal note intensifies on the finish. It is subtle and yet ripe, racy and energetic, and very long on the finish. No dosage.
Roses de Jeanne,

Cédric Bouchard
PRESLE 2014
100% Pinot Noir
(12.5% alc.)
Cédric loves the complexity that mixing different clippings of vines can produce, and he takes this philosophy to a new level here, with no less than ten different massal selections of pinot on multiple rootstocks in 15 rows of vines in a 0.25ha vineyard. On a west-facing slope of hard clay, he planted a very high density of 3,000 vines (so 12,000 vines per hectare) in 2007, of which two-thirds survived and are very healthy but 1/3 died and had to be replanted. Initially, he planned to make a red Coteaux Champenois but given the quality of the juice produced he quickly changed his mind. This champagne has just 4.5 bar of pressure, is sleek and intensely perfumed and mineral with very good texture and notable finesse. No dosage.