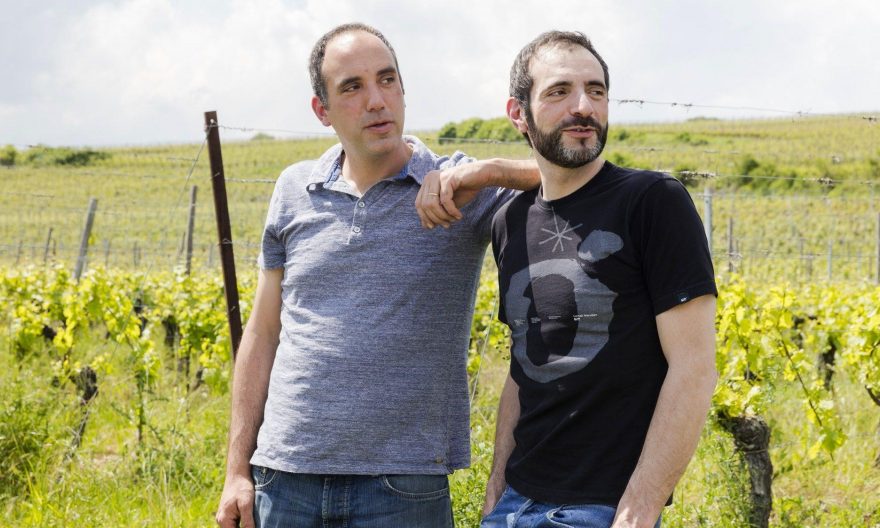 Roland Schmitt
| | |
| --- | --- |
| Vigneron | Julien and Bruno Schmitt |
| Location | Bergbieten (Bas-Rhin) |
| Size of Domaine | 10 ha |
| Terroir | Continental climate, sheltered from the rain by Vosges mountains. Clay-marl mix with gypsum fragments in the subsoil, hillside vineyards. 100-200m altitude. |
| Viticulture | Certified organic (Ecocert) |
| | View Roland Schmitt wines ↓ |
The village of Bergbieten in the extreme north of Alsace, 25km west of Strasbourg, has only one single producer, the Schmitt family, who have been making wine from 10ha of vineyards since the early 17th century.
The domaine is now run by brothers Julien and Bruno, in their early forties, with mother Anne-Marie officially retired but still helping out whenever she can. The estate is named after Julien and Bruno's father who tragically died in a car accident back in 1993. When Julien joined the domaine in 1999 he converted the domaine to organic viticulture, the harvest is manual and they work with natural yeasts for the fermentation.
The two village wines that we buy, Glintzberg and Thalberg (two lieu-dits that lie right next to the grand cru of Altenberg de Bergbieten), are more accessible in their youth than many wines from the region. One of the factors that explain this is that they work with low, though perfectly safe levels of sulphur, which all too often can act as a barrier against the enjoyment of young village wines from Alsace.
Roland Schmitt Wines
Roland Schmitt
GLINTZBERG 2021
30yo vines here in Glintzberg which touch the grand cru of Altenberg de Bergbieten. The soil is a clay-marl mix and like the grand cru, gypsum fragments in the subsoil are considered to bring a delicious freshness to the wine. The nose is floral and mineral, and on the palate the wine is most attractive with a clear-cut fresh fruit, with well-integrated sappy acidity and distinct saline notes on the sustained finish.
Roland Schmitt
THALBERG 2018
100% Riesling
(14% alc, 3.9g/l of rs)
An excellent wine from 30-40yo vines lower down the hillside of Altenberg de Bergbieten and facing west. Fragments of gypsum can be clearly seen here weathered out on the surface. The wine has the same pitch and flavours as the Glintzberg, but the older vines give a juice that is just a little denser with a touch more structure.