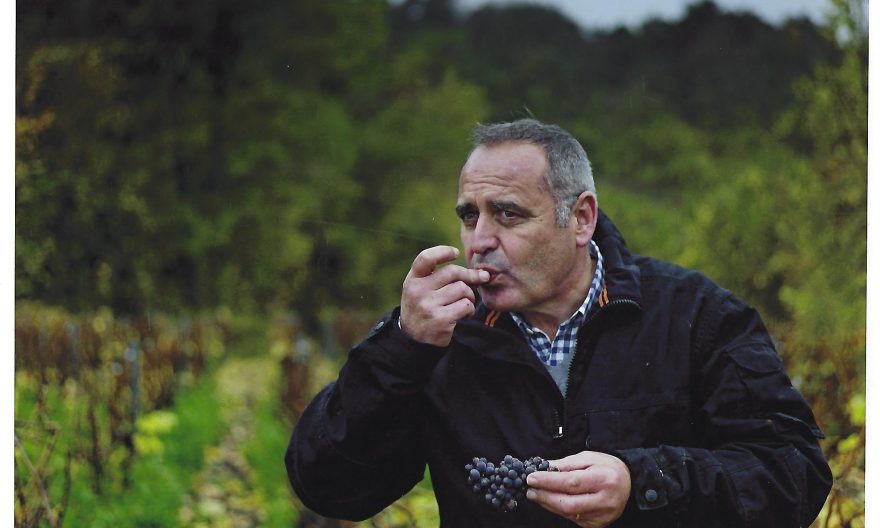 Roger Coulon
| | |
| --- | --- |
| Vigneron | Eric and Isabelle Coulon |
| Location | Vrigny (Marne) |
| Size of Domaine | 10.8 ha |
| Terroir | Continental climate with Oceanic influence. Sand and clay over chalk bedrock. Gentle slopes. 150-230m altitude. |
| Viticulture | Practising organic |
| | View Roger Coulon wines ↓ |
Introduced to us by Jérôme Prévost, the domaine Roger Coulon is run by Eric and Isabelle Coulon (8th generation) and their children. The 10.8ha estate based in Vrigny counts over 100 well-selected parcels of older vines (averaging a high 38yo) spread across the Petite Montagne premier cru villages of Vrigny, Coulommes-la-Montagne, Pargny-les-Reims and Villers-Allerand. Most of them are found mid-slope, exposed to the east, with soils varying from pure limestone chalk to deep sand over clay.
Having lost his father early, Eric learned the job with his grandfather who never yielded to the sirens of the agrochemical industry, sticking instead to the tried and tested methods of previous generations. They've always worked as naturally as possible, leaving grass cover in higher hillside plots to avoid erosion, ploughing most of the land and using manure as an amendment. They use natural yeasts, low yields, low sulphur, juice from the cuvée only (and sell on any subsequent pressings), followed by long bottle ageing. All their champagnes are bottled with a lower pressure of five atmospheres as opposed to the usual six, resulting in an exceptional mousse with a subtle creamy texture.
The recent arrival of their son Edgar, who previously worked for renowned grower Philippe Pacalet in Burgundy, has sparked several changes in both vineyard and cellar that could bring an even higher degree of precision and definition in their wines. While Eric's vineyard work has always been impeccable, they now go a step further by following organic and biodynamic practices. Inspired by his time in Burgundy, Edgar is also keen to focus a little more on fermentation and élevage in oak, using barrels of varying size, shape, and age in order to add texture and complexity to the wines. We've also noticed that the dosage has come down over the past few vintages, now rarely going over 3g/l, which particularly suits their wines and highlights the quality of their work in the vineyard.
The transition at domaine Roger Coulon is happening seamlessly, both generations feeding off each other to keep on progressing and produce wines with a strong sense of place. Edgar and his sister Louise, who recently joined the team, know how lucky they are to inherit vineyards in such good shape. Their parents are giving them the freedom to experiment and be an integral part of the adventure, and we cannot wait to see what the future holds for them.
Roger Coulon Wines
Roger Coulon
ROSÉLIE
100% Pinot Meunier
(12% alc.)
Rosélie comes from old vines in Vrigny and Gueux on sandy soils. Partly destalked and given 24 hours maceration, the 2015 was aged for nine months in cuve and older small barrels and disgorged after 16 months bottle age with a dosage of 3g/l. It has a coppery, onion skin colour, gentle mousse (a low 20 g/l is used for the secondary fermentation), unfined and unfiltered it displays pure red fruits and spicy, peppery aromas.
Roger Coulon
HERI HODIE
1er Cru
60% Pinot Meunier, 20% Pinot Noir, 20% Chardonnay
(12% alc.)
The cuvée Heri Hodie comes from the vineyards of Vrigny, Pargny and Coulommes, all 1er Cru villages of the Montagne de Reims. Fermented and aged in cuve, the malolactic fermentation is completed, and the wine spent three years sur lattes. The majority of meunier gives the perfect combination between fruity notes, strength and lightness. It has a very delicate but creamy mousse with fine bubbles. Very expressive on the nose and nicely balanced with toasted notes, apricot and pear, this is a real crowd pleaser. The dosage of 3g/l perfectly suits this champagne with a finish evolving into spicy notes, typical of the meunier.
Roger Coulon
RÉSERVE DE L'HOMMÉE
1er Cru
40% Pinot Meunier, 20% Pinot Noir, 40% Chardonnay
(12.5% alc.)
L'Hommée is a former agricultural measure used before the time of Napoléon, equivalent to the surface of vines that a man could work in one day. Réserve de l'Hommée is made with the domaine's oldest parcels which were once measured in this way. This cuvée comes from the two 1er Cru villages of Vrigny and Pargny-les-Reims. The chardonnay has been aged in oak barrels for seven months whereas the pinot noir and meunier have been aged in cuve. The malos are completed and the wine spent five years sur lattes. The nose brings notes of brioche, cherry, raspberry, spices and vanilla. The mouth is precise and balanced. Long and complex finish, with notes of citrus fruit and apple. Dosage of 2g/l.