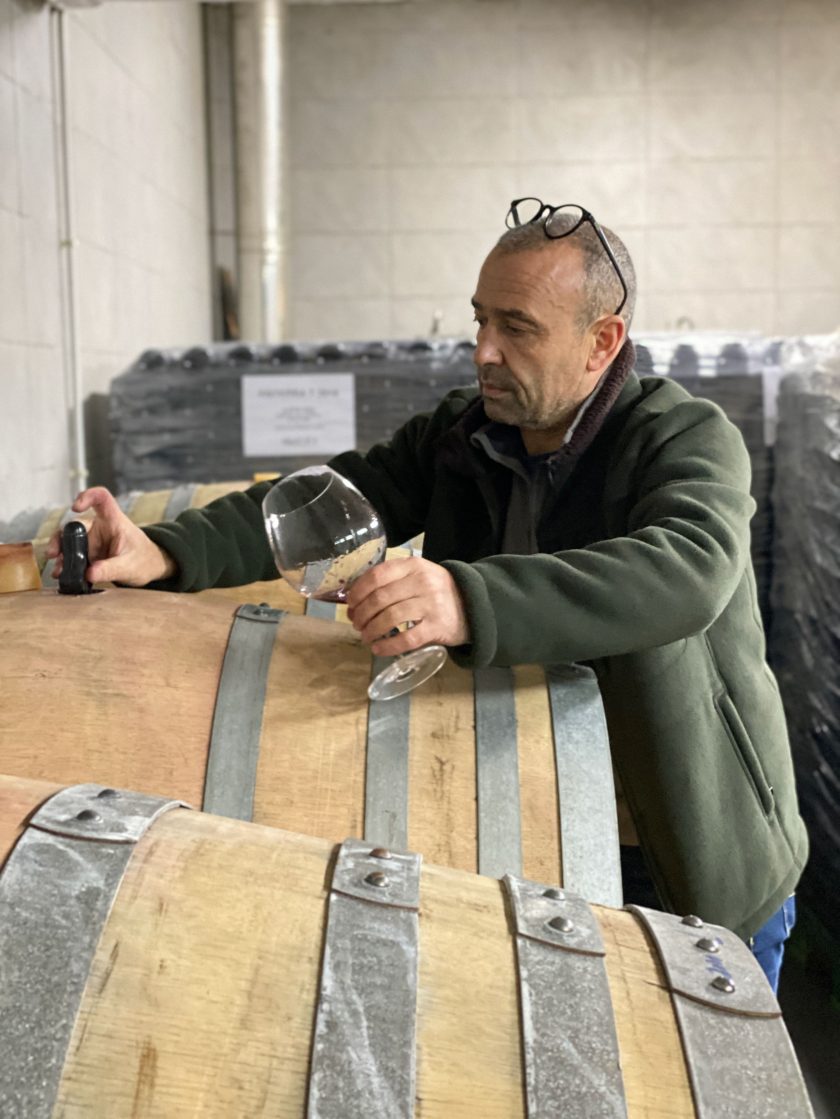 Quinta da Muradella
| | |
| --- | --- |
| Vigneron | José Luis Mateo |
| Location | Verín (Ourense) |
| Size of Domaine | 18 ha |
| Terroir | Continental climate influenced by the Atlantic ocean. Slate, granite, iron-rich clay, and quartz. Gentle slopes to steep terraced vineyards. 300-800m altitude. |
| Viticulture | Certified organic, practising biodynamic. |
| | View Quinta da Muradella wines ↓ |
At first sight, A Canteira is one of those nondescript bars, with slot machines and a TV set where locals and workmen in blue overalls go for a drink. But the difference between this bar in Verín, on the Portugese border, and a thousand other ones across Spain, is that the wine poured here is made by José Luis Mateo of Quinta da Muradella – undoubtedly one of the finest viñatero on the Spanish scene. We first met there, at his brother's bar (where they also cook a mean goat stew), before visiting some of his vineyards. José works in the Monterrei DO, an ancient viticultural region dating back prior to Roman times when work concentrated on the best hillside and mountain locations.

This is a work of many generations. I'm not in a hurry – I'd rather do little but be good at it.
José Luis' visceral love for his land expressed itself at an early age: in the late 1980s, while studying in Madrid to satisfy his family's desire, he made a point to return to Verín most weekends to work his father's 1ha vineyard in Pazos (see Gorvia wines) – not deterred from the 10-hour long bus return journey!

Setting out in 1991, José started a life's work to restore the region's viticultural traditions which had been lost after WWII and Franco's dictatorship, when farmers abandoned hillsides and the mountain areas in favour of the higher yielding valley floors and an easier life. Here, in a transitional zone from oceanic (Atlantic) to continental climate, summers are very hot followed by freezing cold winters – the DO is sheltered from the rain by the different mountains surrounding the valley (particularly the Sierra de Larouca to the west).
José Luis' quinta is named after the first (and most important) finca he's acquired – finca Muradella bought in 1993 – 11ha located in Tamaguelos on hillsides close to the river Támega right at the Portuguese border. The remaining 7ha are split on different vineyards surrounding Verín (at 360 to 500m), and further away on the mountains above the village of Vilardevós – different plots including the parishes of A Trabe and Berrande (at 700 to 800m) crowning the highest vineyards of Monterrei. Here it's a remote, deserted area abandoned by farmers some 30-40 years ago – "those of us who continue working up here have to carry out maintenance works to avoid fires and keep paths free from vegetation; the authorities don't seem to care much!", José Luis explains. He has used bed frames to build makeshift gates to keep wild boar and roe deer away from his grapes; in this unspoiled wilderness wit is a necessary asset.
He works with no less than 24 Galician varieties (9 white and 15 red), all planted by massal selection, trialling different grapes in different locations (re-grafting when necessary) on various kinds of soils, mainly primary types: slate, schist, quartz and granite, looking for the perfect spot to bring out the best in each variety at insanely low yields. José's ultimate goal is to identify the ideal combination of ancient varieties for each plot, as it used to be in the region pre-phylloxera.
In that constant pursuit of elegant, long-lasting balanced wines which express the different identities of the area, José Luis vinifies his plots separately and often picks all the grape varieties within one plot at the same time; he adapts fermentations, ageing vessels, and times (many cuvées are given years of élevage as well as bottle ageing) to the characteristics of the vintage. José makes many different wines including one-off experimental cuvées – an ephemeral approach that means it's sometimes hard to keep track of the different techniques and bottlings. The focus is always the same though: to make fresh and nuanced wines, something that is not always easy given Monterrei's extreme climate.
This attitude requires spending a lot of time in the vineyards doing manual work, but he's unfazed, "the only essential thing is that the vines are in balance and healthy", explains José whose own vineyards have been organically certified since 2005. "This is a work of many generations. I'm not in a hurry – I'd rather do little but be good at it", he likes to repeat, hoping that his work will inspire the next generation to take over and carry the torch.
José Luis Mateo is extremely humble with the kindest manners, very generous with his time and everything else, it's always a pleasure to be around him – his attitude, contagious passion, and the immense work being accomplished have earned him the title of 'most loved and respected grower in the whole of Spain': this is the one name on everyone's lips from Galicia to Catalunya. We feel privileged and honoured to be working with him.

Quinta da Muradella Wines
Quinta da Muradella
MONTERREI 2019
Candea Blanco
34% Doña Branca, 33% Verdello, 33% Treixadura
(12% alc.)
José buys grapes from 3ha of 20yo vines (white and red grapes) on clay soils in Tamagos – south of Verín in the Támega valley – where he supervises the work and harvest. The three varieties were co-fermented with indigenous yeasts, and the wine aged on fine lees for a year (no stirring) in stainless steel vats. Fresh and easy-going, it has low alcohol and good acidity – the perfect entry-level wine.
Quinta da Muradella
MONTERREI 2019
Alanda Blanco
50% Doña Blanca, 20% Treixadura, 20% Verdello, 10% Monstruosa de Monterrei
(12% alc.)
This comes from all of José's fincas spread around the hillsides of Verín where the soils are a mix of slate and clay, sandy gravel and decomposing granite. Made from yields around 30hh, cuve aged with malos blocked, and kept on fine lees (no stirring) before bottling in August 2021. Like all of the Muradella whites this is subtle and elegant, quite tightly wound initially with vibrant acidity, displaying a strong mineral character with subtle peach, fennel and eucalyptus notes gradually emerging. For drinking now to 2025.
Quinta da Muradella
MONTERREI 2014
Gorvia Blanco
100% Doña Blanca
(13.5% alc.)
Gorvia is the original plot owned by the family (see profile) – 1ha on a slope at 420m altitude down the hilltop castle of Monterrei. The vines were planted (by massal selection) in the late 1980s on slate soils with red clay. Here, José Luis has settled on tiny yields of around 12hh to fully capture the potential of doña blanca that yields textural wines. Ageing for a year in older foudres, and then two years and a half in stainless steel before bottling unfined and unfiltered. It is vibrant, complex, and impeccably balanced with some yellow plum and citrus fruit, salty and savoury, with attractive bitters on a long finish. For drinking now to 2025.
Quinta da Muradella
MONTERREI 2015
Muradella Blanco
100% Treixadura
(13% alc.)
José's finest white comes from one particular plot in finca Muradella (see profile), where the soils are a mix of slate, granitic sand, and clay with high iron content. Some of the vines were planted in the early 1990s while some others are 60-100yo. Also called the Trajadura grape in Portugal, it has always been renowned for its quality and vigour, but there are no other growers who have explored its quality boundaries by dropping the yields down to a mere 9hh, perhaps helping to explain why Luis Gutierrez believes this wine is at the quality helm of all Galician whites. Aged initially in older foudres for a year then in cuve for over two more years before being bottled unfiltered. This age-worthy wine has exotic spices aromas as well as fennel and hints of hay on the nose, with savoury, intense, high pitched flavours, all the time wrapped up with an austere mineral quality. For drinking now to 2025.
Quinta da Muradella
MONTERREI 2016
Treixadura Bajo Velo
100% Treixadura
(13.5% alc.)
This was aged 'sous voile' or 'bajo velo' translating as 'under veil'. José tamed the flor element of this wine by transferring it from a wooden foudre to a smaller stainless steel vat (after a few months of the veil developing) – less oxygen and space resulted in a finer veil. 2,300 bottles were filled up in March 2018 and then bottle ageing occurred for another 3-4 years before release. The ageing under flor amplified minerality and length on the palate, while the flor aromatic per se is mild and subtle, nicely binding with fruit-forward and spicy flavours. José reckons the effect of the veil will keep on growing with time in bottle (while remaining nuanced), and we do agree – this is a long-lived wine that will age gracefully! For drinking now to 2036.
Quinta da Muradella
MONTERREI 2019
Candea Tinto
Mencía, Arauxa, Garnacha Tintorera, Mouratón
(13% alc.)
Unoaked and fruit-driven blend of different varieties including arauxa aka tempranillo – the 20 to 70yo vines are scattered around the village of Tamagos (not far from the Portuguese border) at 370m altitude. It fermented with 1/3 whole clusters in stainless steel, and ageing occurred in the same vat for almost two years. The wine has complexity and lightness, it's delicious and delivers a lot more than the price point suggests.
Quinta da Muradella
MONTERREI 2016
Alanda Tinto
Mencía, Bastardo, Garnacha Tintorera, Mouratón, Gran Negro, Arauxa
(13% alc.)
The red version of Alanda is a blend from the different vineyards, sub-zones, and soil types (many sit on granitic bedrocks) within the Monterrei DO. The different grape varieties (harvested at around 25hh) were fermented together, part in stainless steel, part in cement, with 1/3 of whole clusters and aged for one year in used barrels and cement tanks. It was then assembled and matured for a further year in stainless steel before bottling neither fined nor filtered. The nose is fruit-driven, with cherry, herbs and a pinch of spice, and a medium-bodied palate with focused, red cherry flavours, fine tannins and balanced acidity. For drinking now to 2025.
Quinta da Muradella
MONTERREI 2015
Gorvia Tinto
90% Mencía, 5% Bastardo, 5% Caiño Redondo
(13% alc.)
Planted by José's father in the late 1980s, this is Muradella's original plot (see profile) where the tip top massal selection yields around 20-25hh. The 1ha south-facing vineyard sits on iron-rich clay, slate and quartz at the foot of Monterrei hilltop castle. It was fermented in an open stainless steel vat with 60% whole bunches and a long maceration, aged for six months in the same vat and then transferred into older 300 and 500ltr barrels. 3,000 bottles were filled by hand, unfined and unfiltered in May 2017, bottle-ageing followed as per usual at Muradella. On the nose you notice wild strawberries, and floral perfume of violets and dry roses, with sour cherries, spice and an earthy sensation on the palate. This is a superb Galician red with a Burgundian accent and the finesse that is typical of the reds from José Luis Mateo. For drinking now to 2025.
Quinta da Muradella
MONTERREI 2018
Castro Baroncelli
Castro Baroncelli is the name of a famous Celtic settlement in the Monterrei hills. This is José's oldest and most qualitative mencía massal selection in the highest part of the Gorvia plot (see Gorvia wines) – where grapes usually ripen earlier. The trellised vines were converted to 'gobelet' (bush vine) to provide less sun exposure to the bunches, and reach better overall balance. Fermentation and 6-month ageing in stainless steel, followed by 12 months in old 500ltr barrel. Only 656 bottles were bottled in January 2020. This shows less ripeness than the Gorvia Tinto – José aims at finesse through gentle extraction to express the complex nuances of mencía growing on decomposed slate. A stunning wine for drinking now to 2025.
Quinta da Muradella
MONTERREI 2016
Bastardo
Bastardo is also known as merenzao in other parts of Galicia – Portuguese growers tend to prefer the use of bastardo – and trousseau in the Jura. The grapes come from finca Muradella (see profile), on clay and sandstone soils at 470m altitude, where José re-grafted vines using an old massal selection from the mountain plots. The uncrushed whole bunches fermented with indigenous yeasts in open foudres and matured in 400ltr barrels, 2,200 bottles were filled up in August 2018. It's deep and austere, slightly hidden at first, it opens up nicely in a decanter (or big glasses) displaying texture and power, the palate reveals rustic but fine tannins (that will polish with bottle age), gorgeous berries and peppery aromas. For drinking now to 2026.
Quinta da Muradella
MONTERREI 2015
El Pliegue
Bastardo, Mencía, Carabuñenta, Brancellao, Caiño Longo
(13% alc.)
El pliegue translates as 'the fold', a reference to the wave-like geologic fold that occurred at the top of a hillside in finca Muradella (see profile). This rocky plot is strewn with quartz, granite, and slate decomposing in iron-rich clay – an amazing terroir that José identified in the late 90s, and finally planted in 2001. In his constant search for the ideal combination of ancient varieties, José used this plot as a "campo de probas" – a test field – where he co-planted, and re-grafted some parts over the years, to finally settle (circa 2012) on a field blend of bastardo, brancellao, mencía, carabuñenta (touriga nacional), and caiño longo. All varieties co-fermented with 50% whole clusters, the wine aged in a 24hltr oak foudre, and 2,505 bottles were filled up in May 2018. It has a lovely rusticity due to fine tannins, displaying nuanced earthy and floral notes with a lovely energy and salivation on the finish. El Pliegue combines restrained style with character, this is a unique glimpse in Monterrei's pre-phylloxera past and a testament to José's hard work!