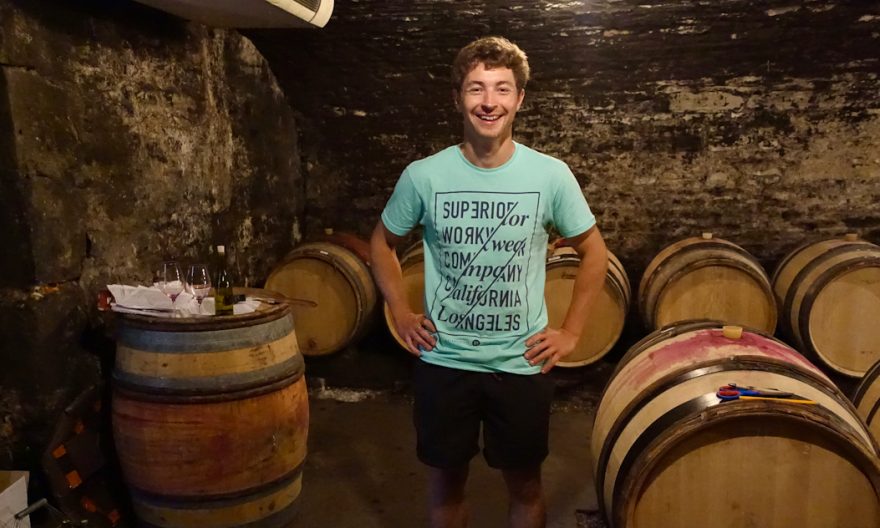 Pierrick Bouley
| | |
| --- | --- |
| Vigneron | Pierrick Bouley |
| Location | Volnay (Côte d'Or) |
| Size of Domaine | 9 ha |
| Terroir | Continental climate. Clay-limestone marls, alluvial sediments on mid-Jurassic (Callovian and Oxfordian) limestone bedrock. 230-280m altitude. |
| Viticulture | Practising biodynamic |
| | View Pierrick Bouley wines ↓ |
There are a number of promising young growers bubbling up in Volnay at the moment. Réyane & Pascal Bouley passed the running of the domaine to their son Pierrick in 2014 after he'd worked alongside them for 5 years. Now in his late twenties, and a sixth generation of winemaker, he had previously gained experience by working at Felton Road in Otago, NZ.
Pierrick has a total of 9ha, of which 6ha are Volnay with 1.5ha of six different 1er crus, including Clos des Chênes and Champans. He has many tiny holdings (41 parcels!) with an average vine age of 60yo+. His philosophy is biodynamic (without being certified or religious), his father having cut out the use of chemicals in the vineyard back in 2003. Pierrick works his soils lightly, no deep ploughing but griffage and interceps instead, and the vines are weaved (no trimming) to preserve the shoot apex and avoid plant stress, he also carries out trials of training the vines to a higher 1.8m in order to provide more shade.
Everything is of course picked by hand, sorted, and completely destemmed, after which the wines undergo a 15-20 days cuvaison with remontages and just two or three pigeages in total. He uses no sulphur during the vinification or élevage, just a touch at racking and bottling (40mg/l total), and ages for a year in new to 5yo old barrels with a low 'chauffe' level, before assembling in cuve and bottling without filtration in December.
"I am a vigneron first and foremost, a vine grower more than a winemaker", Pierrick declared during each of our visits, an understatement considering the evident skills displayed in the cellar. He makes wine with a quite light hand – elegant Volnays in a similar style to Michel Lafarge that are not dark and dense but let the character of the individual terroirs speak for themselves.
Pierrick Bouley Wines
Pierrick Bouley
POMMARD 2018
100% Pinot Noir
(13.5% alc.)
This comes from three parcels of 60-90yo vines totalling half a hectare, the largest holdings in Chanlins and Lamblins on terres blanches, high on the hillside and bordering Volnay. It is a richer, denser wine than Pierrick's village Volnay, with the old vines playing their hand, offering spicy, earthy plum fruit. Perfectly pitched, with caressing yet structured, medium-bodied flavours (typically Pommard), it really coats the palate, and finishes long, saline, and mineral. For drinking now to 2024.
Pierrick Bouley
VOLNAY 1ER CRU 2018
Roncerets
100% Pinot Noir
(13.5% alc.)
A tiny 0.13ha parcel of 45yo vines here, from the heart of the parcel close to the village on a gentle slope, where the limestone has broken up providing lots of tiny stones. No new oak has been used as it would unbalance the wine. Succulent and stylish there is still some complexity and an impressive weight of dark, spicy fruit here, finishing fresh and mineral. The wine to drink whilst you are cellaring the Clos des Chênes for another couple of years. For drinking now to 2028.
Pierrick Bouley
VOLNAY 1ER CRU 2018
Clos des Chênes
100% Pinot Noir
(13.5% alc.)
Along with Taillepieds, Clos des Chênes is the other stand-out 1er cru of the village (it is Michel Lafarge's flagship wine), well exposed on a south-east slope. A rich deep purple immediately attests to the extra depth and concentration of this wine (aged in 20% new oak). There is dark fruit with a latent energy on the nose, with luscious, structured dark, almost blackcurrant fruit on the palate, Moroccan spices, and plenty of reserve and grip with a sappy finish. Brilliant wine. For drinking now to 2038.