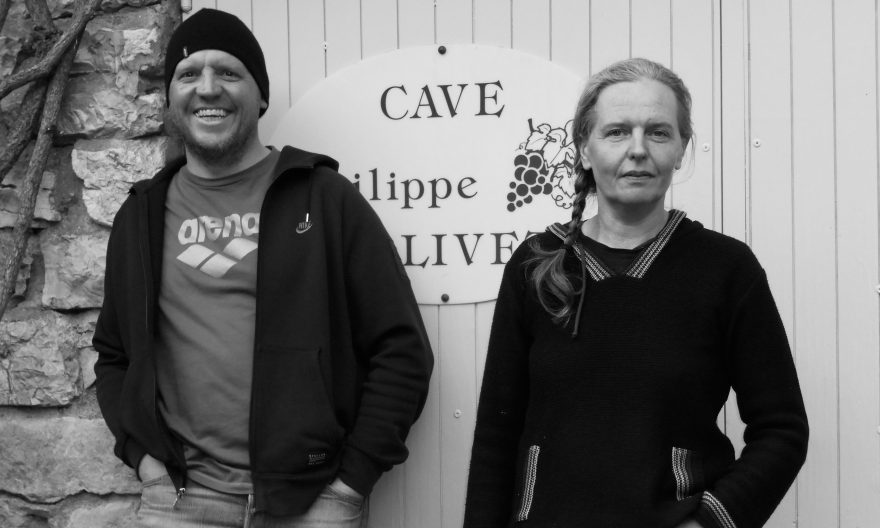 Philippe Balivet
| | |
| --- | --- |
| Vigneron | Cécile and Vincent Balivet |
| Location | Mérignat (Ain) |
| Size of Domaine | 7 ha |
| Terroir | Alpine climate. Oxfordian limestone (Jurassic), veins of marl. Foothills west of the Jura mountain, from gentle to steep slopes (60%). 400-500m altitude. |
| Viticulture | Certified organic (Ecocert) |
| | View Philippe Balivet wines ↓ |
The visit at domaine Philippe Balivet was the last stop of our 2019 trip to the region. Despite travelling during the heatwave that killed many vines that summer, we could feel the air noticeably cool down as we drove up the sinuous road to Mérignat. The vineyards of Cerdon lie in a 'reculée' (blind valley) carved into the Jura mountains, with the vast majority on steep slopes often reaching 60%. This northern corner of Bugey is a geological extension of Jura's Sud-Revermont with soils from the Jurassic period – Oxfordian limestone dominates here, interspersed with veins of blue marl and pockets of limestone scree.
With vineyards perched at 400-500m altitude, the wines of Cerdon have always had incredibly high levels of acidity – in an interview with Le Rouge & Le Blanc magazine, Vincent Balivet explained that his father once harvested grapes with 11.5g/l! In order to balance their wines local vignerons used to take their barrels outside in November to stop fermentation. It would eventually resume in bottle the following spring, thus creating the off-dry, low-alcohol fizz we know today. This 'méthode ancestrale', referred to as pet' nat' nowadays, was produced and appreciated as far back as the 16th century. But, mastering the second fermentation in bottle was a struggle, and the results were random to say the least, often explosive! This explains why many growers later switched to modern oenology, arresting fermentation with high levels of sulphur and heavy filtration, sometimes even carbonating sweet wine.

"Wine is an expression of the soil. By promoting its health, we encourage the roots to extend deep into it. Thanks to our respectful viticulture, the wines have gained in minerality, flesh, and fine bitters."
Philippe Balivet established the domaine in 1967. He abandoned polyculture in favour of viticulture and set himself a challenge: revisiting the old méthode ancestrale of cooling down the fermenting must, but making it manageable and consistent through the use of modern equipment. After successful trials using the village's disused milk cooling tank, he invested in a stainless steel vat on which he mounted a refrigeration unit, the first of its type in the region. The wines were vastly improved, but he still had to find a way to remove the lees from the pressurized bottles and ensure fermentation could not start again. Philippe heard that progress had been made in the Diois region with Clairette de Die (méthode ancestrale); so he decided to organise for a group of Bugey growers to visit the Diois and learn about 'filtration isobarométrique' – filtration via a counter pressure filler, a device used to fill bottles without losing carbonation. The best Cerdon growers then joined forces and created a cooperative to share the costs of such equipment. Sales immediately took off and the méthode ancestrale became compulsory in 2009 when the wines of Cerdon were finally granted AC status. Philippe Balivet proved instrumental in shaping the Bugey Cerdon appellation as we know it today.

The domaine is now in the hands of Cécile and Vincent Balivet who took over from their father. Kind and down to earth, they are lovely people who enjoy the simple things in life – Vincent refuses to own a mobile phone. Farming organically since 1984, the Balivets have long understood the necessity for healthy living soils. As Vincent explains, "Wine is an expression of the soil. By promoting its health, we encourage the roots to extend deep into it. Thanks to our respectful viticulture, the wines have gained in minerality, flesh, and fine bitters." They plough once a year only (autumn) to disturb soil structure as little as possible. After pruning, cuttings are left on the ground and sprayed with a 'tisane de compost' (liquid manure) the following spring. It stimulates fauna, accelerates biological decomposition as well as soil assimilation, and increases organic matter. Grass is allowed to grow wild, as it provides habitat for wildlife that protects against harmful insects and parasites. It is mowed when growing too close to the grapes, ensuring optimal ventilation and exposure, which reduces humidity levels.

The brother and sister duo prefers a delicate style of Cerdon so maceration is avoided by pressing the grapes directly. Following a 48h débourbage (cold settling) the must is racked off its gross lees which are filtered with perlite (a volcanic rock) and reassembled with the must. Wild fermentation takes place in stainless steel, it is stopped by gradually decreasing temperature to 0°C as the fermenting must approaches the desired sugar-acids balance, typically around 6% alcohol level. The wine is then bottled with a crown cap for second fermentation. Bottles are kept at 10°C for four months (minimum two months required by appellation rules) to ensure a slow 'prise de mousse' and fine, delicate bubbles. The 'filtration isobarométrique' is then applied while disgorging bottle by bottle, removing any 'active' lees and allowing for little use of SO2 if any.

With its vibrant raspberry colour, low-alcohol content, and perfectly pitched sweet and sour balance, Cerdon is a gorgeous, intensely refreshing drink. A unique and authentic taste in the complex world of wine. Best drunk around 6-8°C it's perfect for contemplation, apéro by the pool or some creative food pairings. A sommelier favorite for its versatility, it's an obvious choice for fruit-based desserts, it also works wonders with all things rhubarb, fragrant asian cuisine, and even foie gras.
Philippe Balivet Wines
Philippe Balivet
BUGEY CERDON NV
Classique
100% Gamay
(7% alc, 78g of rs)
Unusually for the appellation, Vincent and Cécile like to add some 'vieux vin' to the blend for consistency and vinosity. Therefore this cuvée is a blend of 2019 and 2020. The grapes are harvested by hand and vinified by méthode ancestrale (see profile) using low levels of SO2 – 16 mg/l total. Second fermentation lasts four months at 10°C for a slow 'prise de mousse'. The nose is bright and perfumed. The palate is fresh, precise and full of crunch, with cherry, raspberry, and violets underpinned by fine bubbles. A beautiful play between sugar and acids that keeps you going back for more until the bottle has suddenly disappeared!
Philippe Balivet
BUGEY CERDON 2020
Récolte Cécile
50% Gamay, 50% Poulsard
(7.5% alc, 62g of rs)
Same vinification as the cuvée Classique although this is 'sans soufre' and from a single vintage. The poulsard is planted on marl soils similar to those found in the Jura. Very expressive on the nose with confit fruits, wild strawberry and popping candy. The poulsard adds a touch of finesse and poise to the palate. It is complex with a vinous quality and a lengthy finish that displays savoury bitters. More serious than the cuvée Classique, but equally delicious and a joy to drink.