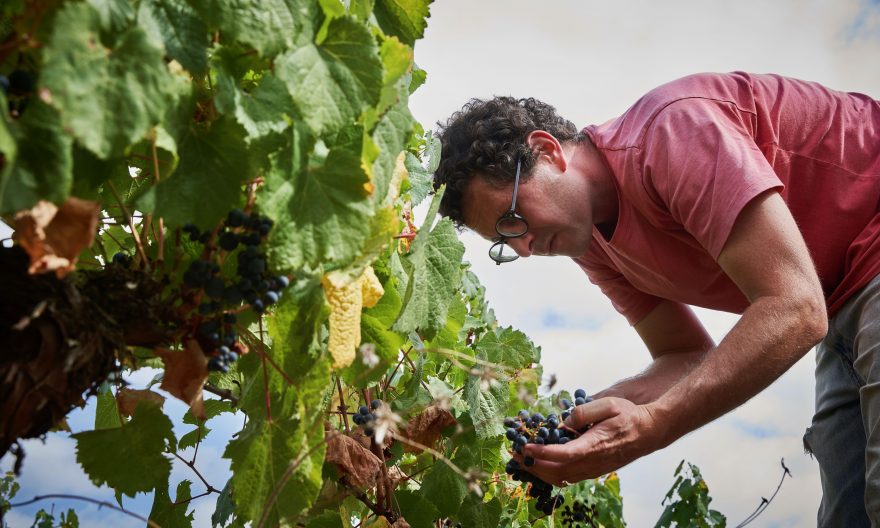 Parlange & Illouz
| | |
| --- | --- |
| Vigneron | Jérémie Illouz |
| Location | Villesèque (Lot) |
| Size of Domaine | 5.5 ha |
| Terroir | Continental climate with Atlantic and Mediterranean influences. Siderolithic (iron-rich) limestone with red clay and iron stones, Jurassic clay-limestone soils. 200-300m altitude. |
| Viticulture | Certified organic (Ecocert) |
| | View Parlange & Illouz wines ↓ |
Originally from the région parisienne Jérémie Illouz got the wine bug drinking his way through the capital's vibrant scene. During his studies Jérémie befriended his business partner Paul Parlange as well as Fabien Jouves of Mas del Perié. Convinced by the huge potential of the underrated Cahors AC he moved there in 2008 and agreed to buy grapes from Fabien on one condition: they had to be grown without any chemicals. Jérémie never wanted to be a negociant but he had a plan - in order to make ends meet, learn about the different terroirs and make the right contacts he'd buy grapes and make wine while patiently waiting for the right opportunity. His dream came true in 2012 when he was able to buy 2.5ha as well as leasing 'en fermage' another 3ha. The total holdings are in prime location on the Causse (plateau overlooking the Lot river) where the famous siderolithic iron-rich soils are intertwined and laid over Jurassic limestone.

"Watch out for this clique, they are about to unleash Cahors' true potential, exciting times indeed!"
Three hectares needed (re)planting but only two have been completed so far. The thoughtful, exacting and pragmatic Jérémie explains, "There is no room for error and I am in no rush, I need to take the time, gain experience, brainstorm and take the right decision", and he adds "I love malbec but I also want to promote diversity with ancient local varieties such as jurançon noir and valdiguié, sadly their plantings have diminished dramatically in the last 60 years". In the same spirit Jérémie took some cuttings of côt (malbec's original name) from the vieilles vignes at La Grange Tiphaine (Touraine) which he is about to plant. For a bit of experimentation he's also planted 0.6 ha of cinsault following a chat with his friend Eric Pfifferling (Domaine de L'Anglore) about their shared love for pineau d'aunis - they are anticipating that cinsault planted on Cahors' plateau will emulate the pineau's spicy goodness!
The Causse has a wide daily temperature fluctuation which benefits a thriving ecosystem where polyculture is still the norm. Vineyards, orchards, truffières and other pastures mix with wild forest and woodland where wildlife roam freely (mind the boar while driving!). Jérémie's 5.5ha are divided into ten plots, pockets of vines minutiously tended, a work described as 'sur-mesure' or 'haute couture' by Le Rouge & Le Blanc magazine. Preserving and increasing biodiversity as well as soil's microbial activity is paramount, he aims to do a minimum of 'passages' and treatments (bouillie bordelaise, plant infusion-decoction), and the soils are only superficially worked with disks despite the lack of water and grass competition.
In 2016 Jérémie and Paul finally built their own cellar based between Cambayrac and Trespoux-Rassiels, ideally located within 1km radius of all parcels. After four years of struggle vinifiying in cramped conditions Jérémie knew exactly what he wanted, and thanks to his detailed approach he put together a self-sufficient and functional space that respectfully fits into the natural surroundings and landscape.

Malbec is a relatively complicated grape and a reductive one. Jérémie believes in gentle manipulation and extraction: whole bunches, infusion via short cuvaison, soft and slow press, transfer by gravity. Ageing occurs in a mix of stainless steel and 225ltr barriques, bought from Vieux Château Certan (Pomerol) after three years of use, and bottling usually happens without any SO2 added.
In search of finesse and lifted aromatics, his practices are definitely not in line with the Cahors AC body which, for example, bans the use of stems. They decided to declassify his 2013s the reason being "une couleur pas assez prononcée" (colour not dark enough). Strong-headed Jérémie displayed his character in a letter to the INAO, he expressed his 'ras-le-bol' and stated that he would drop the appellation to produce Vin de France from 2015 onwards.

Despite being only in his mid 30s and an outsider, Jérémie knows what he is doing and where he is going, we were seriously impressed by the precision in everything he does and says. Even more impressive is the sheer quality of his wines – moreish and fresh they beautifully combine poise, depth and sense of place. His thirst for knowledge is striking, a glimpse at the eclectic empties in the cellar would convince any connoisseur. Loving his life in the bucolic town of Cahors, you'll often find him en terrasse at Le Courson restaurant popping corks, sharing plates and chatting away with the young bunch of vignerons who are redefining the region. Watch out for this clique – they are about to unleash Cahors' true potential, exciting times indeed!
Parlange & Illouz Wines
Parlange & Illouz
CAJOLLE 2020
Vin de France
100% Jurançon Noir
(13% alc.)
Jurançon noir is native to the area and is a natural cross between folle blanche and côt (malbec). It makes for light wines, low in alcohol and colour, and was historically the favourite variety for everyday drinking. Jérémie vinifies the 'gamay of Cahors' by semi-carbonic with five days of maceration, ages in stainless steel and bottles in the spring without SO2. Thirst-quencher par excellence, this is lifted with a lovely spicy fruit, pure joy that surely will inspire more plantings!
Parlange & Illouz
PRINZET 2017
Vin de France
50% Malbec, 25% Valdiguié, 25% Jurançon Noir
(12.5% alc.)
Jurançon noir (see description Cajolle) and Valdiguié (related to malbec) come from a 0.8ha plot on iron-rich siderolithic. The 70yo vines are affected by court-noué (fanleaf degeneration) however this yields qualitative low alcohol, high-acid grapes at 15hh only. The malbec comes from a different parcel planted on limestone. The three varieties co-ferment with their stems for 10 days before pressing, age in 5-10yo barriques bordelaises for 12 months followed by six months in cuve, no SO2 added at bottling. Bright cherry colour in the glass, lovely scents of black fruits and fresh peppercorn, a harmonious mouthfeel perfectly pitched and close to the grapes, this is a characterful wine with refreshing tannins and a moreish finish. For drinking now to 2023.
Parlange & Illouz
LA PIÈCE 2019
Vin de France
85% Malbec, 15% Merlot
(13% alc.)
Different plots of malbec and one of merlot, all on late Jurassic limestone soils. Whole-bunch fermentation with light extraction during eight days of cuvaison, 12 months ageing half in tank and half in old 225ltr barrels, 1g/hl SO2 'à la mise' (less than 30mg/l total). Juicy, dense and refreshing this is a proof that Cahors can be approachable young. Extremely drinkable despite its concentrated fruit, it has lovely flavours of wild blackberry, liquorice and viola flower. Combining pleasure and sense of place, this bottling showcases Jérémie's savoir-faire and fine touch.
Parlange & Illouz
HAUTE PIÈCE 2019
Vin de France
This cuvée comes from the oldest vines of malbec at the domaine (50yo+) – two distinct parcels on siderolithic soil. This acidic and manganese-rich terroir comes from the erosion of the nearby Massif Central. Extremely high quality it adds umami, salinity and verticality to the wines and brings an enticing savoury element. Whole-cluster fermentation of 12 days before pressing, 12-months élevage in 225ltr barrels bought from Guillaume Thienpont at Vieux Château Certan followed by another six months in stainless steel. No SO2 added. Intense, powerful as well as refined and nuanced this wine has an expansive mouthfeel - textural and structured with loads of polished tannins. Complex aromatics of dark cocoa, freshly ground coffee, juicy Mediterranean tomatoes, peonies and marshmallows are enhanced by a lengthy, irony and almost meaty finish triggering endless salivation. A stunning effort. For drinking now to 2030.