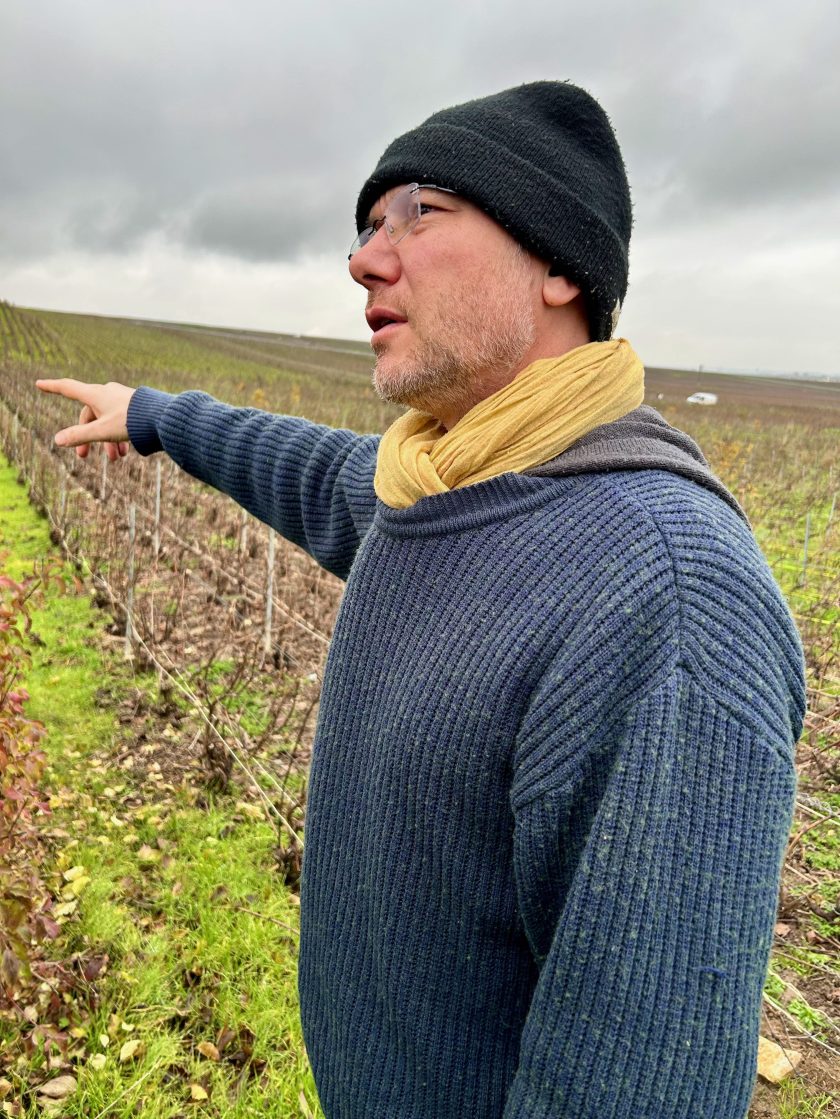 Mouzon-Leroux
| | |
| --- | --- |
| Vigneron | Sébastien Mouzon |
| Location | Verzy (Marne) |
| Size of Domaine | 8 ha |
| Terroir | Continental climate with oceanic influence. Fine, silty clay-limestone soil over chalk bedrock. Gentle slope. 120-150m altitude. |
| Viticulture | Certified biodynamic (Demeter), practising agroforestry. |
| | View Mouzon-Leroux wines ↓ |
Located in the grand cru village of Verzy on the northern Montagne de Reims – next to the grand cru of Verzenay – the domaine is now run by Sébastien Mouzon, it has been passed down from father to son since 1776. Sébastien has 8ha split into 65 parcels where the full 'encépagement Champenois' is represented: 60% pinot noir, 35% chardonnay, 5% arbane, pinot gris & blanc, meunier, and petit meslier.

The vines are spread out over the three main hillsides in Verzy, with a north-eastern exposure, which helps to convey the grand cru's renowned finesse, tension and energy with a notable mineral quality. On the first hillside – which lies closer to Villers-Marmery to the south-east – the soils are chalkier, closer to the bedrock, and perfect for chardonnay (see cuvée L'Angélique). The middle hillside has a deeper topsoil rich in flint – there was a flint quarry here 200 years ago – a rarity in Champagne. And the northern-most hillside towards Verzenay has similar deep clay soils to that village and is perfect for growing pinot noir.
Sébastien started working biodynamically when he took over the reins in 2008 (certified by Demeter), and more significantly, he was the earliest pioneer in the region to apply agroforestry principles – throughout the vineyards he has planted more than 700 trees, shrubs and hedges, plus 300 aromatic plants such as thyme, mint and oregano. Sheep and chicken are used for winter grazing, horses for ploughing, and Seb has built bat roosts as they help to control some unwanted insects.

In the cellar, Seb uses the 'pied de cuve' technique to kick-off fermentation, collecting and fermenting a small pre-harvest of grapes from all his vineyards, which is then used in all the cuvées. The still wines are aged in 3-15yo 500ltr barrels for between 7 to 24 months on full lees. Reserve wines are kept in enamelled vats. Malos are completed so that the use of sulphur is not systematically needed (a pinch might exceptionally be added to the still wines if necessary) which at the point of disgorging only amounts to a natural trace of 15mg/l total. Yeast (named Quartz) propagated from the Aube biodynamic producer Fleury are used for the second fermentation and the pressure never exceeds 5 bars (instead of the classic 6 bars found at big Champagne houses). Ageing sur lattes varies from 20 months to 5 years and dosage is never higher than 2.5 g/l if any.
There is a sculpted, pristine purity and clear-fruited quality to all the Mouzon-Leroux champagnes thanks to that vital north-eastern exposure and exceptional viticulture. They are delicious champagnes, thoughtful, sapid, mineral and incisive.
Mouzon-Leroux Wines
Mouzon-Leroux
L'ATAVIQUE
Verzy Grand Cru
65% Pinot Noir, 35% Chardonnay
(12% alc.)
A blend collected from all their holdings on the three hillsides of Verzy, this is the domaine's principal cuvée. It's a blend of 55% 2018 and 45% 2017/16. It has a pale bright gold colour, delicate bubbles, a most attractive nose and palate, with lifted, stylish fruit and a good wisp of salinity on the finish. A real crowd-pleaser. Disg. 01/22 - Dosage 2.5g/l.
Mouzon-Leroux
L'ASCENDANT
Verzy Grand Cru
60% Pinot Noir, 40% Chardonnay
(12% alc.)
This comes from a solera system of demi-muids of L'Atavique first started off in 2010 – this bottling comprises 50% 2016 and 50% 2010 to 2015 wines. 50% of the solera is pulled off/renewed every year, bottled off for second fermentation and then aged for more than four years 'sur lattes'. As expected, there is a touch more mid-gold colour here, and we're now in the forest aromatically – according to Seb. It displays the domaine's trademark purity of juice, but it's more serious, gras and vinous than L'Atavique, less on the fruit, more on the earth and mineral, sapid and saline on a long and complex finish. Disg. 10/21 - Dosage 1.5g/l.
Mouzon-Leroux
L'ANGÉLIQUE 2016
Verzy Grand Cru
100% Chardonnay
(12% alc.)
The vines here are planted in a limestone-clay soil, overlying chalk on the first hillside to the south-east of the village. It's a light soil that's perfect for growing chardonnay, the name of the cuvée pointing to its character, pure, light and ethereal per Seb. He selected the best 500ltr barrels of still chardonnay 2016, second fermentation occurred and Seb gave it more than four years bottle age under cap (preferring the extra tension provided under cap to cork ageing). A beautiful pale-gold colour, the fruit is ripe but racy, extremely fine-tuned and elegant, with truffle notes, and a notable lift on the sustained, mineral-imbued finish. Disg. 10/21 - Non dosé.