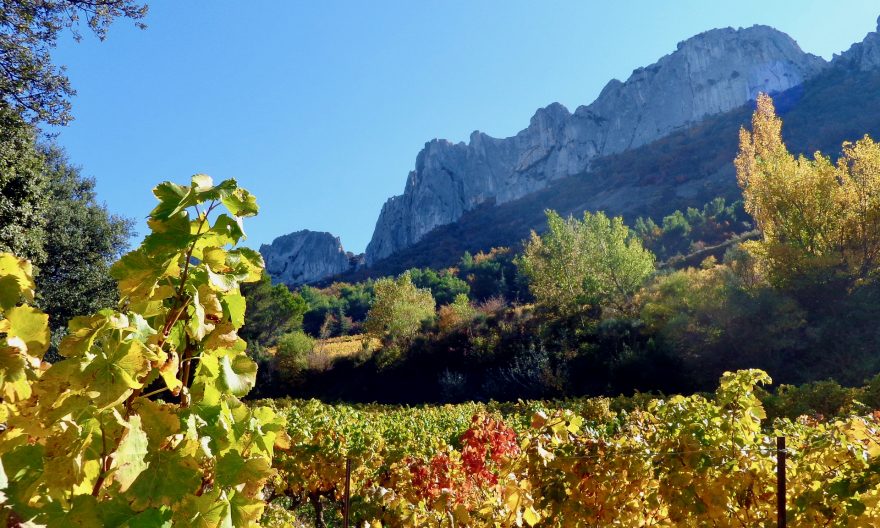 Moulin de La Gardette
| | |
| --- | --- |
| Vigneron | Jean-Baptiste Meunier |
| Location | Gigondas (Vaucluse) |
| Size of Domaine | 10 ha |
| Terroir | Mediterranean climate, Mistral (northern wind) influence. Triassic marls, Miocene sands, limestone and clay. 100-330m altitude. |
| Viticulture | Certified organic (AB) |
| | View Moulin de La Gardette wines ↓ |
Gigondas has always been an appellation that has intrigued us, the old village tucked in under the dramatic peaks of the Dentelles de Montmirail, many different soil types with a wide geological diversity and complexity, a mosaic of terroirs with a number of higher altitude vineyards. The other Rhône-Villages terroirs rarely offer the same potential for finesse and class as Gigondas' best. But finding a winemaker whose vineyards give the possibility of complexity, where the finesse is not outweighed by the power, the viticulture is spot on, the winemaker's touch in the cave doesn't miss a beat, is another thing altogether. Which is why we're very excited to start working with one of the appellation's true stars. In September 2019 Matt Walls selected Moulin de La Gardette (for Decanter mag) as one of the southern Rhône's ten most exciting estates (La Luminaille and Roucas Toumba were two of his other selections), noting, "I have no doubt that Moulin de La Gardette is one of the greatest estates in Gigondas, but, in the UK at least, we've been slow to catch on." During the nineties the estate was well represented by brokers Richards Walford (bought over by the late FMV), but in more recent years, despite consistent and excellent reviews, Moulin de La Gardette has inexplicably fallen off the radar of UK merchants.

An old La Gardette wine can be astounding. Guessing its age can prove to be a dangerous game, even for an experienced taster: to avoid glaring errors it is advisable to add a decade to the estimate
Moulin de La Gardette is located in a spot reputed since as early as 1670 for the quality of its vineyards on the rocky slopes of la Gardette, high in the hills, just to the south of the village of Gigondas. The name Moulin de La Gardette first appeared in 1958 when Geneviève Jurdic married Laurent Meunier, who came from an artistic and musical family in Paris. The mill refers to the old mill that once stood on the hill of La Gardette. The enterprise prospered and nowadays Jean-Baptiste Meunier, who took over the reins in 1990 tends mature bush vines with an average age of around 65 years in 25 different parcels of Gigondas garrigue. His philosophy is to let the grapes and the terroir express themselves, so he naturally switched to organic viticulture, with minimal use of copper, working along these lines since 2000 (it's astonishing that there are so few growers working sustainably, with respect for their soils and environment in the appellation).
The notable finesse and freshness in the wines is undoubtedly partly due to the higher altitude sites of many of the parcels (up to 330m) scattered around famed lieux-dits like La Gardette, Saint-Jean, Jasio and L'Argne. In particular it's thanks to fine soils which combine Triassic marls, Miocene sands (locally called 'safre'), limestone and clay, with the sands in particular yielding fruit with pronounced finesse and a nicely harnessed tannic content giving real ageability to the wines. Many of the vines are on tiny strips of land no bigger than a hectare surrounded by Aleppo pines, oak trees and mature woodlands whose essences fill the air with lingering scents. Whipped clean by the mistral the vines enjoy an outstanding natural environment.

Mention Gigondas to most people and it conjures up an image of a powerful, rustic wine. We find that the power is usually a little too much in most of the appellation's wines, albeit that extended bottle age can sometimes tame this aspect. But the wines of Moulin de La Gardette are radically different, embodying a soulful and aesthetic quality. Right from the outset there is a poise and digeste quality to them (you don't notice the alcohol at all), a beautiful and attractive fruit quality with spice, liquorice and saline touches: they are easy to appreciate in their youth. And yet they have a well-earned reputation for extended ageing capacity, offered only by wines of the highest class – John 'JLL' Livingstone-Learmonth (the one true Rhône specialist) has tasted wine in magnificent condition at 40 years old.
The natural advantages of superb terroirs are a big factor, but all along the line Jean-Baptiste has worked with a restless energy, single-mindedness and sensitivity, never afraid to go against the flow, not easily influenced. The majority of Gigondas growers go through the motions, ensuring they hit the maximum permitted yields (36hh) whenever possible. Jean-Baptiste looks for quality and balance at ideally 27hh, although he produced just 15hh in 2017 and 22hh in 2019. Respecting the plant and soil naturally keeps the yields down, the risks are higher, the rewards greater. His is one of the rare domaines that produces solely Gigondas AC wines, so no distractions from vines down the road, more time for observation and focus.

The balance of his vineyards is ideal with the vast majority planted to old vine grenache and very little syrah (which can too often bring a rather cooked, one dimensional quality under the fierce heat of the south). Although Jean-Baptiste has 25 different parcels, he absolutely nails the picking date year in year out, so that freshness is never lost. In 2019, he went a step further – opting to harvest in mid-October a month later than the other Gigondas growers. After a hot summer and afraid that the wine would be too tough, he waited for the rains to arrive around September 20th, after which the vines needed a week to assimilate the water and get back into balance. This risk taking has resulted in a spectacularly good wine with incredible balance, great finesse, less firm tannins, less of an impression of alcohol (but the same level as a month before) and a more pronounced mineral score. This is one risk too many for most growers and as far as we know this approach is only taken by Gourt de Mautens in Rasteau in the whole of the southern Rhône.

After a fastidious sorting process to ensure that only grapes in perfect condition are used, the wines are vinified in cement vats, with four weeks maceration on the skins post fermentation. They are aged according to the volume of the crop and the profile of the wines, whether they are more or less suited to an élevage in big old foudres (plus just four demi-muids), or whether as in 2018, part aged in cement. There is no set protocol of ageing for either of the domaine's main cuvées, Tradition or Ventabren. Jean-Baptiste works from a scrupulously clean modern cave that he built in 2003, and ages the Tradition for 18 months before bottling unfined and unfiltered. The final touch is given by the use of top grade natural Amorim corks, that come from older cork trees and have been tested on a one by one basis to guarantee no TCA.
All the wines need then are patient buyers, who can somehow resist temptation and age the wines for a few years – they will be amply rewarded. As noted in the profile of Moulin de La Gardette in JLL and team's authoritative book, 'Gigondas, its wines, its lands, its people': "An old La Gardette wine can be astounding. Guessing its age can prove to be a dangerous game, even for an experienced taster: to avoid glaring errors it is advisable to add a decade to the estimate!"
Moulin de La Gardette Wines
Moulin de La Gardette
GIGONDAS 2019
Tradition
80% Grenache, 10% Mourvèdre, 10% Syrah
(14.5% alc.)
Made from a selection of old bush vine parcels tended organically including La Gardette, St Jean, Jasio and Grames, largely at high altitude to the south of the village, where the soils are a complex mix of marls, safres (sands) and limestone-clay. Vinified from whole bunches and aged primarily in old foudres this is an extremely fine and elegant example of Gigondas – Jean-Baptiste took a calculated gamble and harvested the grapes in the middle of October, over one month later than everyone else in the appellation (but similar to Gourt de Mautens in Rasteau). It has an attractive red cherry colour, bramble fruits with menthol and pine on the nose, and an amazing palate, offering beautifully judged raspberry and blackberry old viney fruit, liquorice, leather, hint of violets, nutmeg and cinnamon stick, relieved and lifted by a juicy berry acidity and a saline lick, all held together and enhanced by fine grained tannins. It's so pleasurable to drink now with its very digeste quality and excellent balance, but will improve over the years. For drinking now to 2039.