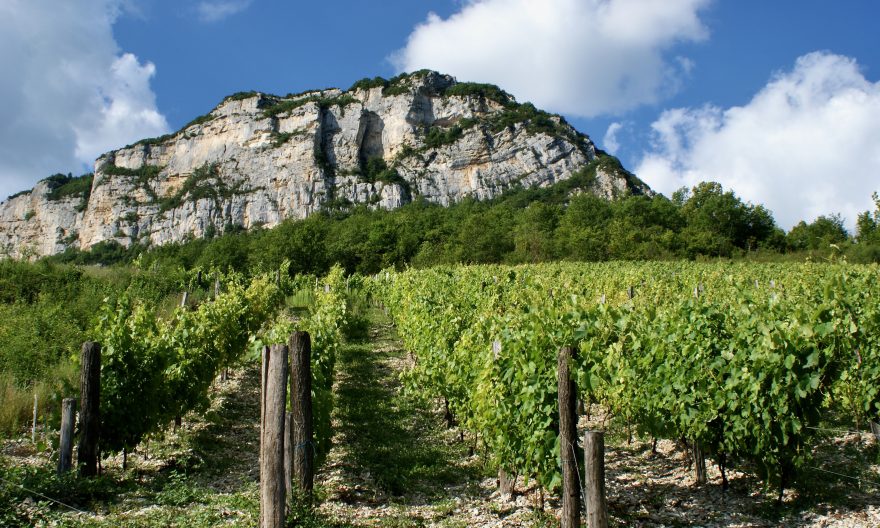 Les Grangeons de L'Albarine
| | |
| --- | --- |
| Vigneron | Luc Bauer |
| Location | Argis (Ain) |
| Size of Domaine | 3 ha |
| Terroir | Alpine climate. Jurassic limestone, limestone scree, glacial moraine, clay-limestone. Gentle to steep slopes on the Jura mountain foothills. 225-400m altitude. |
| Viticulture | Certified organic (Ecocert), practising biodynamics. |
| | View Les Grangeons de L'Albarine wines ↓ |
We first read about Les Grangeons de L'Albarine in an article published by French newspaper Libération in 2017. Luc Bauer was described in the same breath as gifted vigneronne Loreline Laborde of Les Granges Pâquenesses so we took notice. And when we prepared for our summer 2019 tour of the region Luc Bauer was the first name down our list.

From his childhood in the Monts du Lyonnais, a range of low-altitude mountains just south of the Beaujolais, Luc developed a profound love and respect for nature. Eager to work the land, he became an agricultural engineer but grew disillusioned after his experience in cereal production, an industry where profitability ruled over sustainability. His introduction to wine came quite late, courtesy of his Alsatian wife Clémence and her family whose enthusiasm for the local production was contagious. He became hooked by the 'Terroirist' approach of the best vignerons, most of whom shared his concerns about industrial agriculture, and decided to join Macon-Davayé's wine school in 2008. After graduating, he worked a few years in the Maconnais with growers such as the Bret Brothers, fervent advocates of biodynamics, and Philippe Jambon who's been at the heart of the natural wine movement since the late nineties.


Luc was working in Beaujolais when in 2011 he had the opportunity to snap up two Bugey parcels on the historical Coteau d'Argis, a beautiful south-west facing slope overlooking the Albarine river at the foot of the Roche de Narse (a small rocky mountain with dramatic 200m high limestone cliffs, and an area officially protected for its rich biodiversity). Covered with limestone scree that reflects sunlight during the day and releases heat at night, this open valley basks in sunshine from dusk till dawn and acts as a sun trap, allowing the grapes to reach optimum ripeness in an otherwise cool area. Luc undertook the mammoth task of clearing more land, sometimes on steep 45 degree slopes where no machines could go, building terraces and planting more vines.
Nowadays Luc farms 2ha on the Coteau d'Argis but keen to work with a diverse range of terroirs, he also owns and rents around 1ha in various parts of Bugey: Combernand (Cluse des Peintres) on flat land of glacial moraine, the south-facing Clos de Beauregard overlooking the Rhône on iron-rich limestone scree, and a clay-limestone plot at the foot of the Grand Colombier (Bugey's highest peak at 1,531m).


Bauer, which means farmer in German, is a fitting name for someone who describes himself as a paysan-vigneron. It is clear from reading Luc's detailed blog that he feels proud and honoured to perpetuate Bugey's rich rural tradition which has been in steep decline since the beginning of the 20th century. The name of the domaine is a reference to times gone by when the Bugistes' only aspiration was to own a 'grangeon' (a stone building that housed all farming equipment and often a press) so they could work the land and make wine. These grangeons littered the slopes above Argis where 100ha of vines were still recorded in 1905, and while it is impossible to change the course of history, Luc hopes that his efforts will inspire others to walk in the footsteps of previous generations. The valley is a place of incredible beauty teeming with wildlife and the Albarine river, whose limpid, mineral rich water attracts a large number of fish, is a particular draw for Luc who is a keen fly fisher.

Cartesian in nature, Luc likes to understand how things work so he was reticent when he first encountered the practices derived from Goethe and Steiner's work. While he could see the positive effects of the various biodynamic preparations, not knowing why and how they worked was the source of immense frustration but he slowly gave in and accepted that certain things must for now remain a mystery. He follows the lunar calendar, and uses a variety of tisanes, 'purins' (liquid manure), and decoctions made with local plants to treat and stimulate the vines. To avoid soil compaction and improve its aeration and drainage, all the tasks are done either by hand or using a 'chenillard' (ultra-light crawler tractor). He practices debudding, desuckering, leaf thinning, and 'palissage', all of which improve ventilation and therefore reduce the risk of diseases.


Luc wants to make wines that express their terroir with clarity and precision. Most of the cuvées are the expression of a single grape on a single parcel, although he recently started experimenting with blends for some of his reds. The grapes are harvested by hand and a pied de cuve, specific to each parcel, is made a couple of days prior in order to populate the must with a lively colony of wild yeast for a strong start to fermentation. White varieties are slowly whole-bunch pressed and transferred to old demi-muids (once blended with the pied de cuve) for vinification and ageing. For the reds, the length of cuvaison and proportion of whole bunches is adapted to suit the vintage, variety and terroir, the aim being to make wines that offer a lot of pleasure in their youth when, by contrast, the whites are built to age. The wines aren't filtered and they are made 'sans soufre', barring the odd exception in which case a small dose (10mg/l) is added at bottling.

Even though our first visit was quick, it will stay vivid in our memories for years to come. We looked at each other as we started tasting the wines, puzzled that such a talented vigneron had remained under the radar, and ecstatic at the thought of working with him. His wines made from altesse are unlike any we ever tasted and show this noble variety belongs with the very best France has to offer. What he has done in such a short period of time is remarkable, but he's only getting started and we believe the best is yet to come.
Les Grangeons de L'Albarine Wines
Les Grangeons de L'Albarine
COMBERNAND LA CLUSE DES PEINTRES 2018
Vin de France
100% Aligoté
(11.5% alc.)
This Aligo Thé (see label) comes from the lieu-dit Combernand La Cluse des Peintres, and 40yo vines in the village of Rossillon halfway between Argis and Belley. The soils were formed when the glaciers melted down, depositing a thick and compacted layer of rolled pebbles (glacial moraine). Vinified in old demi-muids, it was bottled in October 2019 without sulphur. A beautiful example of aligoté's potential when made from low yields on interesting terroir. It's rich and textured thanks to a spot-on élevage which added weight as well as breadth, and there is dynamism on the palate lifted by a bright vein of acidity.
Les Grangeons de L'Albarine
ALTIESSE DE BEAUREGARD 2017
Vin de France
100% Altesse
(12.5% alc.)
The Clos de Beauregard is a south-facing slope in the village of St-Sorlin-en-Bugey. The 70yo vines are planted on a mix of limestone scree and iron-rich clay-limestone soils, directly overlooking the Rhône at 300m altitude. The summer drought of 2017 meant the yields were low (25hh), leading to an increased level of concentration. Vinified and aged in demi-muids (5-6yo) for just over a year, it is full on the attack, with delicious sun-gorged stone fruits and citruses, the mouthfeel is packed with fine bitters and mineral salts, forming an almost tannic impression on the gums and the tip of the tongue. A stunning bottling not to be missed by all the savagnin and chenin aficionados out there. For drinking now to 2022.
Les Grangeons de L'Albarine
GAMAY OF THRONES 2018
Vin de France
Luc buys the grapes from a pensioner who pampers his vines with utmost care and attention, and totally free of chemicals. Planted on a south-facing slope at 350m altitude covered in limestone scree, half of the parcel is planted with 60yo gobelet, while the rest of the vines are 40yo and trellised. Surprised by the yields in 2018 (40hh), Luc was forced to destem half of the harvest so it could all fit in his cuve, and the cuvaison lasted about 10 days with hardly any remontage. Bottled without sulphur, the colour is a gorgeous shade of pink with purple hints. This is a true 'vin de copains', direct and thirst-quenching, with bright violets and crunchy cherries, and the salivating finish makes you reach for another sip almost immediately.