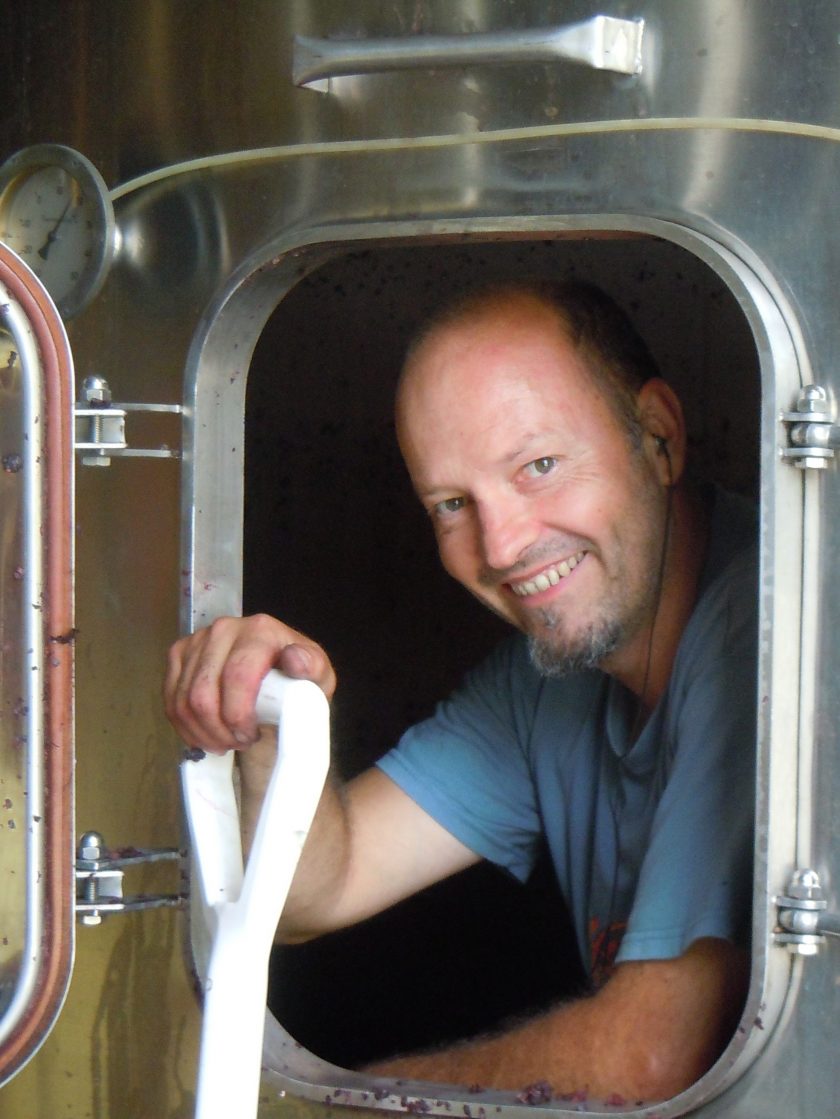 Le Jonc Blanc
| | |
| --- | --- |
| Vigneron | Franck Pascal and Isabelle Carles |
| Location | Vélines (Dordogne) |
| Size of Domaine | 15 ha |
| Terroir | Atlantic climate. Shallow iron rich clay-limestone soils over active limestone. Gentle undulations around 80m altitude. |
| Viticulture | Certified organic (Agrocert) and biodynamic (Demeter) |
| | View Le Jonc Blanc wines ↓ |
Isabelle Carles and Franck Pascal had a real passion for wine and, in 1999, that led them to give up their home and careers in Paris to purchase Le Jonc Blanc. Translated this means a white limestone plateau where the mother rock outcrops, a reference to the limestone that lies only 7-10 inches below the argilo-calcaire topsoil and gives this little patch of Bergerac a unique terroir.
Here in Vélines the family's vineyards are isolated from other crops by steep hillsides and woods. Isabelle and Franck are passionate about protecting biodiversity, and plant inter-row crops with mustard plants, wheat and others to bring vitality to the soil, and a row of flowers every 20m to attract pollinating insects. To respect the vines' natural cycle they don't trim their tops, and green harvesting is banned.
In the cave their ideas are straight forward – low yields, natural yeasts, no inputs and minimum intervention, limited racking, no fining or filtration, little or no sulphur and long maturing in cuve or very old foudres for natural stability. Their robust but fresh, intensely saline wines are a world away from the over commercial clichés of the Bergerac appellation and the fault-free criterias imposed by the INAO authorities. It was therefore a logical step for Franck and Isabelle to pull out of the AC in 2012.
After the catastrophic late frosts of 27th April 2017 which tragically destroyed 100% of the potential production, Franck was quick off the mark to help his business survive and bought an organically certified red wine (merlot and cab franc) from a friend in the limestone hillsides of Saussignac. He took over the ageing of the wine and bottled it with no filtration and very light sulphur, christening it Anti-Gel (antifreeze), and designing a great label.
Le Jonc Blanc Wines
Le Jonc Blanc
FRUIT 2019
Vin de France
50% Cabernet Sauvignon, 40% Merlot, 10% Malbec
(14% alc.)
Franck Pascal pulled out of the Bergerac appellation in 2012 as his rich, natural, unfined and unfiltered wine had little in common with most of the wines from this appellation. His wine spends two winters in the cellars for natural stabilization before bottling. Black and red fruit gradually emerge on the nose, with deep structured fruit on the palate that is held firm by the wine's chalky minerality backed by delicate tannins. No added sulphur.
Le Jonc Blanc
ANTI-GEL 2016
Vin de France
60% Merlot, 40% Cabernet Franc
(12.5% alc.)
After the catastrophic late frosts of 27th April 2017 destroyed 100% of his potential production of red wine, Franck was quick off the mark to buy this organically certified red wine from the limestone hillsides of Saussignac to help his business survive. It has a similar feel to the wine above, although is lighter on its feet and not quite so structured. It has attractive plum fruit cosseted by the impact of limestone and is unfiltered with just a low dose of sulphur at bottling.