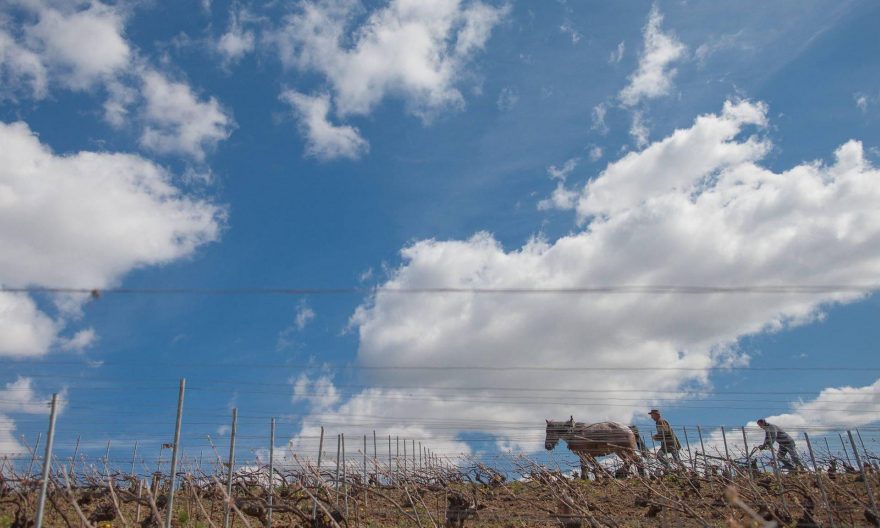 Laherte Frères
| | |
| --- | --- |
| Vigneron | Aurélien, Thierry and Christian Laherte |
| Location | Chavot-Courcourt (Marne) |
| Size of Domaine | 10 ha |
| Terroir | Continental climate with Oceanic influence. Clay-limestone, silt, flint over chalk bedrock. Gentle slopes. 150-190m altitude. |
| Viticulture | Practicing organic |
| | View Laherte Frères wines ↓ |
Laherte & Frères are based in Chavot-Courcourt just to the south of Epernay in an area that falls between the Côte des Blancs and Vallée de la Marne. In 2002 brothers Thierry and Christian, were joined by Thierry's son Aurélien who now heads the domaine and represents the seventh generation of the family to grow vines in the area.
Aurélien is part of a dynamic young generation of vignerons making waves in Champagne and producing a fine array of terroir-driven champagnes, adopting a natural approach to viticulture. Along with his friend Raphaël Bérèche, Aurélien founded the Terres et Vins group of champagne producers in 2009, showcasing at a superb tasting every April the champagnes and vins clairs of the most recent harvest from a group of cutting-edge growers, including Agrapart, Chartogne-Taillet and Benoit Lahaye.
"Our wines show more influence of clay than those in the Côte des Blancs, yet they are chalkier than those of the rest of the Vallée de la Marne"
The family have 10ha of vines split into no less than 75 parcels in ten different villages, although 81% are within five minutes' drive of Chavot. Aurélien identifies no less than 27 terroirs in Chavot. "Our wines show more influence of clay than those in the Côte des Blancs, yet they are chalkier than those of the rest of the Vallée de la Marne", remarks Aurélien. In order to preserve these fine-grained nuances of terroir they are all pressed separately. Pinot meunier accounts for 61.29% of all productive vines in the Marne valley, and not surprisingly Laherte's main champagne Ultradition includes 60% pinot meunier.
They are a meticulous domaine where every action is carefully weighed and considered, and their philosophy essentially involves the infinite quest of looking for balance in their grapes, soils and vineyards. As they explain, "we are constantly striving to highlight the true nature of our vines".
Aurélien learned from his father that you have to take the time to do things well and that being a vine-grower means remaining humble and patient. And so they keep old vines (in some parcels up to 70yo) which all come from sélection massale plantings, they have a team of ten employees, train the vines high for optimum maturity, vinify separate cuvées from individual plots, work with two 4000 kilo Coquard presses to ensure that grapes can always be pressed at the optimal moment, use natural yeasts for the first fermentation, taste all cuvées every year before deciding whether to block or carry out malolactics, oak (80%) or cuve age their wines, and use minimal dosage.
Laherte Frères Wines
Laherte Frères
ULTRADITION
60% Pinot Meunier, 30% Chardonnay, 10% Pinot Noir
(12.5% alc.)
This is a subtle amalgam of the domaine's holdings. Based on the 2015 vintage (60%) and 2014 (40%), the wine was initially aged 50% in cuve and 50% in oak (recent foudres and fûts from three to 15yo) and 60% of the malos were completed. It was given 22 months bottle age and disgorged with 6.5g/l dosage in September 2018. On the nose this gives complex notes of citrus zest, fresh baked bread, chalky tones and floral notes typical of a cuvée based around pinot meunier. There is a good depth of red fruits with floral and saline notes on the palate and it has a supple texture and a refreshing finish.
Laherte Frères
BLANC DE BLANCS
100% Chardonnay
(12.5% alc.)
Aurélien makes this really good b de b from mid-slope vineyards in Chavot and Epernay where the vines average 32yo. It comes from a blend of 50% 2015, 35% 2014 and 15% 2013 and was oak aged in a mix of foudres and barrels with no malos. The reserve wine helps to give an extra richness and depth to the wine – it has good weight of fruit and on the palate there is a nice play between a marrowy, protein quality, a structure that comes from clay soils, good tension and a brisk (brut nature) saline depth from the chalk.
Laherte Frères
ROSÉ DE MEUNIER
100% Pinot Meunier
(12.5% alc.)
This is the newest cuvée made by Aurélien from 25-40yo vines planted in limestone clay soil and has been made from equal parts 2016 and 2015, with 60% white wine, 30% rosé de macération and 10% red wine all from meunier grapes. It was disgorged in November 2018 with a 2.5g/l dosage. It is a beautiful rosé with incredibly attractive delicate red fruits, a touch of pepper and a saline freshness on the finish.
Laherte Frères
LES VIGNES D'AUTREFOIS 2014
100% Pinot Meunier
(12.5% alc.)
The Laherte family used four parcels of vines averaging 60yo in the villages of Chavot and Mancy for this cuvée. Made entirely from the 2014 vintage and aged in 4-12yo barrels with malos blocked, it was disgorged by hand in December 2017 with a 3g/l dosage. It is very terroir rather than fruit driven on the nose, has sculpted, incisive red fruits with floral notes on the palate, and sustained gorgeous fruit and marked salinity on the finish.
Laherte Frères
EMPREINTES 2012
50% Chardonnay, 50% Pinot Noir
(12.5% alc.)
This cuvée is designed to exhibit just how good the terroir of Chavot can be. Here the pinot noir is planted in rich clay, and the 55yo chardonnay in chalk. Aged in 3-5yo barrels with no malos, the fruit is delicious showing tangerine, papaya and hints of ginger, all the time beautifully underlined by a striking mineral quality, with outstanding length and energy. Disgorged with a dosage of 4g/l.
Laherte Frères
LES 7
18% Pinot Meunier, 18% Chardonnay, 17% Pinot Blanc, 15% Petit Meslier, 14% Pinot Noir, 10% Pinot Gris, 8% Arbanne
(12.5% alc.)
A unique champagne made from a solera system (or perpetual reserve) started in 2005 of seven older Burgundy barrels from which 40% of reserve wines are pulled off annually to add to 60% of wines of the year. The young vines here were co-planted by Thierry Laherte and are tended biodynamically. From a base year of 2012 and with malos blocked this was disgorged by hand in January 2016 with a 4 g/l dosage. Complex and harmonious champagne, with a mix of chalky minerals and truffles on the nose, it is subtle and restrained, with a savoury, earthy note on the finish.