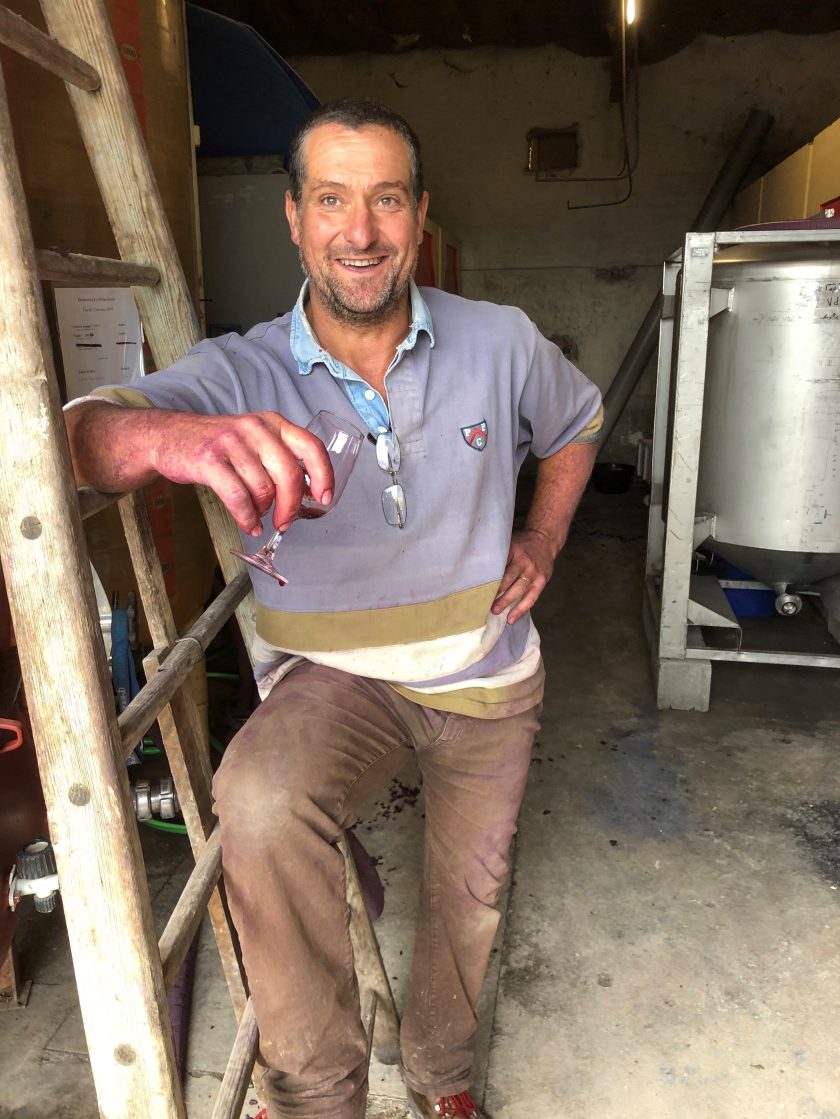 La Péquélette
| | |
| --- | --- |
| Vigneron | Cédric Guillaume-Corbin |
| Location | Vinsobres (Drôme) |
| Size of Domaine | 6 ha |
| Terroir | Mediterranean climate, Mistral (northern wind) and pre-Alps influences. Clay-limestone, sandy marls, pebbles and stones on limestone bedrock. 300-450m altitude. |
| Viticulture | Certified organic (Ecocert) and biodynamic (Demeter), practising permaculture. |
| | View La Péquélette wines ↓ |
The qualitative and homogenous cru Vinsobres was granted its own appellation in 2006. It is situated at the northern tip of the Côtes du Rhône area down the Baronnies Provençales natural park. With vineyards reaching up to 500m altitude, it benefits from cooler temperatures and higher rainfall which imparts the wines of the appellation with extra freshness and vibrancy.

The domaine La Péquélette covers 25ha on which 12ha of vines were planted by the previous generations of Guillaume-Corbin. When Cédric took over he only kept the best plots, his favourite 6ha, so that he could work them on his own with utmost care. He converted all trellis systems to gobelet (bush vines), uprooted some vineyards and planted bourboulenc, clairette, counoise, cinsault and other vieux cépages tallying up to a bit less than 1ha alongside grenache (4ha) and syrah/mourvèdre (1ha+).
Cédric also took on the herculean task of rewilding the domaine, planting many varieties of trees (apricot, kaki, pomegranate, dog-rose, hawthorne etc) through and around the estate – La Péquélette (the little girl in Provençal) is now a haven of biodiversity with olive trees, truffle oaks and fruit trees alongside vineyards and woods, and with a panoramic view on the Mont Ventoux to boot!

The soils are lightly worked 'par griffage' only twice a year, the pruned vine stems are chopped to create a mulch during winter when sheep roam free through the vineyards. The result is an average yield of 25hh made from healthy grapes packed with flavours and minerals. Cédric makes wines in the most natural way and ages them for two winters in different vessels, except for oak, before bottling them with a pinch of sulphur.
La Péquélette's motto is "Feet on the Ground and Head in the Stars" which characterises perfectly the hyperactive, sensitive and talented Cédric.
La Péquélette Wines
La Péquélette
VINSOBRES 2019
Émile
75% Grenache, 10% Mourvèdre, 10% Syrah, 5% Carignan/Cinsault
(14.5% alc.)
Émile was Cédric's grandfather who created the domaine. Yields are extremely low at around 18-20hh from 50 to 90yo vines. Vinified in concrete vats and cuve aged for 18 months, it has a delectable, very pure black cherry, raspberry, liquorice and cinnamon flecked fruit, old vine framework and fine tannins with a cleansing, saline note on the finish. A very digeste and sapid style despite the typical southern concentration. Low SO2 at bottling only – 18mg/l total. "This is my best bottling of Émile to date, an amazing vintage that made age-worthy wines", proudly says Cédric. For drinking now to 2030.