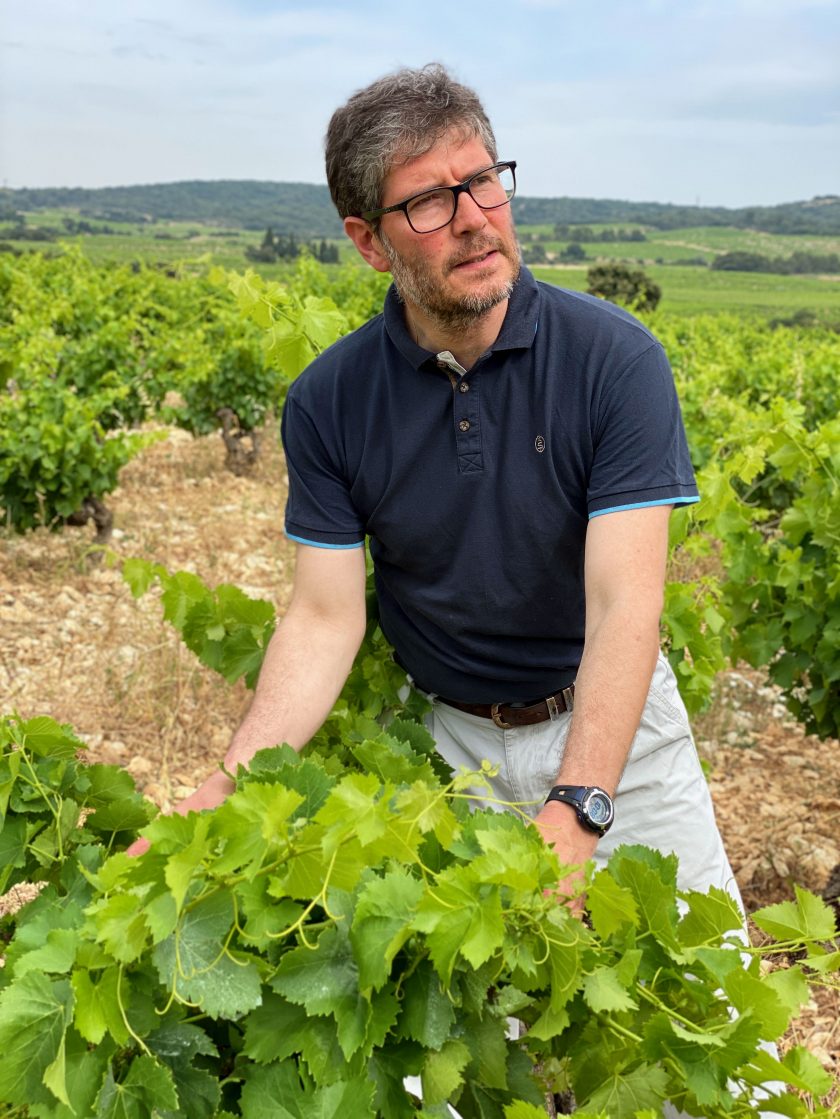 Moulin-La-Viguerie
| | |
| --- | --- |
| Vigneron | Gaël Petit |
| Location | Tavel (Gard) |
| Size of Domaine | 4.5 ha |
| Terroir | Mediterranean climate. Urgonian limestone scree (Cretaceous), red clay, sand and pebbles. Mostly gentle north-facing slopes. 125m altitude. |
| Viticulture | Certified organic (Ecocert) |
| | View Moulin-La-Viguerie wines ↓ |
Tavel is unquestionably one of the finest terroirs in the southern Rhône, on the opposite bank of the river from Châteauneuf-du-Pape. Tavel was one of the first five wines in France to gain its AOC back in 1936, when it was noted as a pale red wine rather than rosé. Back in the early 19th century it enjoyed a reputation as one of France's finest wines – it was the only Rhône wine served at the best Parisian restaurants alongside Hermitage. Sadly, the early discovery of phylloxera just 5km away from Tavel had a decimating impact on the appellation.


The Rieu family created the Moulin-La-Viguerie domaine in the late 16th century, pulling together some of the finest vineyards on the limestone-clay combe of Malaven to the west of the village – the Malaven is a precious underground stream that flows under the Urgonian limestone bedrock – we are in the historical heart of the appellation, a W/E open valley shaped as an amphitheatre with the village of Tavel as centre stage. Gaël Petit took over the family baton in 1998, inheriting old co-planted bush vines in the prime terroir of Les Vestides – the southern part of the Combe de Malaven – where the vines enjoy a cool north exposure. The thin soil of sandy red clay is extremely rocky with tile-shaped 'lauses' of limestone littering the ground.
Working conventionally at the outset, Gaël Petit quickly moved away from chemicals and has controlled grass and weed growth by interceps for the last 20 years. He was voted in as president of the growers' association for five years (there are 34 growers in the AOC) and in his role Gaël often found himself defending the wines of Éric Pfifferling's Domaine de L'Anglore for AOC status. Éric's wines stood out a mile from the rest, as he worked by whole bunch semi-carbonic maceration, allowing malolactic fermentation to give stable wines that aged, and cutting sulphur down to minimal levels. This was in stark contrast to most wines in the appellation where the blocking of malos led to commercial wines that were overloaded with sulphur, killing the fruit, drying the wines out, and leading to a loss of appreciation of Tavel wines.
Éric and Gaël became close friends enjoying their erudite conversations around history, local culture, and traditions. As well as appreciating the wines of Domaine de L'Anglore, the scholar Gaël Petit was a keen and efficient learner, he quickly gained knowledge about semi-carbonic and 'pied de cuve' techniques, he also met and exchanged in depth on the subject with Christophe Pacalet. There arrived a point when it didn't take much persuasion from Éric for Gaël to officially seek organic certification and start to practice all that he'd learned (the first Combe des Rieu bottling was made in 2018), and he hasn't looked back.
The different grape varieties are hand harvested in small cases (only in the morning) and cooled down further in a cold room. A naturally fermenting pied de cuve is made right at the start and kept aside. The semi-carbonic maceration that follows is based on the 'mille-feuille' or layering technique: a vessel is progressively filled-up by layering different grapes, destemmed or not. In this instance, the mille-feuille is completed by alternating layers of whole bunches with fermenting must from the pied de cuve, ensuring homogenous saturation of the vat with natural CO2 when it is finally closed. When the wine reaches the right colour density – usually after a 5 to 8 days cuvaison – the grapes are pressed, and the juice is transferred by gravity into 4yo barrels (228ltr 'pièces bourguignonnes' as well as traditional 275ltr 'demi queue de Vaucluse') where it finishes its sugars, completes its malolactic and ages. The wines are bottled unfiltered in July with just half a gram (per hl) of sulphur added after racking.
The results are quite spectacular and underline why Tavel is enjoying a deserved renaissance led by low intervention winemakers – Domaine de l'Anglore, Moulin-la-Viguerie, and Clos des Grillons to name a few. A most attractive, pale pinot noir colour, its natural southern ripeness, cherry fruit and spice are cut through by a wonderful freshness (low pH levels of 3.30/3.40) and lengthy salivation. The beautiful, old school Rayas style label is an added bonus too – it dates back to the 1920s when Gaël's great grandfather, Aimé Roudil, ran the 'syndicat des propriétaires-viticulteurs de Tavel' and subsequently created one of the very first AOC.
Moulin-La-Viguerie Wines
Moulin-La-Viguerie
TAVEL 2020
La Combe des Rieu
50% Grenache Noir, Blanc and Gris, 20% Cinsault, 20% Carignan, 10% Clairette Blanche and Rosée
(14.5% alc.)
Co-planted vines (1965, 1969, 1976) 'en gobelet' in the prime lieu-dit Les Vestides on rocky limestone scree and red clay. Average yield of 25hh. Sulphur-free, semi-carbonic maceration using the 'mille-feuille' technique (see profile), ageing in old barrels. Its colour is like an unfiltered pinot noir rather than a delicate rosé. The flavour brings in spicy black cherry, herbs like juniper and bay-leaf, there is a gentle tannic pull and a good sense of freshness and salinity (a very low pH level of 3.30), and it is very long on the finish. Half a gramme of SO2 (per hl) added after soutirage, none at bottling. It holds up when open for a few days auguring well for its ageing potential – Gaël Petit reckons it should drink perfectly for five years from vintage. He advises drinking cellar cool (12-14C), and carafeing half an hour before you eat. It's ideally suited to spiced, garlicy Mediterranean cuisine.