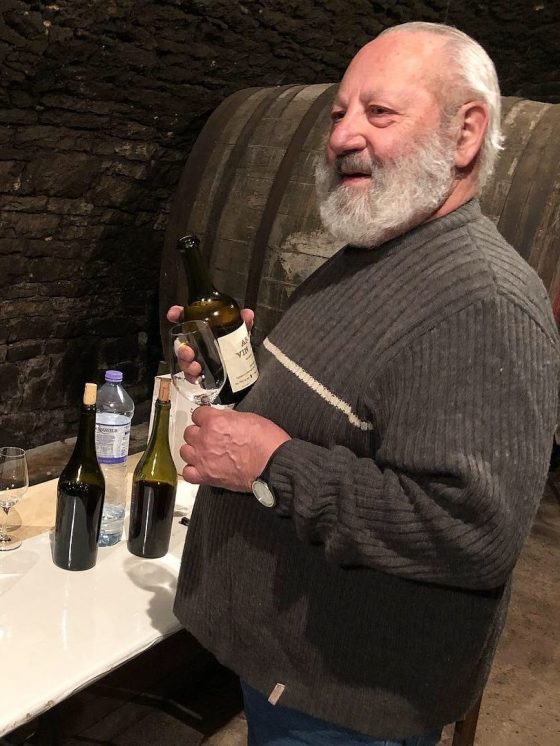 Jacques Puffeney
| | |
| --- | --- |
| Vigneron | Jacques Puffeney |
| Location | Montigny-les-Arsures (Jura) |
| Size of Domaine | 6 ha - sold |
| Terroir | Continental climate. Marls, clay and gravels. South-west facing gentle slopes. 300-350m altitude. |
| Viticulture | Sustainable - fungicide might be used against oidium and mildew in difficult vintages |
| | View Jacques Puffeney wines ↓ |
Affectionately known as 'Le Pape d'Arbois', Jacques Puffeney officially retired after vinifying his 52nd vintage in 2014, selling the majority of his vineyards (but not his stock of wines) to Domaine du Pélican.
French laws also allowed him to keep a small parcel of vineyard, and so Jacques retained a small holding that was used to produce the Trousseau Cuvée Berangères, and we have received a minute allocation of this wine up to and including the 2017 vintage. After making this wine Jacques decided to call a complete halt (he was 72 after all!), but there is a crumb of comfort in that he will continue to eke out his precious Vin Jaune to old customers for a number of years still, only releasing them once they have completed their seven-year ageing process.

"This bearded gentleman has offered a great service to the Jura wine region in making his fine long-lived wines year after year, not afraid to experiment, improve and adapt." Wink Lorch
While most of the region's current crop of vignerons are animated with the same curiosity and passion that drove Jacques to constantly challenge himself in pursuit of perfection, it was a much rarer trait in his time and one that set him apart along with growers such as Jean Macle and Pierre Overnoy.
He is a very thoughtful man, every action is carefully pondered, nothing is left to chance. Gifted with a fantastic memory, he's able to reel off by heart vintage conditions going back decades and would always look back to previous vintages with similar growing conditions to decide on harvest dates.
Nick would also add that right up to his very last wine Jacques was always looking to improve – there was never a chance of him sitting on his laurels – and a good few of the wines he made in his latter years were the best of his career.

He assembled a collection of the some of the best sites in Arbois, always making sure that they were planted with the most suitable varieties for each terroir: trousseau on south-facing stony gravel over red marl, poulsard on grey marl and savagnin on blue and grey marl. He adopted an organic approach in the vineyards, favoured old vines and yields of about 30-40hh, working the soils and carrying out the majority of vineyard tasks by hand.
In the cellar, everything happened as naturally as possible, vinification with wild yeast, no additives other than a pinch of sulphur, old foudres for fermentation and élevage, and the reds were all destemmed but not crushed and pumped over once a day only.
Jacques Puffeney Wines
Jacques Puffeney
ARBOIS VIN JAUNE 2011
Vin Jaune is the Jura's real speciality, from late-harvested savagnin, pressed and aged under a veil of yeast in old oak for six years, then assembled and aged in foudre for a further year. It is bottled without filtration in a distinctive 'clavelin' bottle with a long neck and hunched shoulders, which holds 62cl – the volume that is said to remain out of one litre of wine following six years of slow and steady evaporation. Superb partner to rich, creamy dishes with mushrooms such as morels, it has a flavour similar to an aged amontillado sherry, with walnut and truffley tones, and the longer you keep it the more complex and resonant it becomes. For drinking now to 2100!
Jacques Puffeney
ARBOIS 2016
Les Bérangères
100% Trousseau
(13% alc.)
After selling most of his vines in 2014 Jacques continued to make tiny quantities of trousseau up until the 2017 vintage, and we are very fortunate to have secured a small allocation from 2016 and 2017, which we will release when the wines start to open up. It comes from 35yo vines planted in loose, gravelly soil on a southeast-facing slope, perfect for the trousseau grape which demands very dry conditions to give its best. Classic pale colour similar to pinot noir, a touch more weight and depth of fruit than poulsard, with mulberries, raspberries, a hint of spice and mineral cut. According to Jacques, you need to exercise a little patience - as the wine ages it picks up weight and length on the palate and is at its very best at five to six years old. For drinking now to 2026.