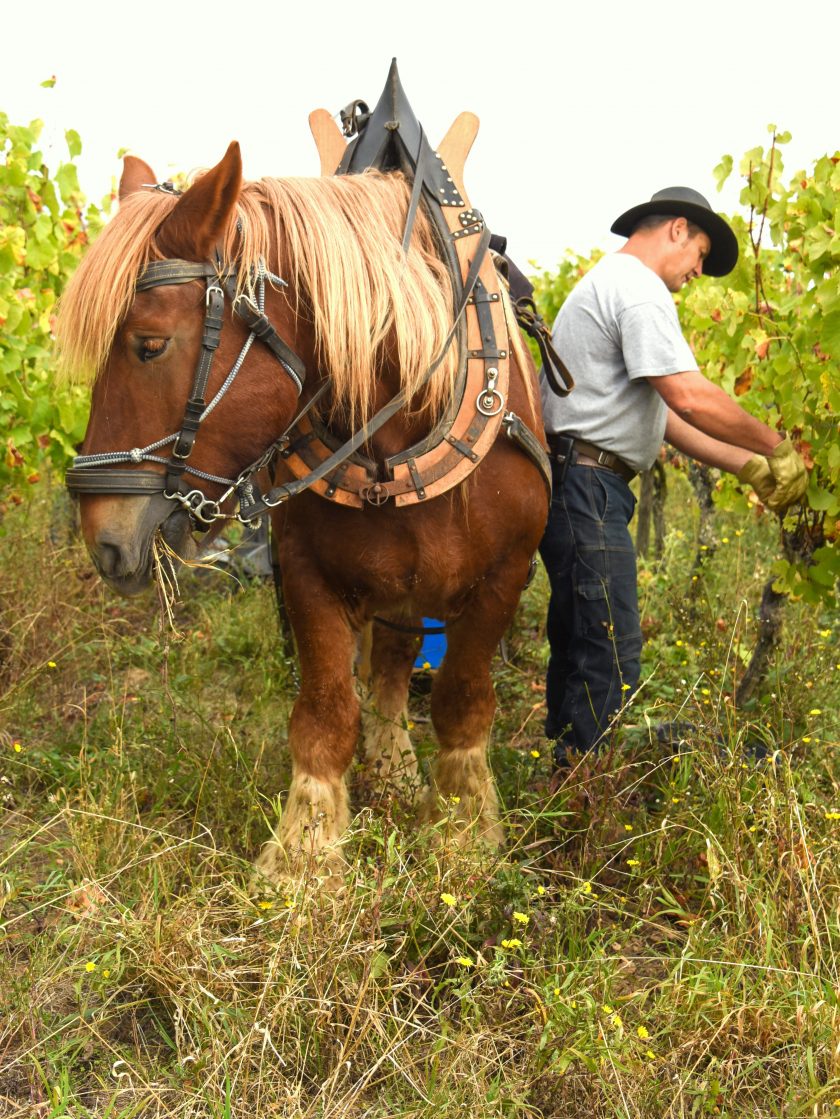 Hubert & Heidi Hausherr
| | |
| --- | --- |
| Vigneron | Hubert & Heidi Hausherr |
| Location | Eguisheim (Haut-Rhin) |
| Size of Domaine | 3. 9 ha |
| Terroir | Continental climate, sheltered from rain by the Vosges mountains. Sub soils of triassic muschelkalk (mussel chalk) and jurassic limestone. Marl from the Oligocene, colluvium, sandstone pebbles, clay and loess. Gentle slopes on hillsides. 150 to 340m altitude. |
| Viticulture | Certified biodynamic (Demeter), practising Fukuoka farming. |
| | View Hubert & Heidi Hausherr wines ↓ |
Hubert's grandfather created the domaine in 1950 preceding the rise of the agribusiness and chemical lobbying. By the time Hubert took over from his father in 1999, the family vineyards were farmed conventionally and grapes were sold to Eguisheim's cooperative.
Following their nose and motivated by a strong desire to reconnect with 'le monde du vivant', Hubert and Heidi converted the domaine to organic with a certification in 2006. Influenced by the late Pierre Masson (world expert in biodynamics) and vigneron extraordinaire Patrick Meyer, Hubert pushed to the next level: the 3.9ha are now biodynamic certified, co-planted with different native varieties and farmed with the help of two friendly horses Douce and Skippy.
Following permaculture principles Hubert does not plough or mow but instead practices natural mulching to preserve moisture through the vines; this is of vital importance in this particularly dry area which sees similar rainfall to Roussillon.
In the cellar two stunning wooden basket-presses were expertly tinkered, fixed to the ground and manually handled they allow for a slow pressing (7-10 hours for 1000kg) extracting the finest from the excellent raw material. The different grape varieties are often harvested and fermented together in a mix of stainless steel and oak before ageing and bottling without filtration or additives.
Hubert is a loquacious and affable gentle giant who makes wines at his image, transparent, authentic and nourishing.
Hubert & Heidi Hausherr Wines
Hubert & Heidi Hausherr
COPAINS COMME RAISINS 2017
45% Riesling, 35% Pinot Gris, 10% Pinot Auxerrois, 10% Sylvaner
(12.5% alc)
Three weeks full carbonic maceration of grapes from different terroirs followed by a short ageing in stainless steel produce this juicy, fruit-forward, approachable and quaffable orange wine to be shared with friends.
Hubert & Heidi Hausherr
LE JARDIN LÀ-HAUT 2017
Altengarten
50% Riesling, 50% Gewürztraminer
(13% alc)
The vineyard of Altengarten (old garden) is below the Eichberg Grand Cru looking towards the east at 220m altitude. Overlooked by the emblematic Three Castles of Eguisheim it sits on limestone-rich marl where riesling and gewürztraminer are co-planted. Whole bunches are pressed together followed by fermentation and ageing in used barrels. Well-managed ageing on fine lees adds a slight reduction to the wine which disappears after few minutes of opening. Multi-layered and opulent this wine is lifted by its biting acidity and salivating minerality bringing out the best of both grapes.