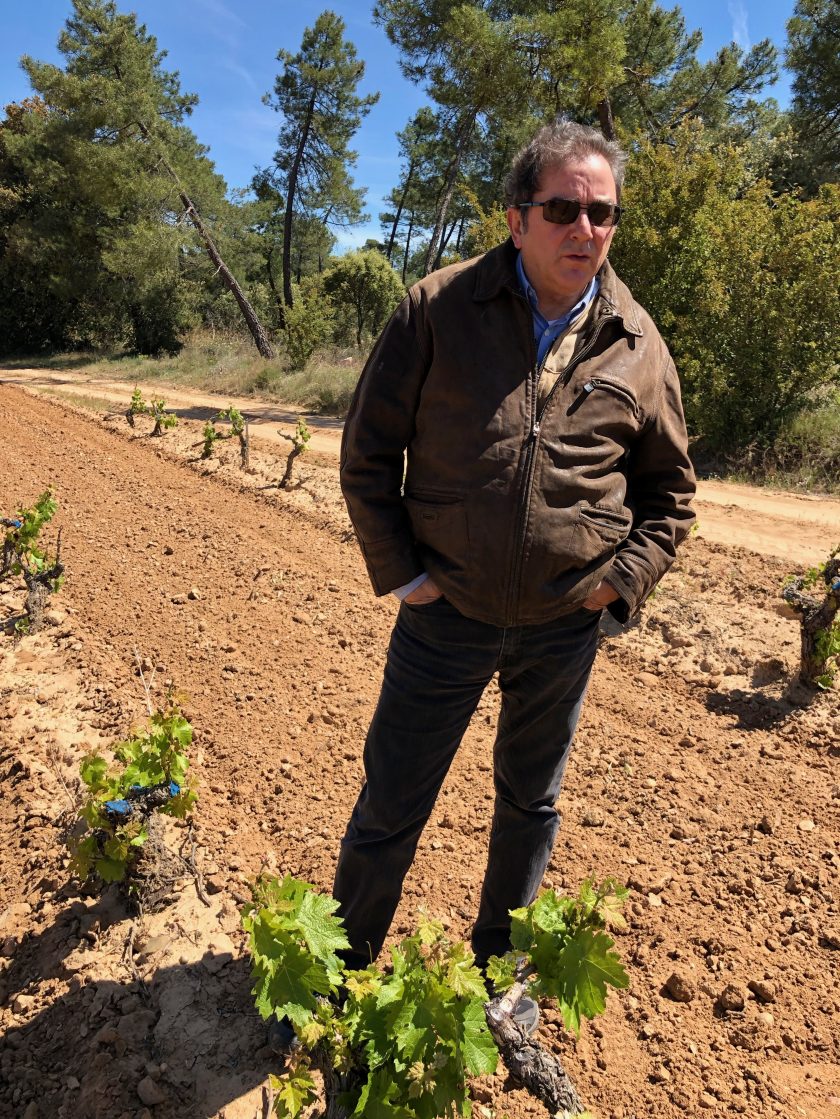 Goyo Garcia Viadero
| | |
| --- | --- |
| Vigneron | Goyo García Viadero |
| Location | Gumiel del Mercado (Burgos) |
| Size of Domaine | 10 ha |
| Terroir | Extreme continental climate, marked variations in temperature within a day. Calcareous and sandy clay, red sand, limestone, pebbles. High altitude sedimentary plateau. 800 to 900m altitude. |
| Viticulture | Practising organic |
| | View Goyo Garcia Viadero wines ↓ |
Goyo Garcia Viadero started to work at the family's bodega aged fourteen and continued while studying agronomy at university. By the time he graduated he had already trialled additive-free winemaking, emulating the wines made by his grandfather and drunk with the elders. He bottled his first wine without sulphur and under his name in 1986 at 21 years old, coincidentally Pierre Overnoy eschewed the use of SO2 at the same period, so it's no wonder the two became friends in later years.

"This is a different interpretation of Ribera del Duero - the antigua way!" Goyo explains.
Following his studies, Goyo ran a 1000ha estate in La Mancha for years, producing olive oil, cheese and wine, he happily came back home in 2003 to buy and run his first fincas: Viñas de Arcilla, El Peruco and Valdeolmos, setting up today's operations.
Since then Goyo has been on a mission recovering old co-planted vines, around Roa and Aranda de Duero, strongly advocating for the traditional low density (2000 to 3000 vines/ha), low yielding (25 to 30hh) bush vines found in the prime terroirs of the ribera alta – the only area producing quality grapes in his eyes, the more fertile baja zone being well-suited for cereals!

Nowadays Goyo manages more than 40ha, vinifies around 10ha and sells to a few big players (e.g. Dominio de Atauta, Pesquera) who cannot have enough of his top-grade grapes. Chemicals are banned, soils are regularly ploughed to prevent grass competition, and sheep manure is used as an amendment.
He harvests early, usually at the start of October, based on tartaric acid level rather than sugar, destems but does not crush the grapes and co-ferments tinto fino (tempranillo) with albillo (a native white variety) as found in the vineyard. The wines are patiently raised underground in perfect conditions, in an impressively deep and centuries-old cueva (cave).
"This is a different interpretation of Ribera del Duero - the antigua way!" Goyo explains. They are indeed vibrant wines combining concentration, acidity and minerality in a unique way.
Goyo Garcia Viadero Wines
Goyo Garcia Viadero
RIBERA DEL DUERO 2018
Finca Los Quemados
100% Tinto Fino
(14% alc.)
As per all of Goyo's Ribera del Duero wines, fermentation took place in open foudres and ageing occurred in top quality used French oak (minimum 8yo) selected with care from his family winery Bodegas Valduero. Finca Los Quemados comes from 100yo vines just under 900m altitude on a deep and light soil of ferrous sand and pebbles; it spent one year in barriques before six months bottle ageing. High pitched with an incredible freshness thanks to the high altitude vines this wine has attractive aromas of viola and graphite with a juicy and meaty texture.
Goyo Garcia Viadero
RIBERA DEL DUERO 2014
Finca El Peruco
85% Tinto Fino 15% Albillo
(13.5% alc.)
The 1.5ha 100yo vineyard El Peruco is located in Anguix north of Roa. At more than 900m elevation this is one of the highest points in the Ribera and has calcareous sand, clay and rolling stones. It was aged for almost two years in barrels followed by some bottle ageing. It is slightly reduced, with some notes of barbecued meat quickly opening up onto black pepper, clove and blueberries. It is a vertical wine packed with refreshing acids, a limestone-driven saline minerality and irony finish.
Goyo Garcia Viadero
RIBERA DEL DUERO 2016
Finca Valdeolmos
90% Tinto Fino 10% Albillo
(14% alc.)
Finca Valdeolmos is located around the prestigious town of Roa at 860m altitude on stony and sandy soils with high content of active limestone. It was aged for almost two years in barrels followed by some bottle ageing. This is riper than El Peruco with some notes of bitter chocolate and spices with hints of red fruit and blood orange. It also has a rounder palate with fresh and fine-grained tannins as well as length and salivation. A true expression of chalk terroir.