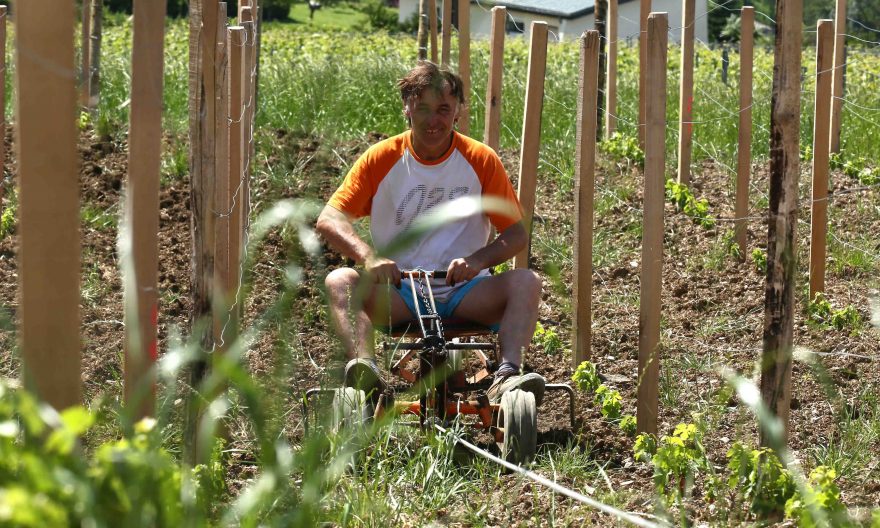 Gilles Berlioz
| | |
| --- | --- |
| Vigneron | Gilles & Christine Berlioz |
| Location | Chignin (Savoie) |
| Size of Domaine | 4 ha |
| Terroir | Alpine climate. Varied soils of silt, gravel, clay and limestone. Steep slopes. 300-400m altitude. |
| Viticulture | Certified organic (Ecocert) practising biodynamic |
| | View Gilles Berlioz wines ↓ |
Gilles Berlioz has an unconventional background for a grower. He wanted to live a rural life and first tried cultivating flowers, then breeding vines, but couldn't make a living, so instead worked as a builder. After losing two fingers in an accident he recovered in Chignin, and surrounded by his family's 0.8ha of vines, he decided to give winemaking a try.
Settling down in Chignin with his wife Christine in 1990, he gradually built up his holdings to 7ha of primarily rented vines whilst working as a landscaper.

Increasingly unhappy with using chemicals in their vineyards and with the compaction caused by too much tractor use, Gilles and Christine embraced organic practices in the late 1990s, with certification following in 2002. It was at this point that Gilles became obsessed with making top-class wines and so reduced his holdings to a more manageable 4ha as well as moving towards biodynamic viticulture - all their vineyards are now worked either by horse or manually with a hoe.
Winemaking has evolved too, with Gilles cutting out all use of oak in 2006, and recently moving to fermentation and élevage on fine lees in horizontal fibreglass eggs. Sulphur use has decreased as well to current low levels of around 35mg/l total.
A little like Cyril Fhal in Roussillon, Gilles looks after his vines as though they were flowers in his back garden, therefore during the spring/summer months he is helped by a team of five people!
In 2016 the Berlioz changed the name of the domaine to 'Partagé' meaning shared, reflecting the years of human encounters with workers, vignerons and customers, all of whom have helped the estate to progress to where it is today, one of the most iconic in Savoie. Nowadays Domaine Partagé shares a harvest team with Pascal Quenard, and sell small quantities of their grapes to young vignerons to give them a helping hand as they start.
It's also worth mentioning that they have some of the most original and humorous labels in Savoie, with the Bergeron Les Filles and Fripons changing every year, often designed by artist friends, some have become collector's items.

Gilles Berlioz Wines
Gilles Berlioz
CHIGNIN 2016
Le Jaja
This comes from 30yo vines planted in alluvial and clay soil overlying limestone, on a south-east facing hillside. Still light but pretty textural and deep for a jacquère – fleshy quince fruit, salinity and a chalky lift on the finish. For drinking now to 2023.
Gilles Berlioz
ROUSSETTE DE SAVOIE 2017
El…Hem
Gilles named this cuvée after a Moroccan lawyer (Hem means inspiration in Arabic) who free of charge helped Gilles out of a tight corner after a driving offence! Emanating from a superb terroir, this age-worthy altesse has more body and weight than Le Jaja – an intriguing nose, fine tension and balance with a hint of spice and a ripe peach fruit on the palate. For drinking now to 2025.
Gilles Berlioz
CHIGNIN BERGERON 2017
Les Filles
Bergeron is a synonym for the roussanne grape, and here gives a dense, concentrated wine with apricot/peach fruit with more dynamism and natural acidity than you find in the northern Rhône, roussanne's heartland. Fermented 100% dry and cuve aged only, it has been made from low yields, harvested in various sorties when only the ripest bunches were selected.
Gilles Berlioz
VIN DE SAVOIE 2017
La Deuse
85% Mondeuse, 15% Persan
(11% alc.)
La Deuse is a memory of times past when many wines' alcohol levels were between 8-10 degrees. Persan adds a little tannic structure and intense red fruits to the typical mondeuse flavour and aromas of violets, black fruits and pepper. Very sappy, racy fruit, with a wonderful texture and real digestibility. An iconic and sought-after Savoie bottling.