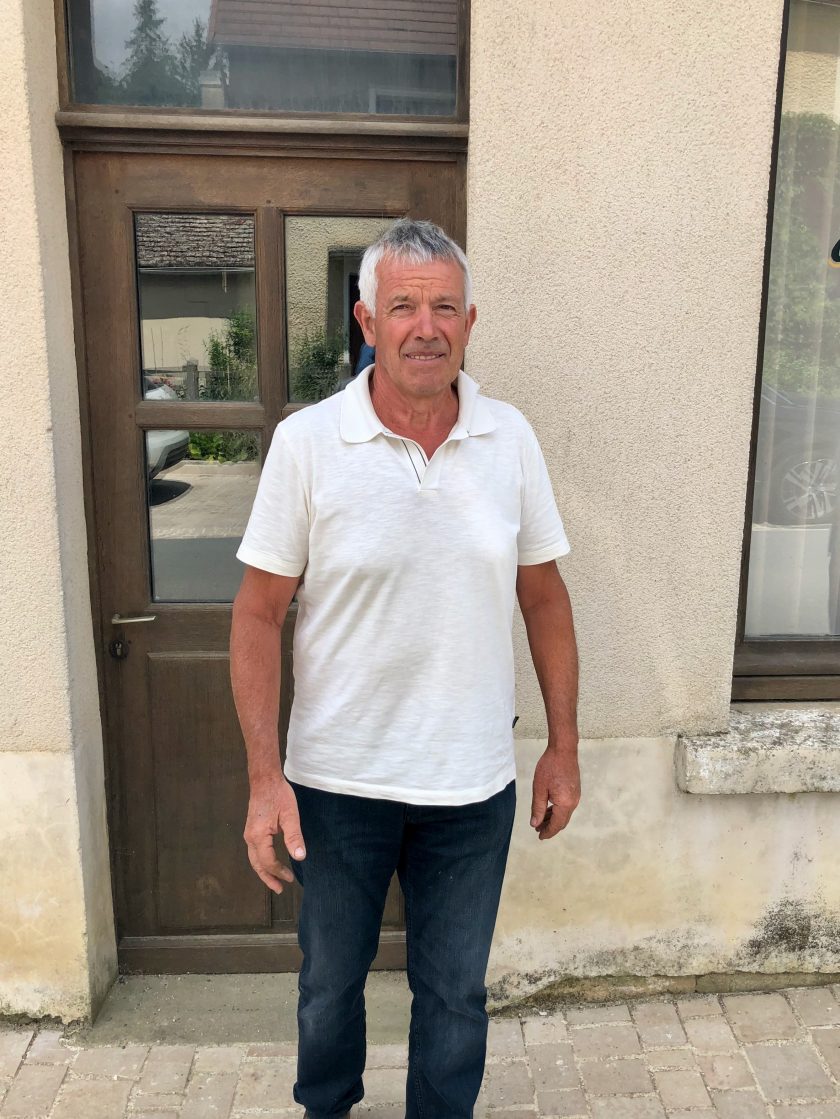 Gérard Boulay
| | |
| --- | --- |
| Vigneron | Gérard Boulay |
| Location | Chavignol (Cher) |
| Size of Domaine | 11 ha |
| Terroir | Continental climate. Clay-limestone soil on Kimmeridgian limestone bedrock (terres blanches), marl in some parts. 250-350m altitude, mostly south facing vineyards. |
| Viticulture | Practising organic |
| | View Gérard Boulay wines ↓ |
The steep, south-facing, Kimmeridgian limestone slopes that tower over the tiny hamlet of Chavignol are one of the world's more remarkable terroirs. They offer us a perfect symbiosis, matching soil, aspect, climate and grape variety. Even the local foods have evolved to match the wines produced. For example, the goat cheese Crottin de Chavignol, is simply one of the greatest matches for Sancerre (and Chavignol in particular).
In Chavignol, the best wines have nothing to do with varietal character; the grape simply plays conduit to the mineral freshness of the limestone-rich soils and the sun trapping, south-facing expositions. This terroir creates (in the right hands) whites with that rare combination of hedonistic texture and racy, crunchy minerality. Importantly, Chavignol tempers sauvignon's herbaceous tendencies and produces great smoky, stone fruit noted whites of fabulous clarity, texture and energy.

"The Boulay style is a world away from the regular refreshing but forgettable norm... it should really be compared with a white burgundy in terms of its rewards and complexity." Jancis Robinson
Gérard Boulay is one of the greats of this tiny village and produces some of the most distinctive and sublime wines in Sancerre. The man himself is as focused and intense as the wines he crafts but is also a true countryman and incredibly humble. His respect for Chavignol and its proud history is evident by his refusal to betray the terroir with lazy viticulture or winemaking. Under Gérard's charge, the quality of the land and its resultant produce need nothing in the way of corrections.
Very importantly, the average vine age in Gérard's vineyards is over 45 years. Vines are all planted by massal selection on quality 3309 and 41B rootstock (strictly no SO4!) at a higher density of 7500 vines per hectare (almost all Sancerre vineyards are planted at 6,600) and trained single guyot. The soil is either ploughed or grass is grown (to prevent erosion), no herbicides or pesticides are used, and harvesting is almost entirely by hand (extremely rare these days in Sancerre).

Yields are 20% lower than the average in the appellation and, in the winery, whilst he adheres to certain basic tenets Gérard follows no recipes, essentially working by feel. There is no chaptalisation, no added yeasts or enzymes, the wine ferments naturally and Gérard doesn't filter unless absolutely necessary, keeping sulphur levels as low as possible. Some of the top terroir wines are either fermented or aged in three or four-year-old 300ltr Tronçais oak barrels, with Gérard deciding year by year what works best based on the natural balance in the grapes.
Finally, and most significantly of all, is his remarkable selection of Chavignol's finest terroirs, including La Côte, Clos de Beaujeu, Monts Damnés and a parcel of the very rare Comtesse (a historical lieu-dit and the very best parcel in the Monts Damnés terroir). With a family history of winegrowing in Chavignol that dates back to the 1300s (the village Sancerre label attests to 'vignerons de père en fils depuis 1380'!), there is little wonder that the Boulay clan have managed to assemble one of the finest collections of vineyards in the area.
Gérard Boulay Wines
Gérard Boulay
SANCERRE 2021
100% Sauvignon
(12.5% alc.)
This comes from 35yo vines on the hills of Chavignol from where the best Sancerres emanate. Vinified and aged in cuve, it has a lovely, bright pale colour with greeny glints. On the nose it offers pure, restrained sauvignon, with an evident salty character and hint of iodine which follows through on the palate with a touch of lemon, ripe grapefruit, fennel and blackcurrant leaf.
Gérard Boulay
SANCERRE 2020
Monts Damnés
100% Sauvignon
(13.5% alc.)
This outstanding wine comes from 40yo vines located on the central, finest plot of this famous hillside. Vinified in 3-4yo barrels (good Tronçais oak), then aged in cuve. Restrained on the nose, it has much more evident weight and exotic fruit, then becomes really quite racy with salty, iodine notes on the finish. For drinking now to 2030.
Gérard Boulay
SANCERRE 2020
Clos de Beaujeu
100% Sauvignon
(13.5% alc.)
This comes from 30-60yo vines that were previously in the ownership of the Bourges cathedral (for 500 years!). The vineyard is very steep and south-east facing, helping to give the wine a little more backbone, nerve and salinity than the due south facing Monts Damnés. Vinified in cuve, then aged 100% in 3-4yo 300ltr barrels, it will age magnificently. For drinking now to 2030+.
Gérard Boulay
SANCERRE 2020
La Côte
100% Sauvignon
(13.5% alc.)
One of Boulay's top cuvées, this comes from the same Grande Côte hillside as the Cotat wine of the same name. A due south-facing hillside, the soil here is much chalkier than Monts Damnés. It gives an entirely different range of more exotic flavours with passion fruit to the fore with a menthol hint, but at the same time retains good tension and is firmly structured, vital and grippy with a saline twist on the finish. For drinking now to 2030.
Gérard Boulay
SANCERRE 2019
Comtesse
100% Sauvignon
(13.5% alc.)
Gérard's top cuvée comes from 0.40 ha of 65yo vines planted on the prime slope in the heart of Monts Damnés. As long ago as 1870, Comtesse was considered to be Sancerre's finest vineyard. Gérard first rented the vineyard back in 2004. Vinified in 300ltr barrels and then aged in cuve. A wine of the highest class that will age superbly, on the palate it has a silky fruit quality, good matter, touch of verbena and a most attractive hint of bitterness on the finish. For drinking now to 2030.
Gérard Boulay
SANCERRE 2020
Sibylle
100% Pinot Noir
(13.5% alc.)
100% pinot noir from old vines gives this supremely elegant wine with fine fruit, salivating minerality and a sustained finish. The perfect rosé, terroir-driven, food-friendly and extremely drinkable.