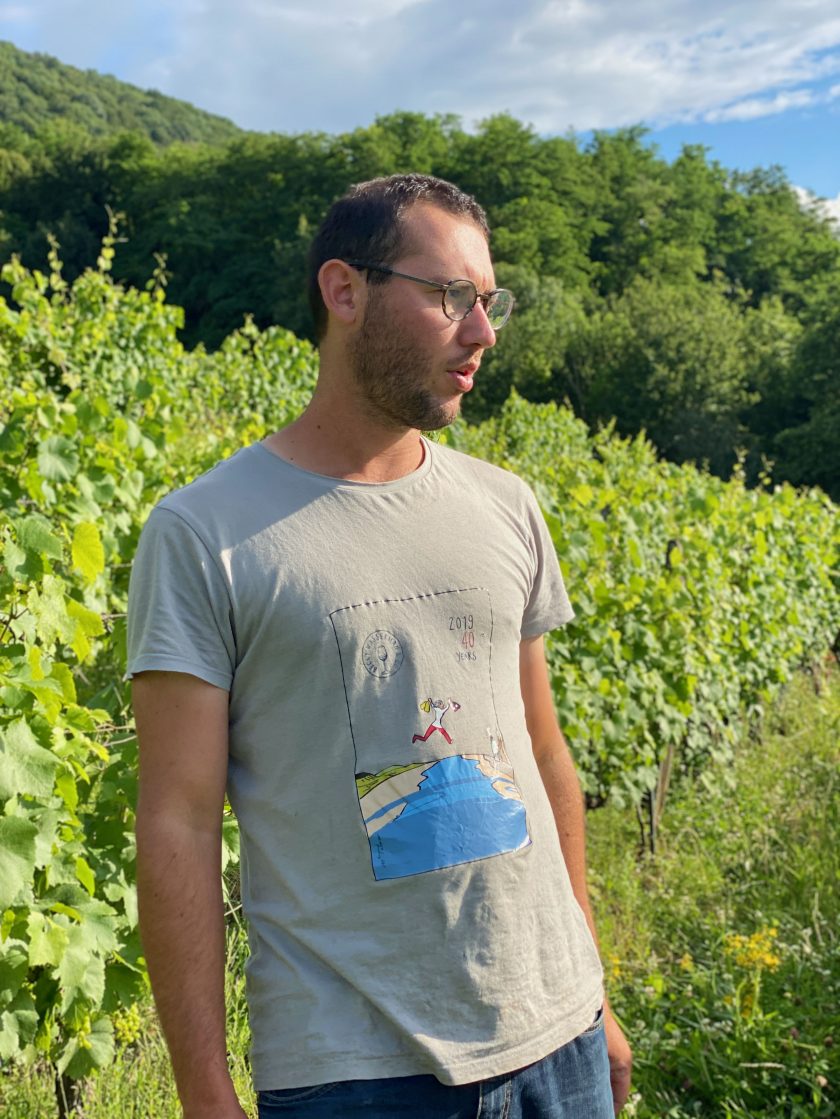 Domaine Overnoy
| | |
| --- | --- |
| Vigneron | Guillaume Overnoy |
| Location | Beaufort-Orbagna (Jura) |
| Size of Domaine | 5.5 ha |
| Terroir | Continental climate. Triassic and Jurassic marls on Bajocian limestone. Gentle slopes mostly south and west facing. 250-320m altitude |
| Viticulture | Certified organic (Ecocert) |
| | View Domaine Overnoy wines ↓ |
The domaine was created in 1982 when Jean-Louis Overnoy took over the family's polyculture farm and decided to produce wine for a living. In 2014, Jean-Louis passed the baton to his son Guillaume (20yo then) who has converted the 5.5ha to organic as well as reducing the production of crémant and vins sous voile for more ouillé style wines.

The 'coeur historique' of the domaine is located in Orbagna (lieu-dit En Poinot), 2.9ha where four generations of the family have planted vines.
Guillaume also tends 2ha of 40-50yo vines above the neighbouring village of Beaufort on a stunning coteau known as the Clos Jervigny. The remaining 0.6ha are located in Cesancey and were planted by Jean-Louis in 2001. The five main Jura grapes are planted in the different locations and soil types.
Guillaume's inspiration in the cellar naturally comes from his great-uncle Pierre Overnoy who he visits on a regular basis. Guillaume keeps experimenting and aims for sulphur-free winemaking even though he cheekily comments, "this is more difficult than it sounds!" One of the keys to success is long élevage on fine lees – from the 2019 vintage the ageing of the whites has been extended to two years minimum, one year for the reds. The family owns a stunning ancient underground cellar where the wines age in 4 to 10yo pièces bourguignonnes (228ltr) and 500ltr barriques.

N. B. After losing over 90% of his production because of frost in 2017 (and 2021), in order to help make ends meet Guillaume launched a small-scale brewery with two other winemakers in the region, including Géraud from Marnes Blanches. In a converted cowshed they ferment using lees from their savagnin together with the finest hops, barley and wheat to make a pilsner style beer.
Domaine Overnoy Wines
Domaine Overnoy
CRÉMANT DU JURA 2018
80% Chardonnay, 20% Pinot Noir
(12.5% alc.)
Bottled at 5.5 bar pressure, it spent 18 months 'sur lattes' before disgorgement. Fine and subtle bubbles underpin complex aromas of red fruits and citrus, the mouth is well-balanced, round and fresh with a long and saline finish. This beautiful crémant would give some champagnes a run for their money. Zero dosage.
Domaine Overnoy
CÔTES-DU-JURA 2019
Charmille
100% Chardonnay
(13% alc.)
The vines are planted on red marl (with high clay content) in Orbagna, lieu-dit En Poinot. Grapes are directly pressed, fermentation in stainless steel, extended élevage of 24 months in 228 and 500ltr barriques, and bottling without filtration. 0.5g/hl SO2 added at press only – around 20mg/l total eventually. Round and creamy this chardonnay is a crowd-pleaser with spices and caramelised pear aromas.
Domaine Overnoy
CÔTES-DU-JURA 2019
Vigne Derrière
100% Chardonnay
(14.5% alc.)
0.2ha planted in 2001 by Guillaume's father in Cesancey on white and grey marls (high limestone content). Vinified, aged for 22 months, and bottled as per Charmille. This is dense and textural, terroir-driven with limestone induced bitters and structure. A step up in term of depth and complexity (compared to Charmille) although it retains the same moreish element.
Domaine Overnoy
CÔTES-DU-JURA 2019
Au Vignet
100% Chardonnay Muscaté
(13% alc.)
A strain of chardonnay called 'muscaté' for its enticing aromatics, it also has a darker pinkish skin. Guillaume found this rare strain among old vines and decided to propagate it through massal selection – he planted Au Vignet in 2015. Vinified as per the reds in the range, it macerated for 18 days (grapes were not crushed), and was then aged for two years in old barrels. Aromatic and opulent, it is lifted by fresh tannins inducing lovely bitters and salivation. A surprising and extremely enjoyable wine. Around 20mg/l SO2 total.
Domaine Overnoy
CÔTES-DU-JURA 2018
Savagnin Ouillé
0.8ha over three parcels in Orbagna (En Poinot) and Cesancey. Aged for three years in old 500ltrs barrels and regularly topped-up (ouillé) through the élevage. No SO2 added. A lovely savagnin that benefited from the long ageing on fine lees, the power has been tamed. Composed and relaxed, this has a umami-loaded mouthfeel, layers of spiced flavours, and high energy. For drinking now to 2026.
Domaine Overnoy
CÔTES-DU-JURA 2016
Savagnin Typé
The Jura expression "un vin typé" means the wine was aged sous voile (under flor) as opposed to "un vin naturé" that was ouillé (topped up through élevage). From the same 0.8ha as the savagnin ouillé, the wine was aged under flor a good three years before being bottled off without sulphites. Deep and complex, this 'typé' has the perfect balance between fruit and 'goût de jaune' (flor flavours) – a stunning effort from Guillaume who displayed talent at a young age, he was 22yo then!
Domaine Overnoy
CÔTES-DU-JURA 2019
100% Pinot Noir
(13% alc.)
Four parcels from 10 to 30yo in the villages of Cesancey and Beaufort-Orbagna. As per all reds at the domaine, grapes are manually destalked in the vineyard with a traditional 'crible' – a perforated wooden tray on which the bunches are rubbed – grapes are therefore not crushed. Two weeks cuvaison with gentle extraction, nine months ageing in barrels, three months 'en masse' in stainless steel with 0.5g/hl SO2 added, bottled unfiltered. Juicy, ripe and fragrant it displays moreish aromas of raspberries, morello cherries and wild roses. For drinking now to to 2026.
Domaine Overnoy
CÔTES-DU-JURA 2020
Destemmed through the 'crible', aged and vinified as per the pinot noir, this poulsard was bottled with around 20mg/l of SO2 total. Lifted and nuanced with spiced fruit, this is an elegant wine with extra drinkability and sapidity, typical of a Sud-Revermont poulsard.
Domaine Overnoy
CÔTES-DU-JURA 2019
Rougissime
34% Poulsard, 33% Trousseau, 33% Pinot Noir
(12.5% alc.)
A traditional 'old-school' blend only made when yields are too low to bottle the three varieties separately. Destemmed, vinified and aged as per the other reds, the grapes were harvested and processed together. This is vibrant with enticing floral flavours, the poulsard adds a slight reduction and complexity to the blend while trousseau and pinot bring juicy texture and food-friendly tannins. A lovely wine quintessentially Jurassien!