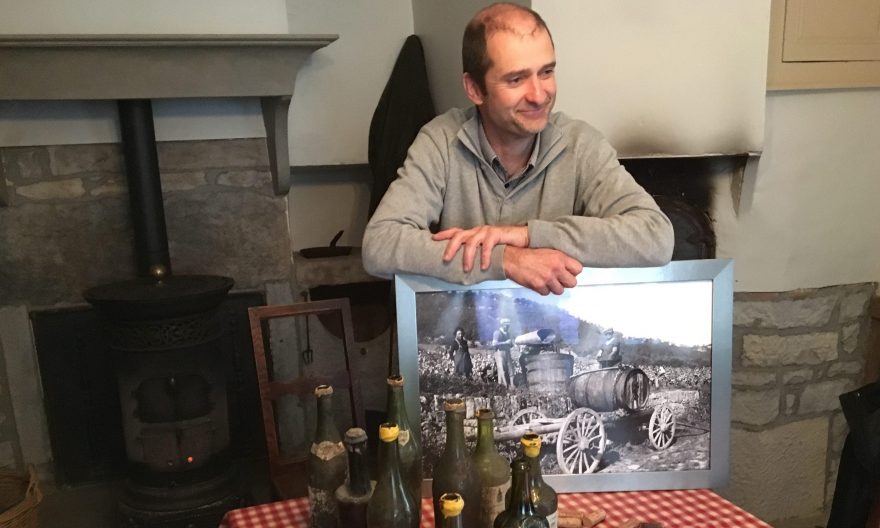 Domaine Macle
| | |
| --- | --- |
| Vigneron | Laurent Macle |
| Location | Château-Chalon (Jura) |
| Size of Domaine | 12 ha |
| Terroir | Continental climate. Marl and clay with rocky outcrops of limestone. Steep slopes. 250-300m altitude. |
| Viticulture | Practising organic |
| | View Domaine Macle wines ↓ |
Run by Laurent Macle, Domaine Macle has long been famed for producing the best oxidative wines in the Jura. The domaine was created by father Jean in 1966, although the family (emanating from Italy with the surname Mascolino) had farmed vines since the 1850s.
Laurent has been in charge of the domaine for over 20 years, and now works with his sister Christelle who has taken over the role of their recently retired mother. You get the feeling that Laurent is finally able to express himself as a winemaker, and in recent years there have been a number of experimental cuvées. They work organically now once again, making 4ha of Château-Chalon and 8ha of an assortment of oxidative wines (aged for a shorter period than the Château-Chalon) and a few barrels of topped up wines – they sell no reds, although make a little poulsard for their consumption and a poulsard pet nat for the staff.
The vineyards for Château-Chalon are planted on very steep, south and south-west facing slopes, one of which Puits-St-Pierre is terraced. Grey marl soil is perfect for the savagnin grape, which is here picked ripe but never with any noble rot.
Intriguingly Laurent believes that terroir is not as important for Château-Chalon as the cellars for ageing. The family benefit from a series of interconnected ancient 17th century cellars that are a mix of above-ground, semi-below ground and naturally ventilated underground. Here you don't find the wide temperature range that characterises many of the region's Vin Jaunes aged in attics opened up to the elements throughout the year. There is only a small temperature difference in each of the Macle cellars and Laurent believes that this small temperature change preserves delicacy and complexity and helps to capture all the aromas.
Their Château-Chalon is a wine of legend that they eke out very carefully – Like the Aviet family they sell more than 97% of their production to loyal private customers. The wine has extraordinary resonance and elegance, a wonderful singing acidity with a range of unique flavours that become more complex with bottle age (peat, smoke, roasted coffee, cumin, fenugreek, cardamom, ginger, etc) – Jean Macle used to recommend a minimum of 10 years ageing after bottling and it will last longer than most people live! Even their Côtes du Jura will comfortably age for 30 years!
The whole of the Macle range is exceptional including a Côtes du Jura aged for four years under voile (a mix of 85% chardonnay and 15% savagnin), both a topped-up and oxidative chardonnay, an intriguing 2009 Savagnin that is a blend of both topped up and oxidative savagnin (an example of one of the many experiments that Laurent has been carrying out) and Jura's best Macvin.
Domaine Macle Wines
Domaine Macle
CÔTES-DU-JURA 2017
Ouillé
100% Chardonnay
(13.5% alc.)
Laurent produces just a few barrels of this topped-up (ouillé) chardonnay, and such is the density and structure in the wine (25hh) that it needs an extra-long élevage, usually around three years. From north-facing vineyards in Château-Chalon in a limestone-clay soil, the wine is rich but balanced, and has stewed lemons and almond flavours with characteristic sapidity on the finish.
Domaine Macle
CÔTES-DU-JURA 2016
Chardonnay Sous Voile
100% Chardonnay
(14% alc.)
This is the fourth ever bottling made by Laurent of this oxidative wine from 50yo chardonnay vines planted in limestone clay soils on Château-Chalon's north facing slope (like his chardonnay ouillé). Vinified and aged under flor for three years, this wine is more subtle and forward than the traditional oxidative chardonnay/savagnin blend, displaying a notable morel flavour with attractive spices and finishing quite saline. For drinking now to 2026+.
Domaine Macle
CÔTES-DU-JURA 2009
50% Savagnin, 50% Chardonnay
(13.5% alc.)
Another experimental cuvée made by Laurent, an interesting blend of savagnin aged in cuve that didn't develop a voile, and chardonnay aged in barrel under flor. Blended and bottled in 2013, it has complex flavours of stewed citrus, spices and nutty, balsamic notes that remind us of oloroso sherry. Round and smooth texture with a lengthy finish.
Domaine Macle
CÔTES-DU-JURA 2017
Tradition
85% Chardonnay, 15% Savagnin
(14% alc.)
This oxidative cuvée shows what an incredible effect just 15% of savagnin can have on overall flavour. After a year of normal fermentation and ageing in cuve, this wine was then transferred into 50yo barrels and aged under flor for three years. It's by far and away the best example of this style of wine (aged under flor) that we have tried, with a silky texture and notable terroir print on the finish. It is very complex, with floral notes, beeswax, acacia honey, walnut and almond, a good weight and subtle bitters on the finish. It's easy to drink and has a surprising versatility with food (it's brilliant with sushi and sashimi). There aren't too many other whites in the world that will still be going strong as this in 30yrs, we recently enjoyed a stunning 1989 at the domaine! For drinking now to 2040+.
Domaine Macle
CHÂTEAU-CHALON 2011
100% Savagnin
(14.5% alc.)
This vin jaune is Macle's speciality and a profound wine of the highest class. 2011 was a "trés beau millésime" with quality and quantity per Laurent, a classic vintage. The elegant and long-lived 2011 was vinified in cuve for a year, then transferred into old barrels and aged 'sous voile' for a further six years, where the aromas and flavours are all naturally amplified. Incredibly complex, on the nose you note stewed prunes, figs, chestnut and straw, and on the attack there is a tension between richness and acidity, with the terroir for the moment slightly hidden, and then sustained bitters on the incredibly long finish. We wouldn't touch a bottle until it was a minimum ten years old – we tried a sensational bottle of the 1982 at the domaine that was still young. VLQ. Some serving advice from Laurent – never, ever carafe or serve too cold, it's best around 17/18°C and opened the day before drinking. For drinking now to 2100!
Domaine Macle
MACVIN DU JURA
50% Chardonnay, 50% Savagnin
(17.5% alc, 120g/l of rs)
Macvin is made by adding about a third grape marc to freshly pressed grape juice (which may have just started fermenting) The Macle family go a step further than normal by using their own marc, which is a blend of savagnin and chardonnay and aged for seven years – most marcs are commercially purchased three-year-old spirit. You can clearly taste the two grapes in this exceptional example (which was barrel aged for four years), chardonnay's citrus fruits, and the richer more structured savagnin with stewed lemons and ripe grapefruit on the nose and more exotic fruit like papaya on the palate. Best with desserts or simply enjoyed by itself at the end of a meal, served at 8°C.