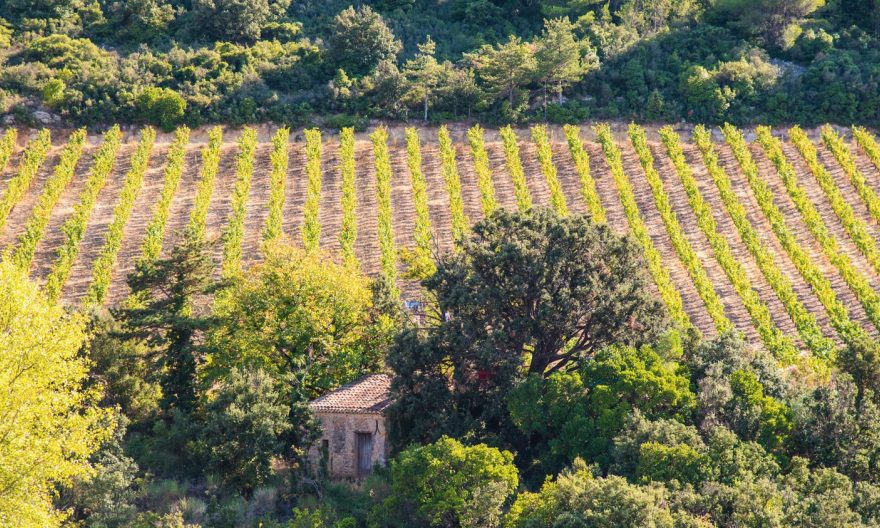 Domaine des Terres Falmet
| | |
| --- | --- |
| Vigneron | Yves Falmet |
| Location | Creissan (Hèrault) |
| Size of Domaine | 20 ha |
| Terroir | Mediterranean climate. Clay-limestone soils. Up to 45° steep slope facing north-west on the southern edge of the Montagne Noire. Around 300m altitude. |
| Viticulture | Practising organic |
| | View Domaine des Terres Falmet wines ↓ |
Emanating from the Aube where his brother Joel produces champagne, Yves Falmet initially studied science in Montpellier and so discovered Languedoc.
He gained a degree in biochemistry and carried out a year of research with the INRA. He then travelled around the world picking up experience in California, Australia, New Zealand, Germany and Hungary before returning to France.
In 1996 with few resources and the aid of a loan, he purchased a few hectares of old bush vines (some of which are 90yo) on northern facing limestone-clay hillsides in the north of the St Chinian appellation between the villages of Creissan and Cebazan. Here the hillsides were so steep that nobody wanted the land – the eastern part of the vineyard had already been abandoned and the rest was likely to follow.

There were a lot of challenges at the outset, as Yves had no buildings or equipment, and as a first step had a mountain of work to get the vineyards into shape. He immediately turned his back on conventional viticulture as too polluting but also felt that certain aspects of organics weren't rigorous enough. He, therefore, adapted his own ecological but rational approach to viticulture, where thought, pragmatism and open-mindedness are the linchpins of his ethos.
Yves' grapes are harvested by hand, he then destalks 100%, ferments using remontage with a five weeks cuvaison, ages in cuve for a minimum of 18 months and bottles with around 30mg/l of total sulphur. There is a very honest stamp to his wines that have a lovely texture, cool unforced fruit and a refreshing salinity on the finish.
Domaine des Terres Falmet Wines
Domaine des Terres Falmet
CARIGNAN 2021
Vin de France
Yves Falmet's wines have attractive, unforced fruit with excellent texture and mouthfeel. This low yield, hand harvested, old vine carignan (80-90yo) comes from the same north-facing vineyard as his St-Chinian and has been cuve aged to retain all its spicy, dark raspberry, spicy fruit, with a saline finish.
Domaine des Terres Falmet
ST-CHINIAN 2019
L'Ivresse des Cimes
50% Mourvèdre, 35% Syrah, 15% Grenache
(13.5% alc.)
From a steep hillside vineyard in the Montagne Noire, this comes from 40yo vines, and is minerally, very spicy and tobaccoey. In our view St-Chinian is one of the finest appellations of Languedoc, and this is a really good, honest example.