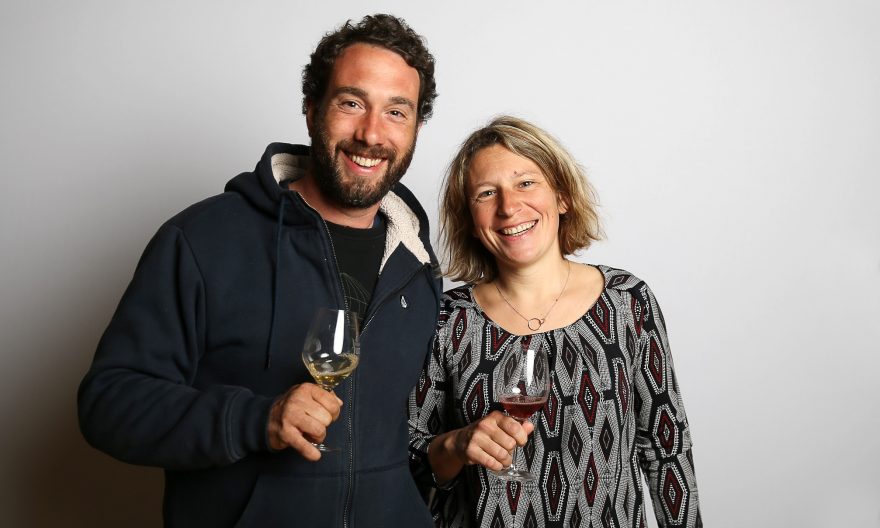 Les Marnes Blanches
| | |
| --- | --- |
| Vigneron | Pauline & Géraud Fromont |
| Location | Sainte-Agnès (Jura) |
| Size of Domaine | 12 ha |
| Terroir | Continental climate. Varied soils of white and red marls, limestone and gryphées. West to south facing slopes. 250-330m altitude. |
| Viticulture | Certified Organic (Ecocert) |
| | View Les Marnes Blanches wines ↓ |
Natives of the Jura, both Pauline and Géraud's families owned tiny plots (used to make wine for home consumption) and spending time in the vines in their childhood was enough to give them the wine bug. They met while studying winemaking in Dijon and created Domaine des Marnes Blanches when they returned to the Jura in 2006.
They farmed organically from the word go and have added (some planted) parcels along the way to reach a total of 12ha today, spread across three towns in the Sud-Revermont (south of the Côtes-du-Jura AC). Cesancey, their first acquisition, is home to the white marl after which the domaine is named, while Gevingey, Vincelles and Ste-Agnès have more varied soil types, the majority being red marl and gryphées (limestone rich in fossils).
They recently built a new winery off the main road in Ste-Agnès which gives them plenty of space and allows them to vinify and age every parcel separately. Wild yeast fermentation is the norm, wines are fermented in stainless steel and then aged in minimum 5yo 228 to 600ltr barrels. Sulphur is used sparsely for the whites (around 20mg/l total) or not at all for the reds.
Their range concentrates on topped up chardonnay and savagnin, but they also offer a very useful Vin Jaune and tiny quantities of pinot noir, trousseau and poulsard usually vinified through semi-carbo with whole bunches.
It is also worth adding that Géraud responded to the loss to frost of 90% of their 2017 production by setting up a micro-brewery along with another of our suppliers Guillaume Overnoy. This will help the domaine to make ends meet when weather intervenes adversely in the future.
Les Marnes Blanches Wines
Les Marnes Blanches
CÔTES-DU-JURA 2019
Les Molates
100% Chardonnay
(12.5% alc.)
An assemblage of different parcels on marl and limestone soils in Gevingey, 35yo vines on average, facing west. Vinified and aged in foudres with no bâtonnage, the wine was bottled in July the following year. This is a very well-balanced wine, with zesty lemony fruit and is the first of the Marnes Blanches chardonnays to open out. Low sulphur of around 20mg/l (similar to all their whites).
Les Marnes Blanches
CÔTES-DU-JURA 2020
Les Molates
As per Les Molates chardonnay, this savagnin comes from vines in the village of Gevingey. Aged in old foudres for 11 months, it is spot on with classic confit lemon flavours and notable bitters on the finish. Intensity, density and length typical of savagnin ouillé from the Sud-Revermont.
Les Marnes Blanches
CÔTES-DU-JURA 2018
En Quatre Vis
100% Chardonnay
(12.5% alc.)
A selection of west-facing 40yo vines in shallow Lias marls in Cesancey. This wine, formerly called Vieilles Vignes, was mainly aged in demi-muids and is denser, more powerful and complex than the Molates, and it will age well.
Les Marnes Blanches
CÔTES-DU-JURA 2019
En Quatre Vis
100% Savagnin
(12.5% alc.)
This comes from the same Cesancey 40yo vineyard as the chardonnay En Quatre Vis. A stunning age-worthy wine that went through extended élevage, it was aged in fûts for a year and then foudres for the second year. Exceptional balance, real class, and a spicier nose compared to Les Molates. On the palate, it offers stewed citrus fruits and gentle bitters on a lengthy finish.
Les Marnes Blanches
CÔTES-DU-JURA 2019
Les Normins
100% Chardonnay
(13.5% alc.)
Marnes Blanches' top chardonnay is made from 65yo vines on poor, iron rich, fossilized limestone with marls at depth. The limestone gives an extra peps, energy and class to the wine, that was aged in 5yo barrels. It has a briny, iodine quality, and a buttery fruit that puts one in mind of serious wine from the Côte de Beaune.
Les Marnes Blanches
VIN JAUNE 2013
Aged in 10 to 20yo 228ltr barrels, stored on the first floor of their house with windows opened to the elements throughout the year, it was bottled after almost 7 years sous voile. This is an elegant, forward and 'user-friendly' style of Vin Jaune, with excellent fruit that is not covered up by the oxidative notes. You can drink the wines with great pleasure in their youth, but they'll age too and develop extra complexity – an amazing value for money. For drinking now to 2035.
Les Marnes Blanches
CÔTES-DU-JURA 2020
100% whole bunches, 10 days semi-carbo maceration, ageing in old 'pièces bourguignonnes' (228l) and bottling without SO2. The wine offers an herbal and fresh nose, a round and floral mouthfeel with ripe strawberries and pink peppercorn flavours. This is a characterful poulsard with low ABV and high drinkability.
Les Marnes Blanches
CÔTES-DU-JURA 2019
100% Trousseau
(11% alc.)
2019 was a warm vintage, and Géraud made a tiny quantity of trousseau, preserving freshness of fruit via whole bunches and a short cuvaison of 10/12 days. A very pale colour, extraction was clearly very delicate, but the wine has weight and some grip, and a very perfumed retro-nasal quality.
Les Marnes Blanches
CÔTES-DU-JURA 2019
100% Pinot Noir
(11% alc.)
Vinified, aged and bottled as per the other two reds from Marnes Blanches. Pale-coloured, it is juicy, fresh and vibrant with high-toned red fruits and herbal flavours – the perfect accompaniment for BBQs with good friends!
Les Marnes Blanches
CÔTES-DU-JURA 2014
Vin de Paille
50% Savagnin, 50% Chardonnay
(14% alc, 90g/l of rs)
After drying the grapes on beds of straw in small wooden baskets in their 'grenier', Gérard and Pauline pressed the raisin like grapes at the end of winter, and fermentation then ticked away slowly in old barrels during a three-year élevage. Sometimes we find too much alcohol burn in vin de paille but this example is well-balanced offering a lovely freshness, with sumptuous quince and orange marmalade flavours. For drinking to 2024.