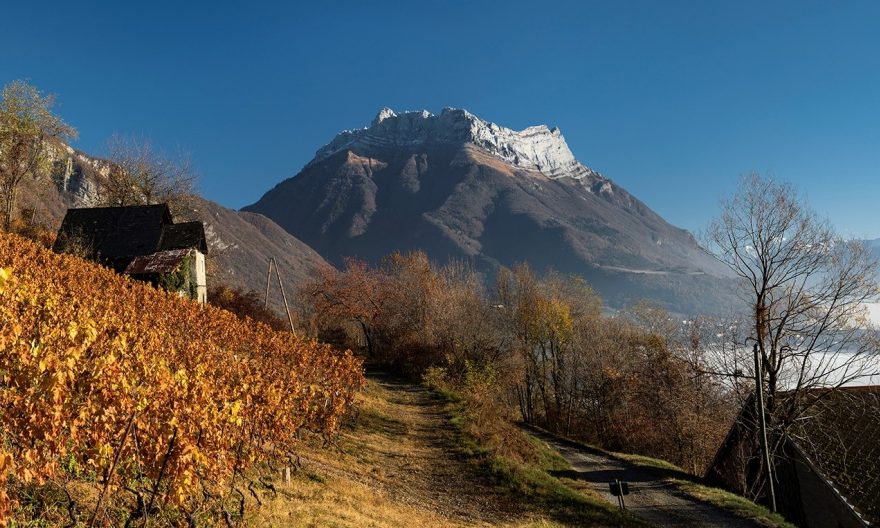 Domaine des Côtes Rousses
| | |
| --- | --- |
| Vigneron | Nicolas Ferrand |
| Location | Saint-Jean-de-la-Porte (Savoie) |
| Size of Domaine | 5.5 ha |
| Terroir | Alpine climate. Mostly marl mixed with laminated limestone and clay-limestone soil in some parts. Steep slopes (up to 45°) with a southern exposure. 350-580m altitude. |
| Viticulture | Organic conversion (certification from 2020) practising biodynamic |
| | View Domaine des Côtes Rousses wines ↓ |
After studying politics in Lyon, Nicolas Ferrand worked as a land manager for Savoie's chamber of agriculture but soon found out that office work wasn't for him.
He created Domaine des Côtes Rousses in 2013 when his friend and fellow vigneron Mathieu Goury alerted him that 1.5ha had become available in Saint-Jean-de-la-Porte, an area he holds dear because this is where his grandfather used to herd cows - it also happens to be one of Savoie's finest terroirs!
The name of the domaine is a reference to Champ Roux, the lieu-dit where most of the vines are located, and its russet-coloured clay soils (roux/rousses means russet).

The first few years were hectic for Nicolas, as he worked for Pascal Quenard, looked after his own vines and studied in Beaune. He has added progressively to his holdings to reach 5.5ha of mostly old vines (many are 60yo) planted at a density of 10,000 plants/ha. Except for a 0.15ha plot of Bergeron in Montmélian and a parcel of Altesse in Monthoux, all his vineyards overlook the Combe de Savoie on the steep slopes of the Massif des Bauges.
Interestingly the southern exposition and lower altitude of this particular part of Savoie offer growing conditions similar to a meridional climate, as exemplified by the presence of truffles, cicadas, almond trees and a multitude of wild herbs such as thyme, marjoram and oregano.

Organic from the outset, Nicolas started using plant infusions against diseases in 2018 and plans to completely switch to biodynamics as soon as he feels ready. Coming from a long line of farmers, he loves animals and is also keen on using them for vineyard work whenever possible. His most densely planted vineyards are ploughed by horse, while sheep, shared with Brice Omont of Domaine des Ardoisières and Mathieu Goury, roam through the vineyards in winter, eating weeds and fertilising as they go.
Many of his wines are bottled without sulphur although he sometimes adds tiny doses of 10mg/l once the élevage is completed. Nicolas prefers 100% whole-bunch fermentation for his mondeuse, and when it comes to ageing, he is phasing out small barrels in favour of cement tanks and foudres (bought in Alsace), as well as sandstone and terracotta amphoras.
Featured in an article on promising young Savoie winemakers in wine geeks' favourite magazine Le Rouge et Le Blanc, Nicolas clearly has a bright future and we are extremely excited to be working with him.
Domaine des Côtes Rousses Wines
Domaine des Côtes Rousses
LA PENTE 2018
Aged in 75% in cuve and 25% in old barrels, this comes from limestone scree slopes, and has a very pale colour, and with low alcohol to boot it is the perfect wine to slate your thirst on a warm summer's day. Nicolas comments that it has a very low total sulphur of 18mg/l (added only at bottling) and that it's easy to work with low sulphur when the pH is so low (pH3).
Domaine des Côtes Rousses
ARMENAZ 2017
Named after the mountain where Nicolas' grandparents climbed their Tarantaise cattle during the summer. The vines here are planted in red clays with limestone base at 580m altitude. Right at the outset Nicolas commented that this cuve aged wine would need 18 months to begin to open out, and it's denser than La Pente with most attractive Sicilian lemon fruits cut through with a saline twist.
Domaine des Côtes Rousses
ENSEMBLE 2017
The name of this cuvée gives thanks to all those who lent Nicolas a hand with his first wines, and the collective energy around the domaine. Planted on the limestone hillsides of St-Jean-de-la-Porte, the vines range from young to 30yo and the wine was raised half in tank and half in older demi-muids and barrels. There's always more weight and spice to altesse wines, but thankfully this wine is dry and tense at the same time.
Domaine des Côtes Rousses
LES MONTAGNES ROUSSES 2017
This is a cuvée named after the red clays typical of the mondeuse cru of St-Jean-de-la-Porte. From 20yo vines it was vinified using 100% whole bunches, and extraction was very gentle to give the purest expression of the grape, with black cherries, violets and spice, low alcohol and a saline finish making this so easy to drink. Total sulphur of 10 mg/l.
Domaine des Côtes Rousses
COTEAU DE LA MORT 2017
The name of this cuvée (the coteau of death) refers to the steepness of the slope, reaching 40% in some parts, and how physically demanding it is to work it. First planted by the monks of the St-Philippe monastery centuries ago, it was abandoned in favour of flatter lands, and only recently replanted (1999) at a density of 10,000 plants/ha. The red clay soils on a limestone base tend to give firmly structured wines built for ageing. Nicolas prefers the use of whole bunches, and there is no pigeage or remontage during a 14 days cuvaison to avoid over-extraction. The élevage takes place in demi-muids (including one Stockinger) for around ten months, the wine is bottled without fining or filtration and just 10mg/l of sulphur. This is a very serious mondeuse, minty and peppery with a beautiful Chartreuse-like herbal quality, somewhat reminiscent of a fine northern Rhône syrah with its quality of tannins. Drink now to 2027.