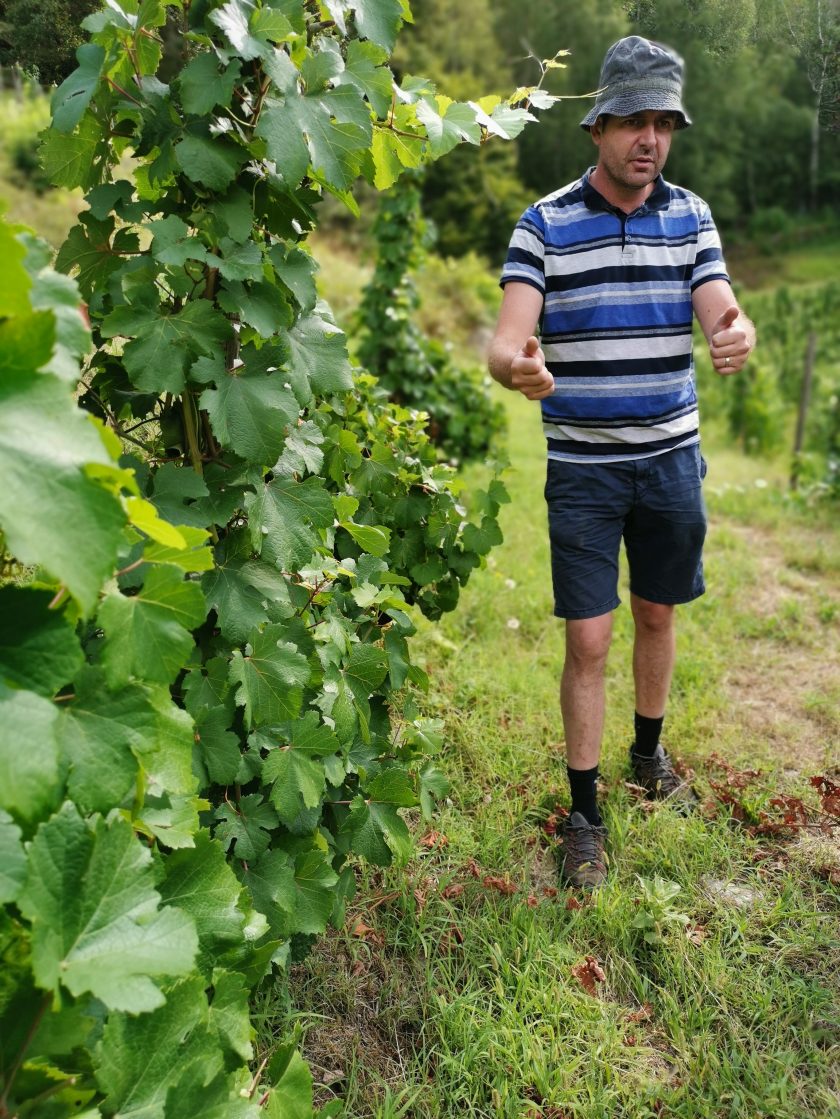 Domaine des Ardoisières
| | |
| --- | --- |
| Vigneron | Brice Omont |
| Location | Fréterive (Savoie) |
| Size of Domaine | 17.5 ha |
| Terroir | Alpine climate. Sandy clay with schist and micaschist bedrock, limestone scree. Steep slopes up to 60%, southern exposure. 400-500m altitude. |
| Viticulture | Certified organic (Ecocert) practising biodynamic |
| | View Domaine des Ardoisières wines ↓ |
Brice Omont's Domaine des Ardoisières was originally the project of now-retired grower Michel Grisard – founder of Prieuré St Christophe. Michel took up the idea of a local association Vivre En Tarantaise who was looking for a vigneron to replant abandoned mountain terraces above the village of Cévins, in the remote Tarantaise valley. The project entailed creating a company to rent around 400 plots of land from villagers (including the local mayor), restore the terraces and stone walls as well as the vineyard cabins. The domaine is named after the local slate (ardoise) that makes the cabins and stone walls, a sought-after material used to build the roof of the monastery of the Grande Chartreuse.
A small plot of altesse was planted in 1998 and after significant land clearing involving 250 villagers, more vines were planted in 2000-2002 to reach 5.5ha. The varieties chosen were all local and the vision was to make blends in contrast to the single varietals that were the norm in Savoie.
Michel had always planned to find a talented vigneron to help with the project and, in 2003, he hired the young Brice Omont, a soft-spoken but determined and efficient grower. The two worked together until 2010 when Michel stood back leaving Brice to run the domaine.
The now 6ha of Cévins vineyards lie on precipitous hillsides (as steep as Côte-Rotie) at 400-500m altitude, on poor stony soil on a mica-schist base, which is rare in the limestone dominant landscape of Savoie. Renown soil specialist Claude Bourguignon advised on which grapes should be planted and on which slopes. It's an incredible micro-climate here with over 100 herbs noted during a recent survey, and one of the most beautiful vineyards in all of France.
Brice does not have to contend with any chemicals used in other vineyards as his vines are the only ones in the area. The vineyards were classified IGP by the INAO (first Cévins then Vin des Allobroges) – the certifying body did not qualified them for the Vin de Savoie AC because the mountains here are so steep that there are two hours less of sunlight per day (one in the morning, one in the afternoon), "not that ripening the grapes here has ever been a problem!", Brice comments. 3ha face the rising sun in the east and 3ha the setting sun in the west, with the east-facing vineyards reaching incredibly high temperatures of up to 50c (the sun bounces off the schist rock and magnifies the temperature). During summer the working day stops at 1pm as working these south-facing 60% slopes in the afternoon is physically impossible. It's from these stunning, low yielding vineyards that Brice produces his finest cuvées Améthyste, Schiste and Quartz.
As well as Cévins in the remote Tarantaise valley, Brice has 9.5ha in and around St-Pierre-de-Soucy (south of the Isére river, facing the Combe de Savoie to the north) – still on schist-based hillsides but with a greater limestone-clay component and much easier to work mechanically than the slopes of Cévins. There's also 2ha on limestone scree slopes: 1ha of mondeuse in St-Jean-de-la-Porte and 1ha of 80yo jacquère in Apremont. Brice produces his two main cuvées Argile Blanc and Argile Rouge from the three aforementioned locations. The driving distances between vineyards (40 minutes from Cévins to St-Pierre-de-Soucy) and the organic work on terraced slopes call for a lot of manual labour, he now employs 15 people (almost one person per hectare).
Work in the cave revolves around minimal intervention, with a mix of fibreglass cuves and older oak used for white élevage, and malos completed, with total sulphur of around 30mg/l at bottling. The reds are made from 100% whole bunches by semi-carbonic maceration, and he's learned from Gilles Berlioz that Savoie reds are better when you manipulate them the least. He practices a little pigeage when fermentation starts and then the occasional remontage. Argile Rouge is cuve aged and Améthyste aged in 2-10yo barrels. The latter made from yields of 25hh (and from a majority of the very rare persan grape) is an expensive cuvée, but then again, we believe it's way better than most Côte-Rotie with an energy and finesse that make it one of France's finest and most exciting reds.
Domaine des Ardoisières Wines
Maison des Ardoisières
SILICE 2020
Vin des Allobroges IGP
Maison des Ardoisières is Brice's négoce, he supervises the work and buys the grapes from three domaines – 4ha of organically farmed 50-60yo vines on limestone scree and clay-limestone soils in Apremont. This cuvée ferments and ages in fibreglass vats for 9 months, bottled with less than 20mg/l of sulphur added. Fresh on the nose with touch of white flowers and lemon, there's a bit of 'gras' on the attack and a lively finish with hints of quinine and lime. It's pretty serious for the price, and the wine (in its youth) opens up beautifully over a couple of days.
Domaine des Ardoisières
ARGILE BLANC 2020
Vin des Allobroges IGP
40% Jacquère, 40% Chardonnay, 20% Mondeuse Blanche
(11.5% alc.)
40yo jacquère, chardonnay and mondeuse blanche planted at high altitude (450m) on schist-based hillsides in St-Pierre-de-Soucy, vinified with 15% 80yo jacquère from Apremont on limestone scree. Ageing in fibreglass for nine months. A perfectly balanced weight and tension, with smoky notes on the nose, very frank, pure and at ease on the palate, with ripe lemon fruit, and intense mineral character (hot stone and saline) that really tugs on the salivary glands.
Domaine des Ardoisières
SCHISTE 2020
Vin des Allobroges IGP
40% Jacquère, 30% Roussette, 20% Malvoisie, 10% Mondeuse Blanche
(12% alc.)
One of the domaine's three top cuvées made from the great terroir of Cévins – the origin of Domaine des Ardoisières (see profile). A south east-facing terraced vineyard on a vertiginous 60% slope, bush vines 'sur échalas' straight into the bedrock of metamorphic mica-schist. Yields are just 25hh, and the wine is aged in 3-5yo barrels for a year. There is a great balance of dense fruit, apricot, pears, spice with a lick of acidity and a lip-smacking salinity on the finish. For drinking now to 2026.
Domaine des Ardoisières
QUARTZ 2019
Vin des Allobroges IGP
100% Altesse
(12.5% alc.)
As per the cuvées Schiste and Améthyste, the vines are in Cévins in the remote Tarantaise valley. Quartz comes from the heart of the coteau, full south-facing, where Lydia and Claude Bourguignon identified the most qualitative parcels and advised to only plant altesse – the emblematic Savoie grape. Bush vines 'sur échalas' on terraced slopes, almost no top-soil, the roots get straight into the slate giving low yields of 20hh. Direct press, fermentation with native yeasts, ageing for 18 months in 1-10yo barriques. Flinty, almost smoky nose with sweet spices aromas, this is deep and rich with savoury flavours, the schist soils bring verticality and length to the wine, framing and taming the powerful texture. Un grand vin. Brice advises four years in bottle minimum.
Domaine des Ardoisières
ARGILE ROUGE 2019
Vin des Allobroges IGP
65% Gamay de Chautagne, 25% Mondeuse, 10% Persan
(11.5% alc.)
Since 2016 this includes 50yo mondeuse from limestone-clay soil in Saint-Jean-de-la-Porte, whereas gamay and persan come from 40yo vines on schisty marl hillsides in Saint-Pierre-de-Soucy. Vinified in cuve, the grapes are not destalked, and given a ten days cuvaison before nine months élevage in fibreglass tanks. The inclusion of mondeuse brings more depth and complexity, with added spiciness, and more structure to the palate. This offers an exciting aromatic range – violet, pomegranate, spicy red fruits and a very irony, stony mineral flecked palate.
Domaine des Ardoisières
AMÉTHYSTE 2018
Vin des Allobroges IGP
60% Persan, 40% Mondeuse Noire
(11% alc.)
This is the domaine's top red cuvée from the coteau de Cévins – a south-facing terraced vineyard on a vertiginous 60% slope where the soil is derived from metamorphic mica-schists. Yields are just 20hh, and it's made from whole bunches, then aged for 18 months in 2-10yo barrels. From an aromatic and taste perspective, it is most similar to a top Côte-Rôtie from the north of Ampuis where schist predominates. It has a stony, raspberry fruit, touch of pepper, perfect balance and a lip-smacking salinity on the finish. As per Argile Rouge, pinches of SO2 are added at racking and pre-bottling reaching 35mg/l total. For drinking now to 2028.