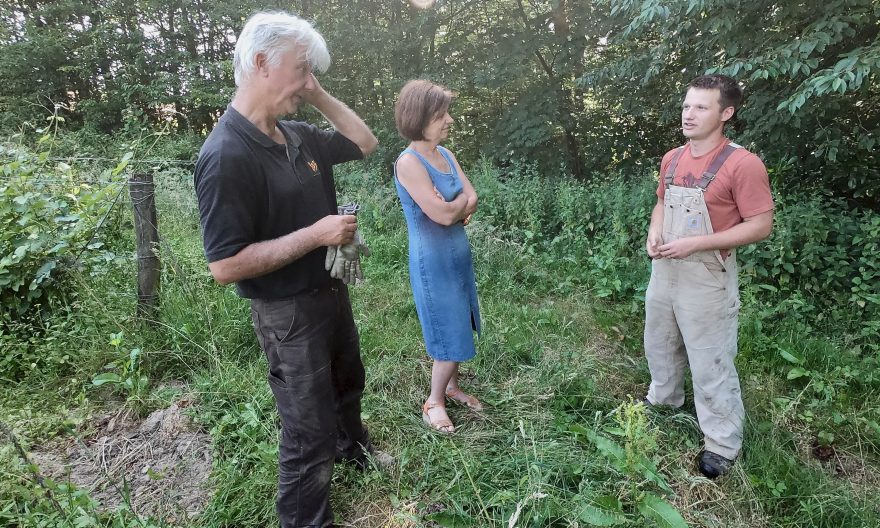 Domaine de Bellivière
| | |
| --- | --- |
| Vigneron | Eric and Clément Nicolas |
| Location | Lhomme (Sarthe) |
| Size of Domaine | 15 ha |
| Terroir | Continental climate with Atlantic influence. Clay with flint over Turonian chalk (tuffeau). South facing, gentle to steep slopes overlooking the Loir. 70-120m altitude. |
| Viticulture | Certified organic (Ecocert) and biodynamic (Biodyvin) |
| | View Domaine de Bellivière wines ↓ |
Making biodynamic wines in the northernmost vineyards of the Loire requires determination, passionate commitment, and a cool temperament, as mother nature regularly brings frost, mildew, oidium, and hail. Losses in Jasnières and Coteaux-du-Loir, where harvests often take place during October, average 50% and even more in recent vintages like 2012, 13, 14 and 16. And although the Nicolas family's Domaine de Bellivière has 18ha planted (with 75% chenin and 25% pineau d'aunis scattered over more than 70 parcels), Eric and his wife Christine never get to harvest the full surface.
The couple started by renting 3.5ha in 1994 and lost everything to frost. The following year, they lost the vineyard altogether because the owner decided to take it back for himself. If it wasn't for the help of the late Louis Derré, their generous and kind-hearted neighbour, the domaine would probably not exist today. Louis was a retired vigneron at the time and he graciously introduced them to all his friends, many of whom happily leased their vines out. They gradually increased their holdings over the years, and in December 2015 were joined by their son Clément.

"Sure, climate and location sometimes conspire to thwart Bellivière's efforts, but when it all comes together these are some of the most spine-tingling wines to be found in the entire region. Indeed, in all of France. Their wines, made in a very hands-off manner, are beacons of purity and definition." Chris Kissack
Setting out their approach Eric explains, "We are on a constant search for knowledge while targeting what we do with ever greater precision, all of this based on an increasingly sharpened sense of observation. Experience comes from remembering the past and listening to the present."
What drives the family forward is the haunting beauty and incredible quality that all their wines reach in good vintages. We currently offer six cuvées, three dry, intense and saline Jasnières, an old vine Coteaux-du-Loir chenin from a massal selection planted at an extremely high density of 11,200 vines per hectare, and two old vines Coteaux-du-Loir pineau d'aunis with characteristic sappy, zesty raspberry/mulberry fruit and cracked pepper.

Vinification occurs in a specially designed cave where the wine is only moved by gravity and never pumped, ageing is carried out in 350ltr older barrels, in the perfect conditions of ancient caves dug out of the local tuffeau.
When we last visited them, the family was incredibly enthusiastic and positive about the future, ready to try new things – as exemplified by a zero-sulphur version of Vieilles Vignes Éparses which blew our minds. They recently acquired some much-needed equipment that will allow even more precision in the vineyard, and also formed a cooperative with other vignerons of Jasnières to buy some wind turbines and fight the recurrent frosts more effectively.
We feel that the recent arrival of Clément was equally crucial and that it brought a new dynamic to the family, with both generations feeding off each other to push the domaine to new heights.
Domaine de Bellivière Wines
Domaine de Bellivière
JASNIÈRES 2020
Prémices
100% Chenin
(12% alc, 10g/l of rs)
Bellivière's entry-level chenin blanc is a selection of the most open and forward barrels from their younger vines (5-20yo) in Jasnières. The fruit comes from a range of sites on flinty clay soils over tuffeau, fermented in 5-8yo old 350ltr oak barrels and aged for 12 months on average. Total SO2 40mg/l. While it is the most open and giving white in their arsenal with its beautifully detailed orchard fruit and pear, it doesn't lack complexity and shows a strong mineral print. Usually demi-sec, the residual sugar is always perfectly balanced with lovely acidity. Great value and a brilliant match with fragrant and spicy food.
Domaine de Bellivière
JASNIÈRES 2020
Rosiers
100% Chenin
(13.5% alc, 17g/l of rs)
Jasnières, a 6km long crescent-shaped appellation of south-facing vines on a steep hillside comprising clay studded with flint overlying limestone. Same plots as Prémices (5-20yo vines), Rosiers is a selection of the best and most age-worthy barrels. Aged for ten months in 5-8yo 350ltr barriques with malos permitted, there is more depth and density in this cuvée (compared to Prémices). Total SO2 30mg/l. The quince fruit is detailed and precise with floral notes, thrilling tension between fruit and acidity, the residual sugar is perfectly balanced with notable bitters and a mineral lick of salinity.
Domaine de Bellivière
JASNIÈRES 2017
Calligramme
80yo vines here from nine parcels that in a good year yield 20hh as opposed to the young vines giving 35hh. This is one of Bellivière's emblematic wines, that will age effortlessly way beyond the point when most fine Burgundies have started to tire. Calligramme (a poem where the text is arranged in such a way as to create an image) is dry and tense, it has a peach backdrop on the nose but is still tight and unwound, followed by a very deep, sustained palate, quite pithy, with a lovely energy. It is grippy too, and there is a perfumed interest coming from the fruit, all wildflowers and the scented orchard fruit of chenin blanc. Christine advises that the family like to drink this wine when it is ten years old. For drinking now to 2035.
Domaine de Bellivière
COTEAUX-DU-LOIR 2017
Vieilles Vignes Éparses
80yo vines here (éparses means scattered) with more of a south-western tilt than the Jasnières vines, planted in a clay soil with a little flint overlying limestone. Bellivière lost 65% of their grapes in 2017, but the quality is off the scale brilliant. The wine aged in 20% new to 4yo 350ltr barrels. With less exposure to the south, the wine's aromatics are slightly reductive in its youth with a pear-skin character emerging and distinct salinity, cool and reticent. The palate follows this aromatic cue, showing an incisive structure, with reserved, confit lemon, grapefruit, quince and green tea notes laced with minerals and charged with a thrilling acid freshness and quite electric finish. Simply beautiful, this is a wine of the highest class. For drinking now to 2037.
Domaine de Bellivière
COTEAUX-DU-LOIR 2019
Rouge Gorge
100% Pineau d'Aunis
(14% alc.)
45yo vines planted in heavy, siliceous clay over limestone which give yields that the Nicolas family limit to a maximum of 25hh, destalked 100%, and cuve fermented with just a little pigeage 'à la main' with a three weeks cuvaison. Pressed and assembled it was then aged in old demi-muids for a year and bottled with no filtration and a total of 30mg/l of sulphur. It has a hauntingly beautiful perfume of wild strawberries, mulberries, cracked pepper with a floral note, it follows through on the palate with concentration and a silken feel. The finish is very pure, cleansing and saline with a peppery twist. Best served lightly chilled (14 to 16C).
Domaine de Bellivière
COTEAUX-DU-LOIR 2020
Hommage à Louis Derré
100% Pineau d'Aunis
(15% alc.)
Bellivière's top red wine comes from one hectare of 90 to 110yo vines of pineau d'aunis grown on heavy clay and silex soils over limestone in eight tiny parcels. Yields rarely reach 25hh, the destemmed foot-trodden grapes are vinified in tronconic wooden tanks and given one month maceration. The wine is aged for 12-18 months in 3-5yo demi-muids before bottling with no filtration and 20mg/l of total sulphur. A touch darker than Rouge Gorge with purple hints, the nose is beautifully perfumed and complex, with layers of dark fruit, cracked pepper, incense, tea, violets and a mineral edge. The palate is dense with firm tannins and exceptional length, a serious bottling for a cépage often associated with quaffable wines. This is a tribute to their altruistic neighbour, Louis Derré, who helped them at the beginning of their adventure – and it could well be the finest pineau d'aunis on the planet. For drinking now to 2030.