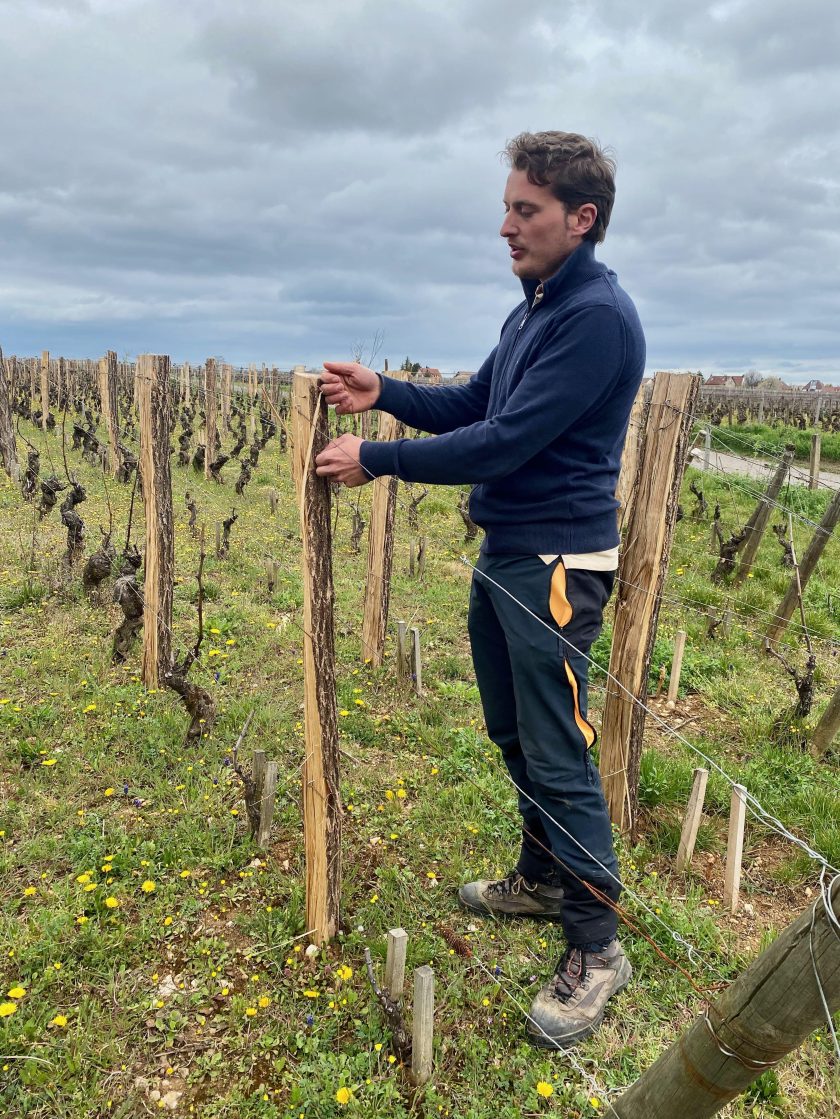 Domaine Chicotot
| | |
| --- | --- |
| Vigneron | Clément Chicotot |
| Location | Nuits-Saint-Georges (Côte-d'Or) |
| Size of Domaine | 7.5 ha |
| Terroir | Continental climate. Clay-limestone marls and some alluvial soils on mid-Jurassic (Bajocian and Bathonian) limestone bedrock. Gentle slopes up to 10-15% gradient. 250-320m altitude. |
| Viticulture | Certified organic (Ecocert), practising biodynamic, permaculture, and agroforestry. |
| | View Domaine Chicotot wines ↓ |
A prestigious domaine now under the direction of Clément Chicotot and his mother Pascale, the family has an enviable clutch of old vine wines focused upon Nuits-Saint-Georges. Clément's parents, Georges and Pascale, were previously sharecroppers for the Liger-Belair family (Thibault's branch) which partly explains their prime holdings, but it's more especially that the Chicotots first started out as vignerons in the village back in 1762.

While Georges took most of the limelight due to his larger-than-life character, Pascale was instrumental in the domaine's rise to prominence over the past 30 years. Working instinctively, with no prior knowledge or training, she vinified her first parcel under the supervision of her father-in-law in 1993, and gradually took over winemaking responsibility (from Georges) for the whole domaine. It was clear to her that their old vines yielded fruit of natural, innate density that required a sensitive hand in the cellar. Favouring whole bunches infusion with little to no pigeage, the wines became refined and elegant while staying true to their Nuit-Saint-Georges roots.
Shy and introspective, Clément is quick to brush aside technical questions, preferring to focus the discussion on the thought process and variables at play when making decisions about rognage, ploughing, extraction etc. "In the wine industry, we're quick to jump on the latest trend but here every decision is meticulously pondered", he comments.

Clément takes after his mother in the sensitivity department. Fascinated with nature from an early age, it was the possibility of working with the living world that proved to be the biggest draw. He aims to work in perfect harmony with the vines and their direct environment, placing as much value on the lives of insects, plants and animals as of humans – he rescues every single worm attempting to cross the road that borders Aux St-Juliens each time he ploughs!

Since he came back in 2011, Clément has put the domaine through an ambitious viticultural programme that puts it on an equal footing with some of the region's leading lights. Applying biodynamics and permaculture, ploughing is done once every three years to respect soil structure and its ecosystem. Higher stakes (180cm) were introduced to raise the trellis system and facilitate Clément's approach to rognage (almost no trimming and done by hand), while elevating the fruiting zone and therefore allowing the grass to grow tall regardless of the weather – in wet conditions tall grass increases humidity in the fruiting zone and therefore the risk of potential fungal attack on grapes. Agroforestry is incorporated through the planting of trees and hedges (in and around the vineyards) to boost biodiversity and mycorrhizal network; it also provides habitats to friendly predators (bats, birds and insects) and positively affects the mesoclimate of the vines.
The family is lucky to be working with a huge proportion of old 'pinot fin' – a rare and highly qualitative massal selection that produces small berries with a high skin to pulp ratio. Yields are naturally low due to the age of the vines and a strict de-budding regime. Tractors were fazed out and replaced with small crawler tractors to lower soil compaction, and ploughing is adapted to the specific needs of each parcel depending on soil type, compaction, roots penetration etc.

In the winery, Clément adopted his mother's instinctive approach. The use of whole bunches averages 50% and it's based on the intrinsic quality of the grapes in a given vintage (there are no set rules). Pigeage is carried out by hand during fermentation without temperature control. The barrels are bought new and come from a variety of tonneliers including Tronçais barrels from Dominique Laurent – no new oak is used at village level (the barrels are kept until they've seen six wines and they're reserved for the same vineyard each vintage), and half or one third new oak is introduced at 1er Cru level each year. After one year élevage, the wines are transferred into cuve before bottling without filtration in January or February. Total SO2 averages 45-50mg/l with free SO2 around 15-18mg/l.

The resulting wines are age-worthy with great depth (NSG's hallmark), they have clarity and considerable elegance. Clément's serious and forward-thinking approach in the vineyards is extremely promising and it will, without doubt, consolidate Domaine Chicotot as one of the finest in the whole of the Côte de Nuits.
Domaine Chicotot Wines
Domaine Chicotot
NUITS-SAINT-GEORGES 2018
Vieilles Vignes
100% Pinot Noir
(13.5% alc.)
This is made from several micro plots of old vines averaging 85yo dotted around the village, although the majority come from the northern Vosne-Romanée end (plots such as Au Chouillet and Aux Saint Jacques). Medium to full bodied, floral notes of peonies and violets on the nose, with spicy, raspberry fruit to the fore, it is elegantly muscular with succulent acids and an old viney grip on the finish.
Domaine Chicotot
NUITS-SAINT-GEORGES 2018
Aux Allots
100% Pinot Noir
(13.5% alc.)
The Chicotots own five parcels in the climat Aux Allots (on the Vosne end, just below the 1er Cru Aux Vignerondes) – planted in 1924, 1956, 1968 and 1977, and totalling 0.9ha. Reddish brown clay soils, covered with 'chailles' (silica rocks similar to flint) that give wines approachable in their youth with elegant texture, round tannins, and enticing bramble fruit flavours.
Domaine Chicotot
NUITS-SAINT-GEORGES 2019
Aux Saint Juliens
100% Pinot Noir
(13.5% alc.)
Aux Saint Juliens comes from a small 0.22ha holding of 60yo vines – in a site near the cemetery at the northern Vosne end of the village. It's made from one third whole bunches, and offers aromas of black cherry and raspberry, peonies and warm spices. Medium to full-bodied, velvety and perfumed, it's one of the most alluring, charming cuvées of Chicotot's communal lieux-dits.
Domaine Chicotot
NUITS-SAINT-GEORGES 2020
Les Plantes Au Baron
100% Pinot Noir
(14% alc.)
0.17ha just below the outstanding 1er Cru Les Saint Georges. Every year the yields here are tiny – around 18hh, thankfully yielding just enough for one barrel. The rich, complex nose has intense dark berry fruit, spices, peonies and hints of leather. One has the impression of tiny grapes bursting with flavour. Dark berry fruits dominate on the palate, backed by discreet liquorice accents, and ripe, fine-grained tannins suggest it will age very well. For drinking now to 2030.
Domaine Chicotot
NUITS-SAINT-GEORGES 1ER CRU 2018
Les Rues de Chaux
100% Pinot Noir
(14% alc.)
A muscular, powerful wine from 0.28ha of 35 and 75yo vines growing in a very thin red-brown soil with roots into the fractured limestone bedrock – Chaux translates as lime (chalk). This is a medium to full-bodied, rich, and youthfully chewy effort that delivers aromas of black cherries, liquorice, roasted meats, spice and rose hips. Lively and structured, it will demand some patience (ideally ten years or more) or decanting. For drinking now to 2035.
Domaine Chicotot
NUITS-SAINT-GEORGES 1ER CRU 2019
Les Vaucrains
100% Pinot Noir
(13.5% alc.)
From a 0.24ha parcel planted in 1942 in a bed of red clay with a rich, loamy stony soil. The name of this 1er Cru comes from Burgundian dialect describing its valley-like shape (Vau) forming a crack in the hillside (Crain). It unwinds in the glass with scents of blackberries and sloes and muskier notes. Only two barrels were produced in 2019 with one aged in new oak and the other in a 1yo barrel. Full-bodied, layered and muscular, with a textural attack and a deep, concentrated core, this is an impressive, rather old-school Vaucrains that will demand patience or long carafing. For drinking now to 2040.
Domaine Chicotot
NUITS-SAINT-GEORGES 1ER CRU 2018
Aux Torey
100% Pinot Noir
(13.5% alc.)
Aux Torey has fine gravelly soil overlying oolitic limestone that has broken down from the hillside above – it has a prime location to the north of the village close to Vosne-Romanée. The vineyard is gently sloping, superbly exposed to both S and SE, in similar fashion to Gevrey's Clos-St-Jacques. The Chicotot family has 0.32ha of 70yo vines. Here we have the most charming and sensual of the 1er Crus with a beautiful purple colour that extends right out to the edge with flavours of wild berries, and hints of peonies, violets and liquorice. Medium to full-bodied, the fruit acid balance is spot on – it's lively and supple with ripe tannins and an expansive finish. For drinking now to 2030.
Domaine Chicotot
NUITS-SAINT-GEORGES 1ER CRU 2020
Les Saint Georges
100% Pinot Noir
(14% alc.)
Les Saint Georges is clearly the finest vineyard in NSG – the first in line for a future Grand Cru classification (the INAO has been working on it for years). Mid-sloped to the south of the village, the soil here is a deep brown colour, very stony, with deep limestone beneath. The 0.22ha of Chicotot vines were planted by Clément's grandfather in 1942 and occupy the heart of the hillside where vines were first planted in 1000AD! An exceptional deep, dark cherry colour right out to the edge. The aromatic range plays on black fruits and spices mixed with truffle and musky animal notes, especially as the wine ages. This is a powerful, complex, full-bodied wine with a perfect weight, detail and structure that lets it face the years ahead without fear. So much class, it really coats the mouth and makes one's spine tingle! For drinking from 2026 to 2050.