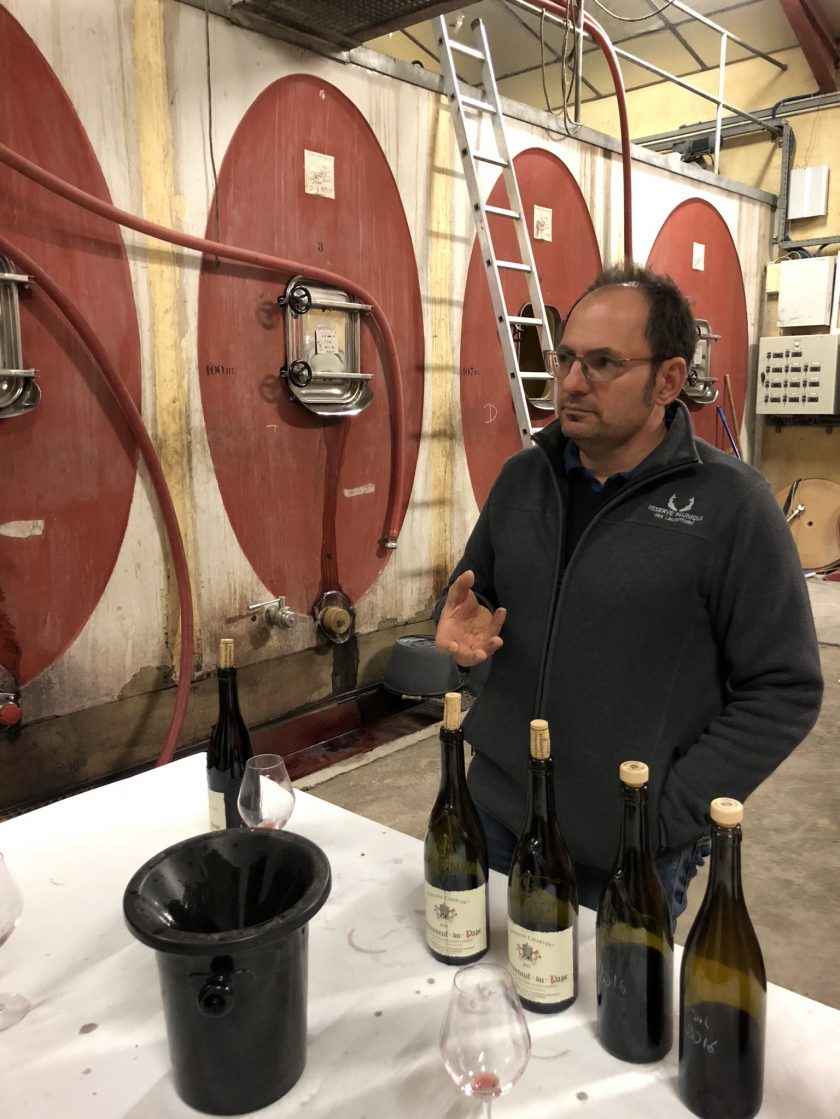 Domaine Charvin
| | |
| --- | --- |
| Vigneron | Laurent Charvin |
| Location | Orange (Vaucluse) |
| Size of Domaine | 23 ha |
| Terroir | Mediterranean climate, Mistral (northern wind) influence. Rhône quaternary terraces: sand, silt, clay-limestone, river pebbles (galets roulés). Gentle undulations around 100m altitude. |
| Viticulture | Certified organic (Ecocert) |
| | View Domaine Charvin wines ↓ |
The family estate was created back in 1851, but it wasn't until Laurent Charvin joined his father Gérard in 1990 that the estate bottled off their own wines. Such was the critical approval that very rapidly followed, they were soon bottling all their wines themselves and selling none to the négoce.
Laurent is quick, intense and intuitive. Right from the start, he had a clear idea of the style of wines that the domaine should make. This was based upon quality work in the vineyards (Laurent continued to be assisted by Gérard for the next 25 years), with winemaking designed to capture all the fruit's potential without any artifice or make-up.

Laurent has 8ha of CNDP averaging 50yo that are planted towards Orange in the cooler northern sector of the appellation, with holdings in the lieux-dits of Cabrières, L'Arnesque, Le Deves, all close to the southern end of the plateau of Mont-Redon. Here the soils are a mix of sand, limestone-clay and Rhône's famous 'galets roulés'.
He makes just the one cuvée of CNDP red together with a little CNDP Blanc (around 1000bts) from 50yo vines (mainly clairette rose) that he recently bought from the lycée agricole in Orange. The vines here are in a cool location facing west planted in sandy soil with river pebbles and they are the last to be harvested. Laurent also has an important holding of 15ha of lower-lying 40yo Côtes-du-Rhône vines (that produce a red and a little white) around Maucoil and Champovin, where the soils are cooler than his CNDP. He works organically out in the vineyards, and winemaking is stripped down to the essentials with 100% whole bunches used for both reds, a light crush to start with, daily remontage ensuring the cap is kept moist during a 20 days fermentation, and concrete vat ageing with no sulphur during 16 to 18 months for the CDR and 21 months for the CNDP. The wines are unfiltered but lightly fined before bottling with total sulphur around 45mg/l.
Due to the use of whole bunches the wines need some bottle age before they start to open up. By contrast, the white Côtes-du-Rhône and the CNDP Blanc can be drunk with pleasure after a year or so in bottle.
Domaine Charvin Wines
Domaine Charvin
CÔTES-DU-RHÔNE 2020
45% Bourboulenc, 25% Clairette, 20% Roussanne, 10% Grenache Blanc
(13% alc.)
Attractive easy drinking, this cuve aged wine has a quiet charm, with peach and a hint of citrus, a little spice, with a sudiste expression and saline twist on the finish.
Domaine Charvin
CHÂTEAUNEUF-DU-PAPE 2020
90% Grenache Rose, 10% Bourboulenc
(13% alc.)
Made from 50yo vines on a steep west facing hillside in sandy soil with many classic CNDP river 'pebbles'. A few too many CNDP whites are oily and alcoholic, but this is far removed, with low pH of 3.3 and no malos. Aged in stainless steel, there is a little hint of reduction, nicely layered fruit, with notes of ripe lemons, pears with floral and spice notes. It shows real energy with saline/iodine notes and finishes mineral and very long.
Domaine Charvin
CÔTES-DU-RHÔNE 2020
81% Grenache, 10% Syrah, 5% Mourvèdre, 4% Carignan
(15% alc.)
This wine is given just the same care as Charvin's Châteauneuf. There is a cuvaison of 20 days with no destemming before 16 months in cuve prior to bottling without filtration. This 2020 is another excellent example with stylish, spicy fruit, good structure and concentration typical of the vintage. There's always a natural, unforced quality with this cuvée.
Domaine Charvin
CHÂTEAUNEUF-DU-PAPE 2017
82% Grenache, 8% Syrah, 5% Vaccarèse, 5% Mourvèdre
(15% alc.)
An age-worthy wine emanating from superb work in the vineyard, and the least possible intervention back in the cave to capture all the fruit's potential. It has spicy, chewy cherry fruit, a hint of thyme and is rich, long, but always fresh with salivation on the finish reflecting the lime-rich soils. For drinking now to 2030+.