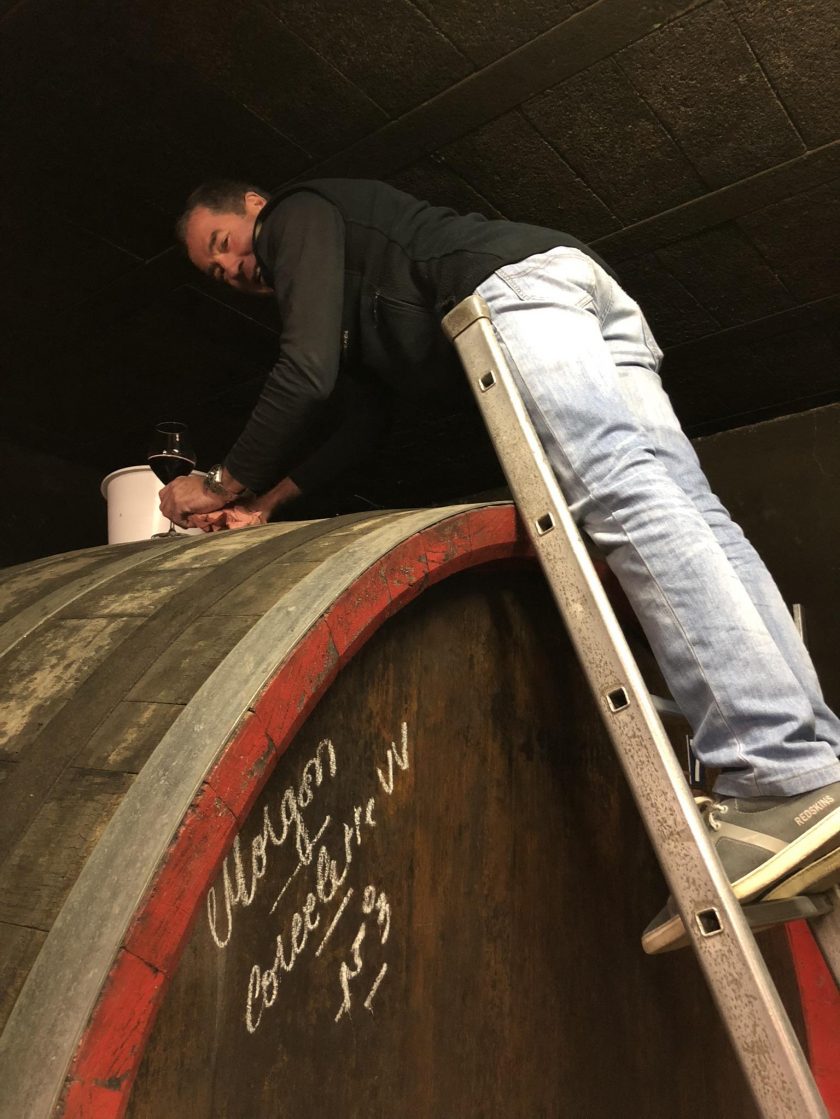 Daniel Bouland
| | |
| --- | --- |
| Vigneron | Daniel Bouland |
| Location | Villié Morgon (Rhône) |
| Size of Domaine | 7 ha |
| Terroir | Continental climate. Sandstone, schist, blue diorite, sand, granite on steep slopes up to 40%. 320-400m altitude. |
| Viticulture | Sustainable – sulphur and copper are usually used against oidium and mildew except in difficult vintages when fungicide might be used. |
| | View Daniel Bouland wines ↓ |
Based in the hamlet of Corcelette Daniel is a hardworking, humble, discreet and sometimes anxious vigneron. He prefers a solitary life and happily spends 12 hours a day working on his diverse and exceptional terroirs, taking care of old (60-100yo) bush vines traditionally planted at high density on Vialla rootstock; all of this by hand on steep slopes where no tractor could go.
All his grapes are hand-harvested and vinified with full clusters and natural yeasts in concrete vat with two pump overs per day. The wines are then aged in old foudres in a tiny cellar, Daniel follows them through élevage with great care and bottles them without filtration. This makes for some long-lived and old-fashioned Gamay, some of the deepest and finest in the whole of Beaujolais.
Daniel Bouland Wines
Daniel Bouland
CHIROUBLES 2020
Chatenay
Daniel Bouland's Chiroubles comes from a 0.65 ha vineyard, 30yo vines and a light yellow sandstone. A bright mid-cherry colour, it is a real 'vin de terroir', with quite an intense stony character and gentle raspberry fruit.
Daniel Bouland
CÔTE-DE-BROUILLY 2020
Cuvée Mélanie
Named after Daniel's daughter, this comes from 70yo vines in a schist and granite derived soil with blue diorite on the southern slope of Mont Brouilly. Aged in old oak foudres, with a fine plum colour, it has rich spicy fruit with a marked stony flavour on the finish.
Daniel Bouland
MORGON BELLEVUE 2019
Sable
Daniel's Bellevue comes from vines above Corcelette averaging 40-50yo in weathered sandy granite on low-yielding quality rootstock called Vialla. Using natural yeasts together with cement cuve ageing, this has a nice kernel of red fruits on the attack, and good mouthfeel with an irony, intensely mineral play on the long finish.
Daniel Bouland
MORGON BELLEVUE 2020
Cailloux
Bellevue is a lieu-dit located above Corcelette. The 'Cailloux' bottling comes from vieilles vignes only, around 80yo, planted on 420A rootstock specifically designed for terroirs that are very stony and have no topsoil, straight into the granite bedrock in this case. Fermentation and ageing in cement cuve, this has a similar profile to the 'Sables' with extra intensity, depth, salivation, and an incisive mineral finish.
Daniel Bouland
MORGON CORCELETTE 2020
Vieilles Vignes Sable
One of Daniel's top cuvée comes from 1 ha of vines (just above the cave) planted in 1925 on very steep hillside, with sandy soils of decomposed schist and granite. Vinified and aged in foudres, this has lovely weight of fruit, dark cherry and blackberry, and intense mineral character. There is a quietly tannic, old viney grip to the finish that presages an excellent future. For drinking now to 2030+.