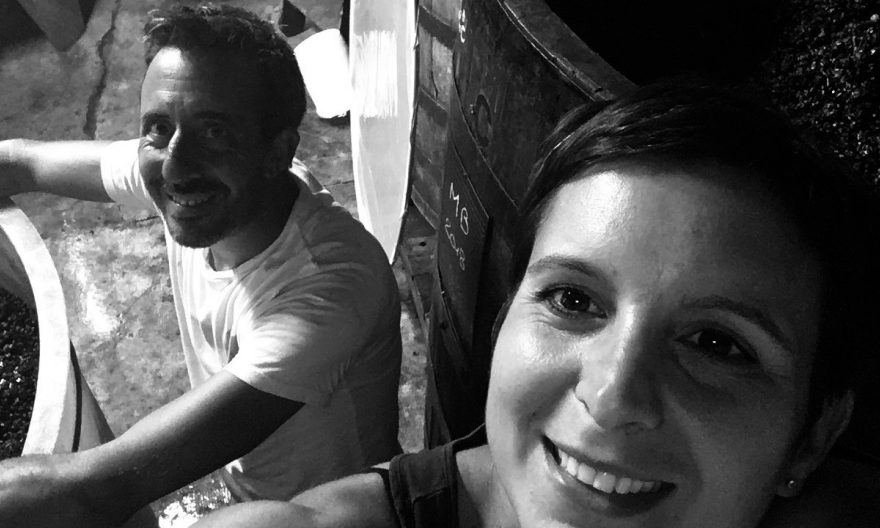 Clair Obscur
| | |
| --- | --- |
| Vigneron | Pierre Clair |
| Location | Corpeau (Côte d'Or) |
| Size of Domaine | 3.5 ha |
| Terroir | Continental climate. Clay-limestone marls, alluvial sediments on mid-Jurassic (Callovian and Oxfordian) limestone bedrock. 200-250m altitude. |
| Viticulture | Practising biodynamic |
| | View Clair Obscur wines ↓ |
Pierre Clair has worked as chef de culture at prestigious biodynamic property Domaine de Marquis d'Angerville for the last three years, having previously held this position at Domaine de Montille. During his spare time, he runs Clair Obscur demonstrating dedication to his family vines consisting of 0.4ha in Corpeau down the slopes of Chassagne and Puligny plus plots recently acquired in Maranges. Pinot noir, aligoté and chardonnay vines are meticulously tended by the passionate Pierre, applying all the experience gained over the years and taking that extra risk in the cellar.
Wine has been made in the Clair family since 1962, when it simply was a nourishing beverage part of a convivial meal or celebration. In this spirit Pierre vinifies using whole bunches, old barriques and without additives. A pinch of sulphur will occasionally be added at bottling if ever the test à l'air was unsuccessful.
Clearly Pierre is an accomplished and highly skilled vigneron, his ambition to vinify in the most natural way possible has led him to make some of the best Burgundy wines we have ever come across: full of joy, vibrant and pure with an amazing precision.
Clair Obscur Wines
Clair Obscur
BOURGOGNE 2017
100% Pinot Noir
(12% alc.)
This is the cuvée that started the domaine; it comes from a parcel in the village of Corpeau, planted in 1963, which Pierre inherited from his grandfather. The soil here is quite heavy, predominantly brown clay with some stones, and gives a beautiful silky texture to the wine. Sorted in the vineyard, whole bunches are loaded intact into open wooden vats for fermentation, remontage is done with a bucket once every other day during the ten days maceration for a delicate extraction, and the wine is then aged in 5-15yo 228ltr barrels for about a year before bottling with minimal sulphur. Like all of Pierre's reds, this is succulent and quite sensual, the fruit coats the palate, the tannins are very fine and frame it nicely, it's clear and precise, with cherries, wild berries and touch of smoke and earth. It is very rare to find red burgundies that give so much pleasure in their youth.
Clair Obscur
MARANGES 2016
Les Aubuzes
100% Pinot Noir
(12.5% alc.)
The lieu-dit Les Aubuzes is located in the heavy clay soils typical of Maranges. Like all of Pierre's reds, this is vinified with whole bunches, the extraction is very gentle, with remontage done by hand with a bucket to keep the cap wet, and ageing takes place in old 228ltr barrels. Planted in 1985, the vines here yield a very fine, pure and mineral expression of Maranges. Expressive on the nose, it feels very relaxed on the palate, silky with beautifully fine tannins, it's incredibly hard to put the glass down.
Clair Obscur
MARANGES 2017
Sur le Bois Sud
100% Pinot Noir
(12.5% alc.)
30yo vines here worked biodynamically on quite a flat 0.25ha vineyard in the classic Burgundy soil mix of limestone and clay, this is the second vintage made by Pierre following his acquisition of the vineyard. Aged in old barrels in Pierre's tiny cave next to his house in Corpeau, the wine is made from yields of 28hh with no chaptalisation, fining or filtration and just 5mg/l of sulphur added at bottling in November 2018. It offers a pale colour, with lots of fresh cherries on the nose. On the palate the fruit is frank, vibrant and sustained, and there is a silky grain to the tannins on the finish. Wines made like this without recourse to too much new oak or high levels of sulphur are just so easy and pleasurable to drink in their youth.